Scoop: New Biden ad to blanket swing states during NFL kickoff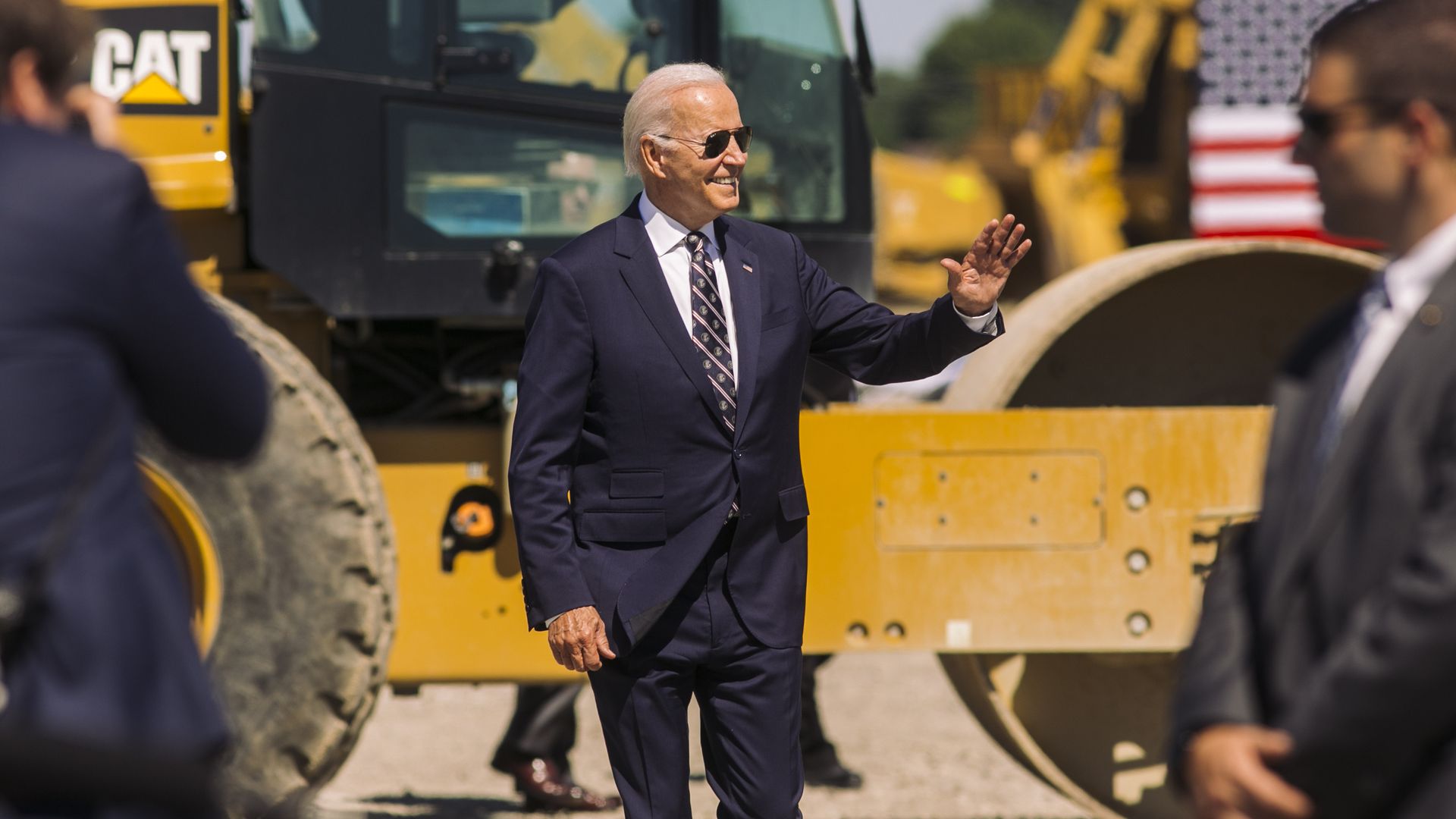 The Biden campaign plans to place a new TV ad targeted to battleground states during the NFL season opener Thursday, a source working with the campaign told Axios. The spot is part of a broader $25 million campaign that will focus on the president's economic record and last through December.
Why it matters: A new Wall Street Journal poll out Monday finds a majority of American voters disapprove of the president's handling of the economy and inflation.
What's happening: The new Biden campaign ad, titled "Got to Work," highlights President Biden's economic achievements amid inflation.
"They said, 'millions would lose their jobs,' and the economy would collapse, but this president refused to let that happen," a narrator reads over a montage of videos and stills featuring news reports of the economy and the president at his desk.
It continues by touting various economic achievements, such as "fixing supply chains, fighting corporate greed, passing laws to lower the cost of medicine and cutting utility bills and make us more energy independent."
The ad ends by noting that inflation is down to 3% and that unemployment levels have reached "the lowest in decades."
Details: The ad will run during the NFL season opener Thursday across local broadcast networks in Michigan, the home state of the Detroit Lions, as well as in battleground states such as Georgia, Arizona, Pennsylvania, Wisconsin and Nevada, the source said.
The Lions are playing the Kansas City Chiefs Thursday for the NFL's season opener, which will be broadcast by NBC and streamed on Peacock.
The campaign plans to spend at least seven figures promoting that specific 30-second spot. New ads touting the president's economic achievements will be rolled out in coming months.
The broader campaign, which will also highlight the president's economic agenda, will air nationally across various cable new networks, as well as in key battleground states on digital and streaming platforms.
The national cable ads are currently slated to run on all three cable news networks, but will only run during the day on Fox News.
While the campaign doesn't have any national broadcast ads booked yet, it's eyeing highly-viewed news programs, such as CBS' "60 Minutes" and ABC's "World News Tonight With David Muir" as possible placements.
Be smart: Part of the $25 million spend will also be targeted specifically to Hispanic and African American voters on certain networks and programs, such as soccer matches and on the Oprah Winfrey Network, the source said.
By the numbers: To-date, Biden's campaign has already spent more than $4 million on re-election ads, including $2 million from the current $25 million economic campaign that will last through the beginning of December.
Earlier this spring, the campaign launched a separate $2 million campaign focused broadly on Biden's principles that lasted for a few weeks in April and May.
In total, the campaign has spent and reserved nearly $30 million in ads for the year. While it has placed far more digital ads than its rivals, its television commitments are in line with those of Republican candidates, according to a new analysis out last week from AdImpact.
While GOP front runner Donald Trump has yet to place many TV ads through his campaign, the affiliated MAGA Inc. political action committee (PAC) has spent and reserved $22.8 million worth of ads to date — mostly on TV. Sen. Tim Scott's PAC, Trust in Mission, has booked roughly $37 million in ads to date.
The big picture: The campaign is taking advantage of a unique window of opportunity to reach certain groups of general election voters that the Republican primary campaigns are mostly ignoring.
"Republicans right now, as much as they like to say that they like running against Joe Biden ... they're all running against Trump, and Trump is running against his indictments," said Kyle Tharp, author of the FWIW newsletter on political campaign spending, in an interview with Axios.
Between June and July of this year, anti-Trump ad spending by Republicans increased by over 420%, per AdImpact.
Most of Trump's digital ads are currently targeted to supporters as he looks to raise money for his legal bills. Many of his TV ads last month focused on his latest indictment.
What to watch: Compared to 2020, the source working with the Biden campaign said Biden's 2024 effort will lean much more heavily on digital and streaming advertising, especially on YouTube.
Unlike traditional TV ads, digital and streaming ads can be more narrowly targeted to specific demographics, making them more efficient.
Go deeper