Biden makes peace with "Bidenomics"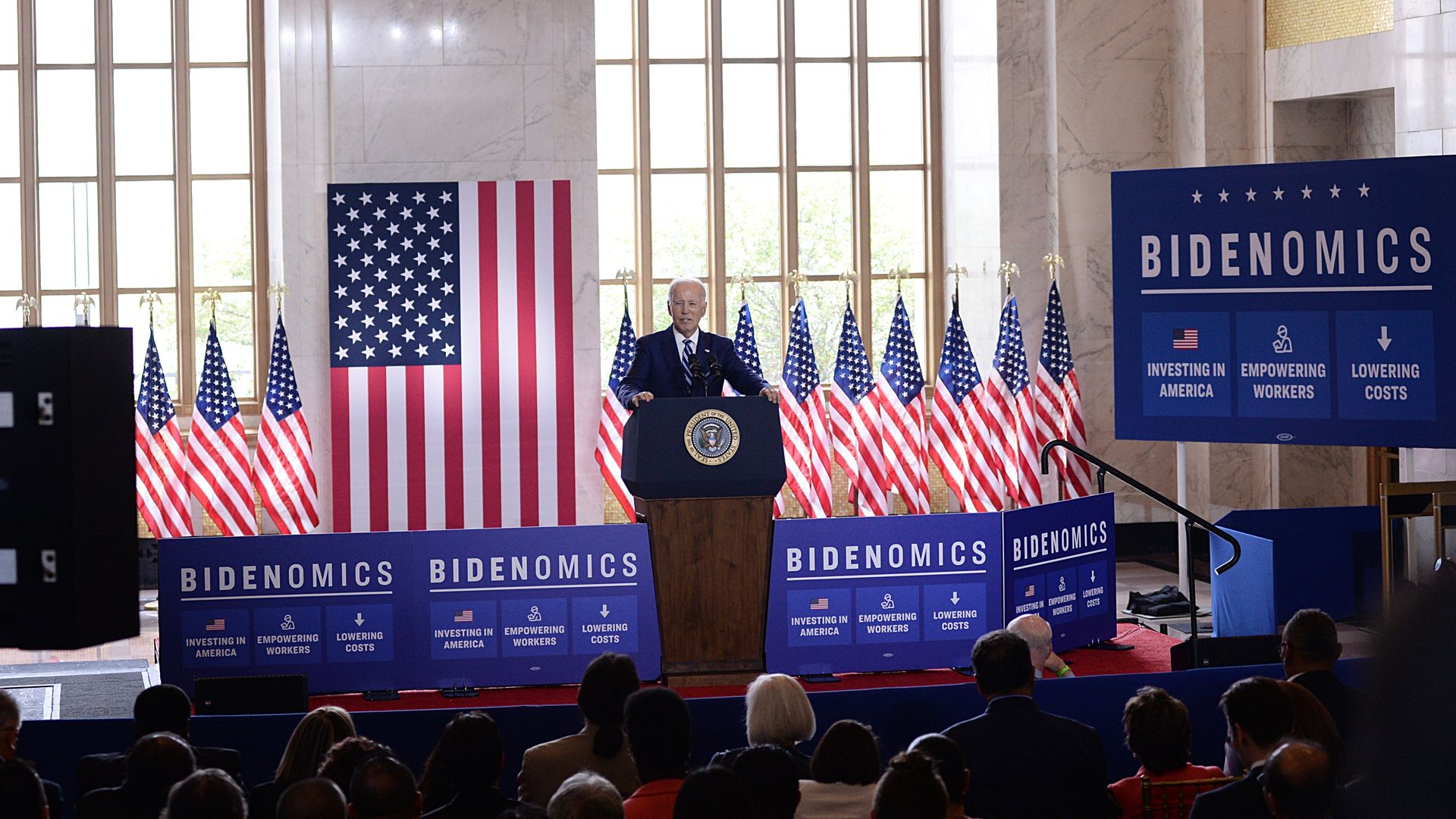 President Biden has finally stopped worrying and learned to love "Bidenomics," less than two weeks after joking to an audience of union workers: "I don't know what the hell that is."
Why it matters: Biden's embrace of a term he's expressed some ambivalence about will fully align him with a White House communications shop that wants to run on the president's economic record and legislative accomplishments in 2024.
Biden's top advisers have made a strategic decision to own the economy, calculating that Republicans will try to blame them for a slowdown regardless if it's real or imaginary.
With the debt ceiling raised and the Fed's rate-hiking plans out of Biden's control, the battle over the economy in the next 16 months will be about perceptions.
What they're saying: "Bidenomics is working," the president declared in a speech Wednesday in Chicago, where he's expected to accept the Democratic nomination in a little over a year. "The trickle-down approach failed the middle class."
Driving the news: Biden began a day that was supposed to be dedicated to owning his economic achievements by quibbling with reporters on the origins of the term "Bidenomics."
"You guys branded it. I didn't," he said over the whine of Marine One's engines. "I never called it Bidenomics."
"Let's get it straight: The first time it was used was in the Wall Street Journal. OK? I don't go around beating my chest, 'Bidenomics,'" Biden said, repeating his case for the word's etymology.
Asked if he doesn't like the term, Biden then allowed: "It's fine. Yeah, it's fine, because it is my policy."
By the time he addressed a friendly audience at the historic Post Office building in downtown Chicago, Biden's endorsement was more full-throated.
"It's a plan I am happy to call Bidenomics," he said to applause.
The intrigue: The Wall Street Journal's Greg Ip used the term in a neutral way on April 7, 2021, writing that "while the successor to neoliberalism lacks a label, Bidenomics will do for now."
But the White House thinks the term came into the public domain via C-SPAN, courtesy of an insult from then-House Minority Leader Kevin McCarthy (R-Calif.) in May 2021.
Republicans are determined not to let the term be redefined, with McCarthy tweeting a ripoff of a White House graphic that reads: "Bidenomics is about blind faith in government spending and regulations."
The big picture: There are two undeniable — and contradictory — realities about the U.S. economy in 2023: The numbers are impressive, but Americans aren't feeling it.
Consumer confidence is surging and recorded its highest level since early 2022. New orders for durable goods jumped 1.7% last month for the third straight month of gain. May's Labor Department report showed that the economy added 339,000 jobs.
The so-called "misery index" — a mix of unemployment rate and inflation — has dropped significantly over the last year, Axios' Neil Irwin notes.
The other side: And yet, only 1 in 4 Americans report that the country's economic conditions are in good shape, according to a May poll from AP-NORC.
What we're watching: Those two dynamics will make the battle for the economy in 2024 largely a communication fight, in which both sides won't be shy about cherry-picking data.
Republicans will focus on inflation — which remains stubbornly high — and a decline in real wages. And GOP operatives will be ready to pounce on any uptick in unemployment or downtick in growth.
Biden will continue to talk about the 13 millions jobs (and counting) created on his watch, and historic investments in infrastructure and semiconductors.
Go deeper