Biden's 2024 vision: Play 2020 again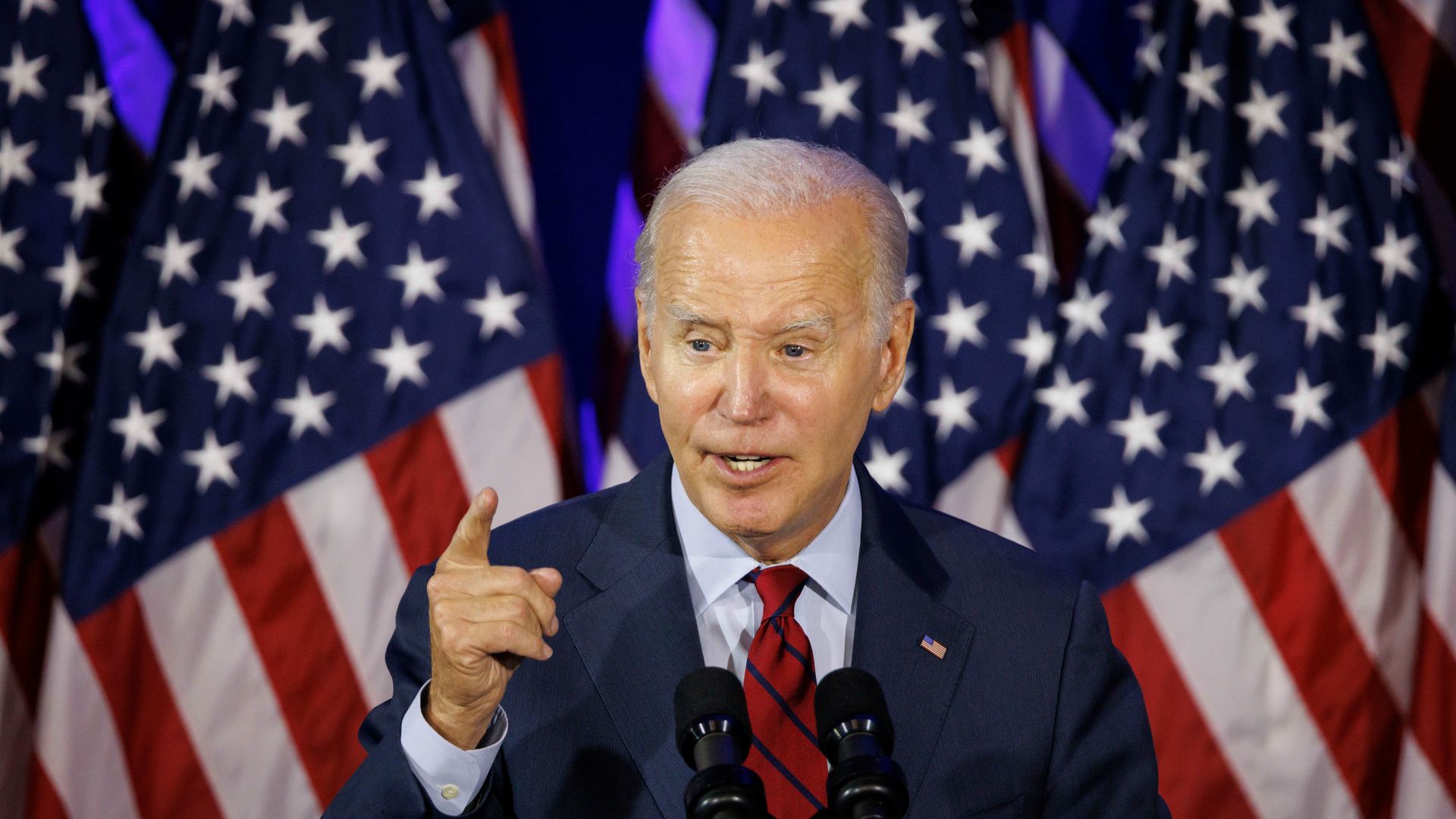 President Biden is betting that 2024 voters will prefer continuity over Republican disruption, so he'll ask for a second term by emphasizing what he did in his first — and campaigning on largely the same proposals he ran on in 2020.
Why it matters: His approach is in stark contrast to former President Trump, the leading GOP candidate, who has published a sweeping far-right agenda that would dramatically increase his own power.
Biden's campaign website does not include an issues page for his second-term agenda. He's expected to offer more details about his plans as the general election approaches.
For now Biden's team is focusing on Republican policies, blasting the GOP's "extreme MAGA agenda."
Front and center in their effort: highlighting GOP-led bans on abortion and general Republican opposition to assault weapons bans.
The big picture: Biden's decision to run on his past legislative victories such as the bipartisan infrastructure law and his climate and health care bill — rather than make big promises for new policies — reflects his top advisers' confidence that the country is heading in the right direction.
But that approach — which the campaign has framed as "finish the job" — has risks.
Two-thirds of Americans believe the country is on the "wrong track," more than on Election Day in 2020. Biden's approval rating is stuck in the low 40's — better than Trump's, but not by much. If the economy slips into a recession, Biden's numbers could dip.
Driving the news: On Monday, Biden will launch another "Invest in America" tour. Cabinet officials will hit the road to talk up his infrastructure and manufacturing investments, and economic accomplishments.
Zoom out: Biden's message to fundraisers and supporters — and the outlines of his second-term agenda — essentially are the same proposals he ran on in 2020.
Asked what Biden would do with a second term, his campaign pointed to the president's policy proposals in this year's State of the Union.
In that speech he called for closing tax loopholes for the wealthy, improving access to pre-school and community college, and ensuring paid family medical leave — ideas he ran on last time.
He's again calling for an assault weapons ban and the need to codify abortion rights in federal legislation.
Biden has not embraced some of the recent proposals from more liberal Democrats, such as a gun-control constitutional amendment popularized by California Gov. Gavin Newsom, or a $17-an-hour minimum wage, which is being pushed by Sen. Bernie Sanders (I-Vt.).
Zoom in: Biden's campaign aides say they aren't overly concerned about his low poll numbers, in part because the team faced dismal numbers before the 2022 midterms, when Democrats performed better than expected.
Asked last November what he planned to do differently in 2023 and 2024, Biden replied: "Nothing, because they're just finding out what we're doing…the more they know about what we're doing, the more support there is."
Biden frequently mentions his $280 billion Chips and Science Act, which was designed to counter China by investing in America's technology industry.
Flashback: In July 2020, Biden gave a series of meaty speeches to lay out his "Build Back Better" agenda, which called for more than $2.7 trillion for American manufacturing, clean energy technology and infrastructure.
He also proposed spending an additional $775 billion for working parents and caregivers.
Faced with a 50-50 Senate in his first two years, he had those ambitions trimmed to a $1.1 trillion infrastructure bill and a $740 billion climate and health care bill.
Both were significant accomplishments, but smaller than Biden had imagined.
Bottom line: Instead of dwelling on what he didn't accomplish — such as paid family leave or increasing the corporate tax rate — Biden will take a victory lap to remind Americans what he's done.
Go deeper