Biden's never-Trump campaign for '24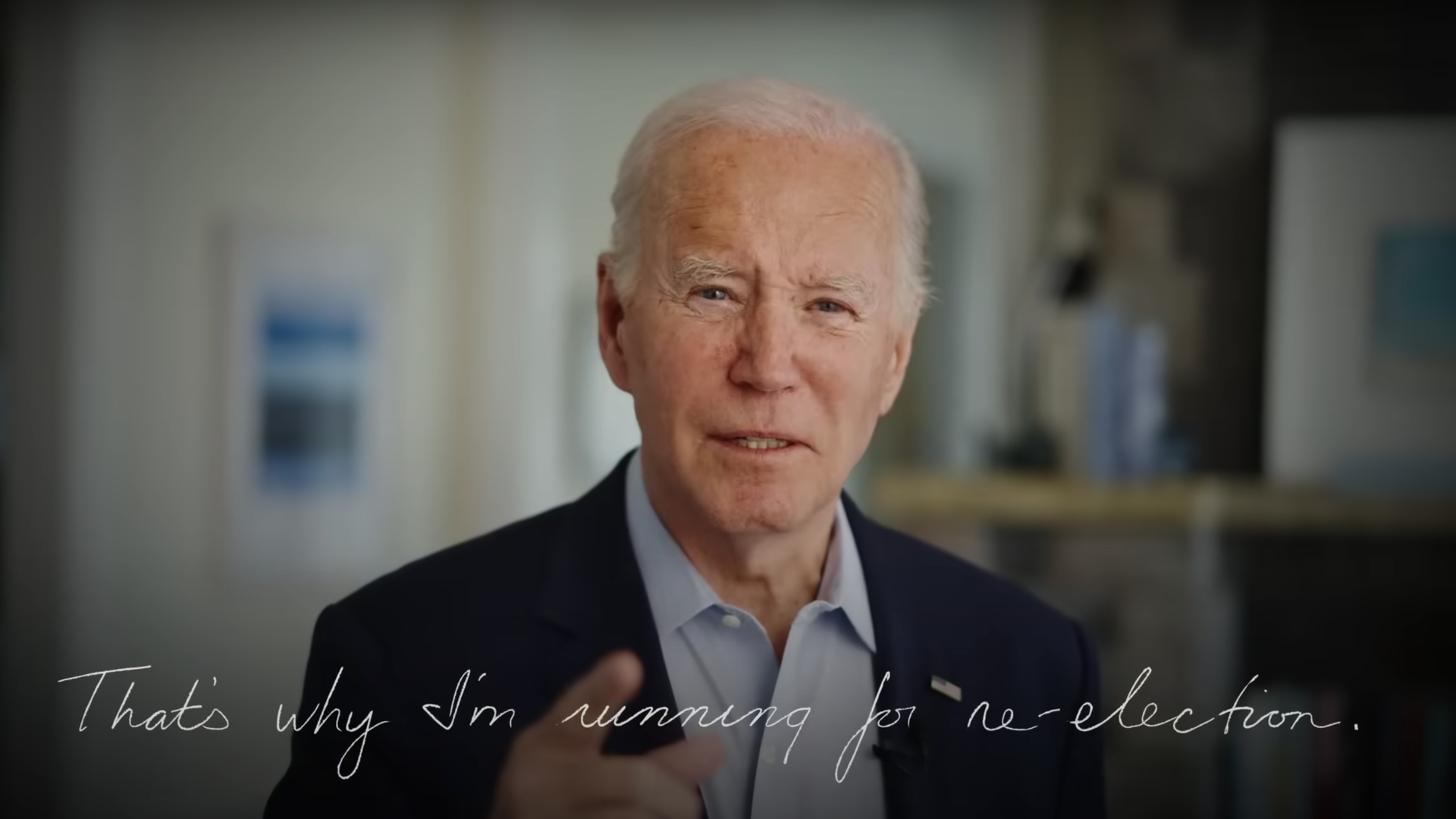 President Biden's re-election launch video opens with grainy footage of the Jan. 6 assault on the Capitol, with Biden warning that "MAGA extremists" want to take away American's basic freedoms — and then promising to protect them.
Why it matters: Biden's friends think he might've retired if he thought Vice President Harris could beat former President Trump. But Biden sees Trump as a lethal threat to America — the reason to run and the issue to build his campaign around.
State of play: That dynamic will lead Biden, 80, to seize every opportunity to maximize his presidential stature and dwell on his differences with Trump — using what he calls "MAGA Republicans" on Capitol Hill as a handy proxy.
"When I ran for president four years ago, I said we are in a battle for the soul of America – and we still are," Biden says in the video announcing his reelection.
"The question we are facing is whether in the years ahead we have more freedom or less freedom, more rights or fewer."
The big picture: Running for the White House from the White House, Biden will remind voters of his legislative accomplishments, including billions of dollars for infrastructure, clean energy and semiconductors.
At his command are all the tools of the modern presidency: The Rose Garden for sunny announcements, Air Force One for both domestic political trips and international statesmanship — and a press and digital team that can broadcast on multiple frequencies to multiple audiences.
Between the lines: Tuesday was a case study in how the White House can marry Biden's campaign message with his official duties.
After his morning announcement video, Biden addressed North America's Building Trades Unions' legislative conference — a chance to highlight his legislative accomplishments and record of job creation, including nearly 800,000 manufacturing jobs.
"Our economic plan is working," Biden said. "We now have to finish the job and there's more to do. And you're leading the way — shovels in the ground, cranes in the air, factories opening and all those jobs being created."
He took direct aim at House Speaker Kevin McCarthy (R-Calif.) and his plans to repeal Biden's Inflation Reduction Act. "Republicans want to get rid of it," Biden said. "The new Speaker of the House thinks it's not necessary."
"The fact is that this law on prescriptions drugs saves the government $168 billion dollars," Biden added.
In the evening, Biden was scheduled to welcome South Korea's President Yoon Suk Yeol at the White House for a symbolic visit that will culminate in a state dinner Wednesday night.
What we're hearing: For most of the spring and summer, McCarthy will be Biden's foil — as a showdown over Republicans' demands for budget cuts before raising the debt ceiling grips Washington and Wall Street.
As the Republican primary race heats up, Biden will shift his attention to the leader of that pack. He expects it'll be Donald Trump. The video also includes a photo of Trump and Florida Gov. Ron DeSantis embracing on the House floor.
Zoom out: Biden officials are clear-eyed that a rematch against Trump will be a close contest, but they have a playbook that worked in 2020.
Longtime Biden advisers, however, know there's little margin for error. That means avoiding any mishaps by a candidate who'll be 81 for most of 2024. Trump will be 78 on Election Day.
Zoom in: A presidential campaign takes an extraordinary amount of time and effort to build. Compared to recent predecessors, Biden is getting a slightly later start.
Julie Chávez Rodríguez, previously the director of the White House Office of Intergovernmental Affairs, will serve as campaign manager, and Quentin Fulks, who ran Sen. Raphael Warnock's (D-Ga.) campaign, will be the deputy campaign manager.
Biden also announced his campaign co-chairs: Rep. Lisa Blunt-Rochester (D-Del.), Rep. Jim Clyburn (D-S.C), Sen Chris Coons (D-Del.), Sen. Tammy Duckworth (D-Ill.), Rep. Veronica Escobar (D-Texas), Jeffrey Katzenberg, the CEO of DreamWorks Animation, and Gov. Gretchen Whitmer (D-Mich.).
The bottom line: Biden's presidency has long been predicated on keeping Trump from returning to the White House.
That case will become more explicit now that Biden's re-election bid is official.
Editor's note: This story has been updated with comments from Biden's address to NABTU.
Go deeper