Dem campaign arms hit GOP on abortion for Dobbs anniversary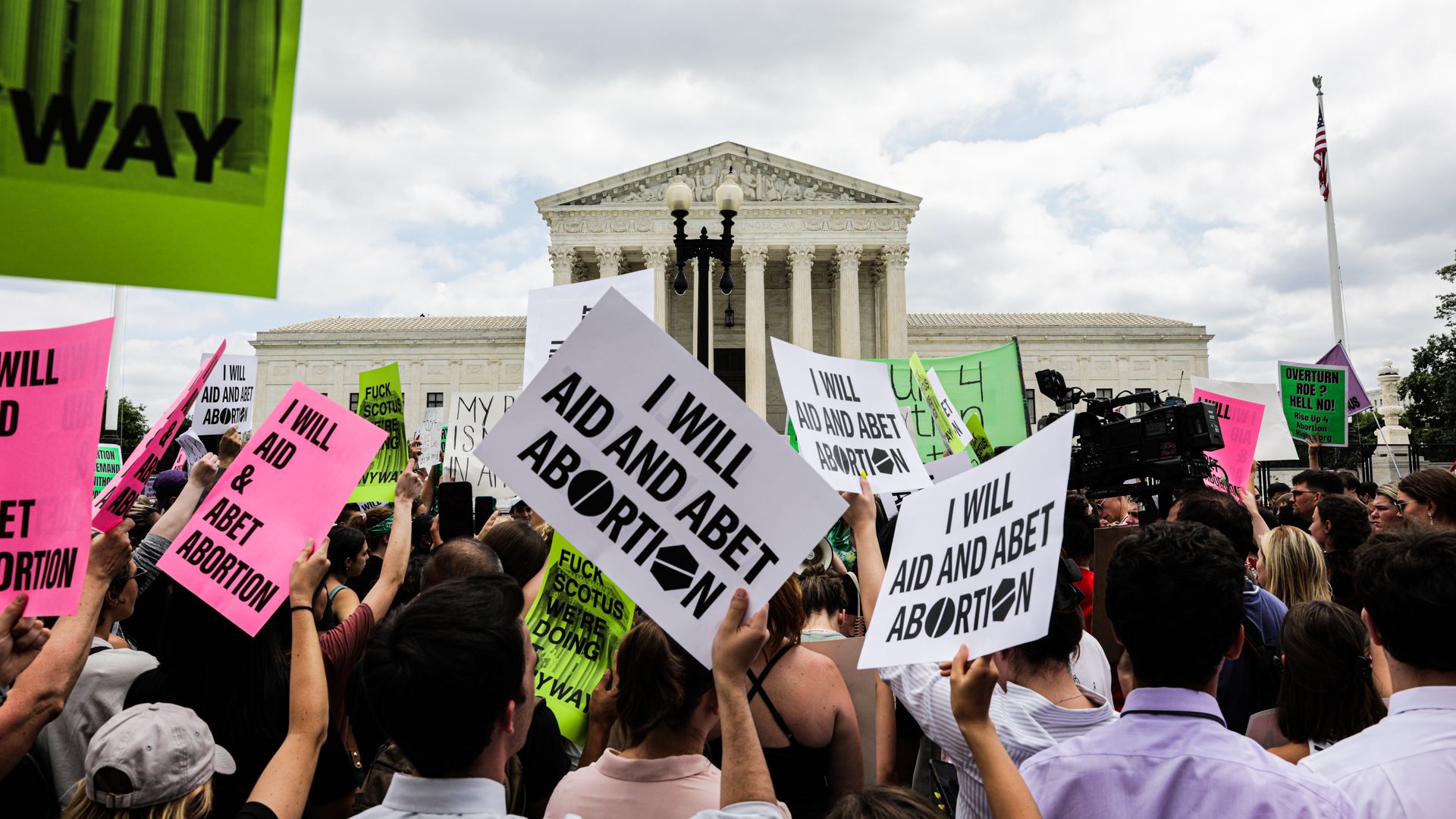 Democratic campaign organizations in charge of winning the House, Senate and White House are going after Republicans on abortion ahead of the one-year anniversary of the Supreme Court's decision in Dobbs v. Jackson.
Why it matters: It shows how Democratic campaigns are once again leaning on the issue as their trump card this cycle after it proved a potent cudgel in last year's midterms.
The electoral push dovetails with long-shot legislative maneuvers by House and Senate Democrats to try to force votes on pro-abortion legislation.
The Senate also confirmed Julie Rikelman, a renowned abortion rights lawyer, as a Circuit Court of Appeals judge on Tuesday.
Driving the news: The Democratic Congressional Campaign Committee is launching a website and digital ads targeting vulnerable Republicans over their support for various anti-abortion measures.
The ads will run against the 31 Republican incumbents the DCCC listed as their top 2024 targets in April.
A DCCC memo underscores their bullishness on the issue: "Recent battleground polling conducted for the DCCC shows that, by more than a two-to-one margin, voters trust Democrats to protect abortion rights."
The big picture: House Democrats aren't alone. The Democratic Senatorial Campaign Committee and Democratic National Committee joined the DCCC on a joint press call on the issue on Wednesday.
Sen. Gary Peters (D-Mich.), the chair of the DSCC, and other DSCC officials are "conducting interviews with a variety of outlets around the issue and its importance in the 2024 senate races," a national Democratic official working on Senate races told Axios.
The official said Democrats in Senate battleground states are also "holding events and using a variety of tactics to hold GOP candidates accountable" on abortion.
The other side: "The 'safe, legal, and rare' Democratic Party is dead," said National Republican Congressional Committee spokesperson Savannah Viar. "It has been overrun with abortion-on-demand extremists[.]"
"If Joe Manchin, Jon Tester, and Sherrod Brown want to run on their record of supporting painful, late term abortions up until the ninth month of pregnancy, that is their prerogative," a National Republican Senatorial Committee spokesperson told Axios.
The backdrop: In a 5-4 decision on June 24 last year, the Supreme Court overturned landmark abortion decision Roe v. Wade, ruling that the Constitution does not grant a right to abortion.
Go deeper