Dems in Congress seek abortion votes ahead of Dobbs anniversary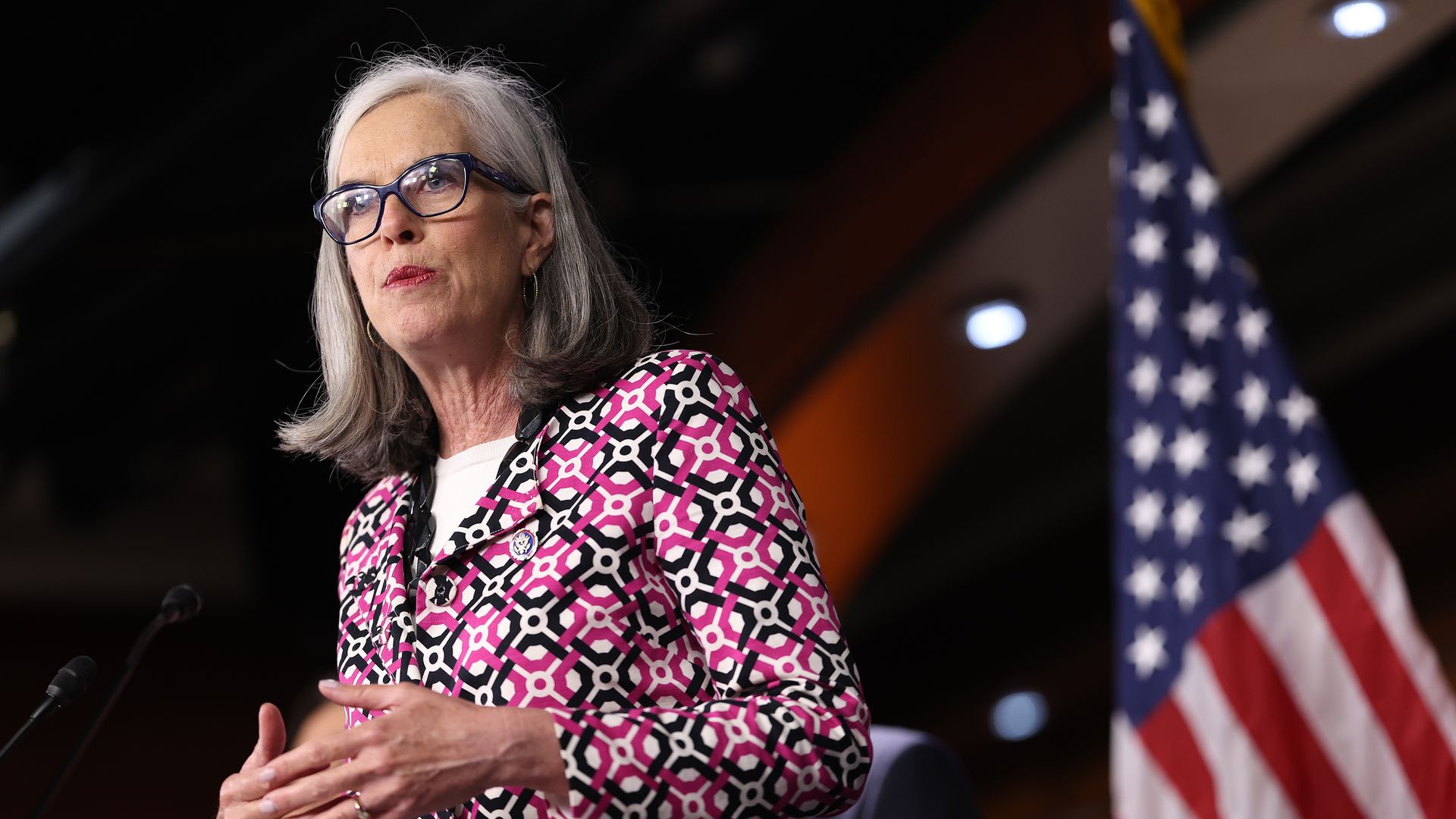 Democrats in both chambers of Congress hope to force votes this week on protecting access to abortion, a preview of the party's strategy for the 2024 elections — and a particularly personal cause for House Minority Whip Katherine Clark (D-Mass.).
Why it matters: The one-year anniversary of the Supreme Court overturning the right to abortion in its Dobbs ruling is Saturday. With most Americans supportive of abortion rights, Democrats want to get Republicans' opposition to various protections for women on the record.
Zoom in: Helping to lead the charge for House Democrats is Clark, 59, who in recent weeks has been traveling the country, speaking at fundraisers for abortion rights groups, and telling her own story in support of protections for women.
Clark said she had to undergo surgery to remove fetal tissue that could have caused a lethal infection after suffering a miscarriage in 1998.
She has taken particular aim at restrictions in some Republican-led states that call on citizens to report women who seek abortions and their doctors to authorities.
"If there were bounty hunters when I suffered a miscarriage, would my routine surgery have been readily available to me? Certainly not," the mother of three wrote last year in the Boston Globe.
Clark told Axios that "Republicans have one goal: a nationwide abortion ban."
"They do not believe that every American should have equal access to freedom — but instead that liberty is a right for the powerful and the privileged."
State of play: Clark and House Democrats will introduce a discharge petition aimed at forcing a floor vote on the Women's Health Protection Act, a bill that would codify a nationwide right to an abortion before viability.
The bill got no GOP support last year, and House Speaker Kevin McCarthy (R-Calif.) privately has discouraged Republicans from signing discharge petitions or making decisions that could turn the floor over to Democrats, Axios has reported.
Meanwhile, in the Democrat-led Senate, the majority is expected to press for unanimous consent votes on bills that would codify the right to contraception, allow women to travel across state lines to get an abortion, and protect doctors who perform abortions for out-of-state patients, Punchbowl News first reported.
Reality check: Even if the discharge petition is signed by all 212 House Democrats, it still would need six Republicans' support to force a vote in the GOP-led chamber.
And those Senate proposals almost certainly would fail in the chamber, despite Democrats having a thin majority. But with 2024 in mind, Democrats want to have Republicans' "no" votes on the record.
Between the lines: Democrats are hoping GOP opposition to abortion protections will help boost voter turnout for them next year.
Go deeper