House lawmakers float bypassing GOP hardliners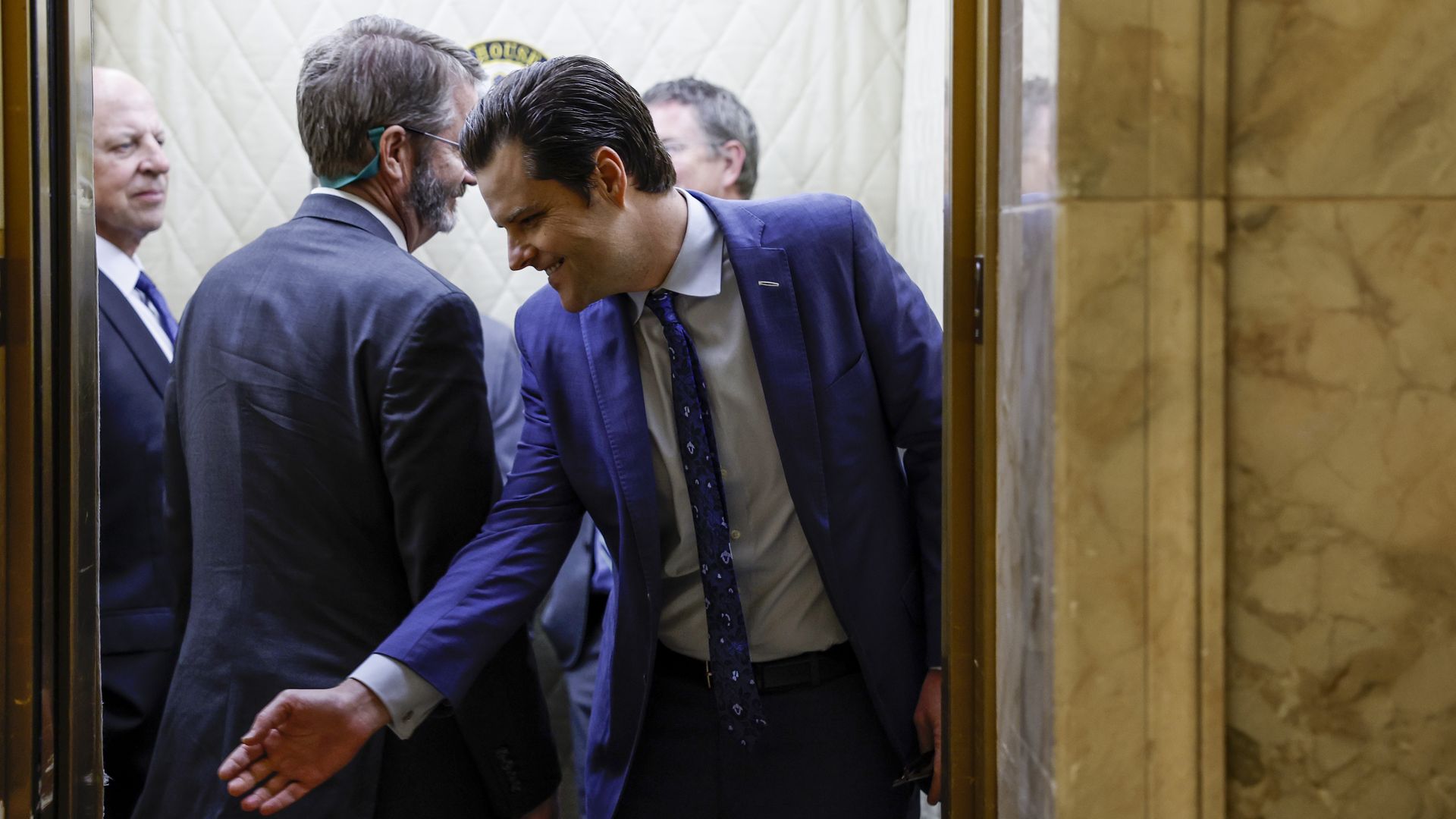 Some House members are proposing that House Republicans try to bypass the right-wing hardliners in their conference.
Why it matters: The House is staring down a long list of critical agenda items this fall, including keeping the government funded, setting agricultural policy for the next five years and reauthorizing the military.
Rep. Don Bacon (R-Neb.), a prominent member of several centrist and bipartisan groups, floated doing an end-run around the right by soliciting Democratic votes to pass procedural measures typically passed along party lines.
"We're going to have to have Democrats vote on rule votes," he said on Tuesday.
"I would rather pass meaningful legislation that can get through the Senate and leave the 11 to the side. They can raise holy hell by themselves."
What they're saying: "If you're unwilling to vote for a bill, then you don't really have influence over the bill," Rep. Blake Moore (R-Utah), the vice chair of the center-right Republican Governance Group, told Axios.
Biden-district Rep. Marc Molinaro (R-N.Y.) told Axios: "We have a bipartisan government which demands bipartisan agreement in order to move appropriations legislation or any policy."
"I think acknowledging the reality shouldn't be terribly difficult," Molinaro added. "The reality is we need a bipartisan solution to any problem."
Some centrist Democrats told Axios they would be open to working with Republicans to pass rule votes – similar to how 52 of them voted to save the debt ceiling deal last month after 29 Republicans voted against advancing the bill to a final vote.
Rep. Wiley Nickel (D-N.C.) said nobody has reached out t0 him about the idea, but "I'd certainly be open to shifting the balance of power more towards the center."
"I've always felt that if you have a group of incredibly far-right extremists who have no interest in governing, then folks in the center need to do what's right to make sure we can pass a budget and move legislation and do the peoples' business," Nickel said.
Rep. Greg Landsman (D-Ohio), citing Democrats voting to rescue the debt ceiling bill, told Axios, "My sense is, that may have to happen again."
Between the lines: House GOP tensions are at a boiling point as more mainstream Republicans fume at right-wingers for blocking votes last week.
The rage continued at a closed-door GOP meeting on Tuesday morning.
"We had a handful of individuals who spoke for the 95% ... The 95% are rightfully pissed," Bacon said of the blowup.
Zoom in: The appropriations process will be a particular point of contention as House Republicans prepare to set spending levels below what was agreed to in the debt ceiling deal with President Biden.
Bacon said Republicans should "live up to the agreement made with President Biden" and accept that "we can't get everything we want."
"I'm tired of hearing the Senate won't accept it, I'm tired of hearing we're going to do it next year," right-wing Rep. Ralph Norman (R-S.C.) shot back. "It's now. The cuts are now."
Reality check: McCarthy won the speaker's gavel due to the acquiescence right-wingers, who are now empowered to easily trigger a "motion to vacate," which would remove him as speaker.
He's previously swatted away proposals to have centrist Democrats salvage his speakership in the event of a motion to oust him.
McCarthy said in a GOP conference meeting last week that members of the majority shouldn't help turn the floor over to the other side by signing discharge petitions or voting against procedural motions, according to a GOP aide familiar with his comments.
The aide noted that GOP leadership passed the rule on Tuesday with Republican votes.
What we're watching: The Freedom Caucus is growing its ranks ahead of the coming fights, with Rep. Eric Burlison (R-Mo.) confirming to Axios that he has joined the group after a lengthy period of consideration.
Rep. Diana Harshbarger (R-Tenn.), who, like Burlison, voted against advancing the debt ceiling bill, also plans to join, according to Politico.
"There are centrists that are frustrated with me," said Rep. Matt Gaetz (R-Fla.). "I'm frustrated that they voted for that shitty debt bill. So I guess we can all be frustrated, but at the end of the day we've got to move forward together."
Go deeper