House GOP rebels agree to stop blockading McCarthy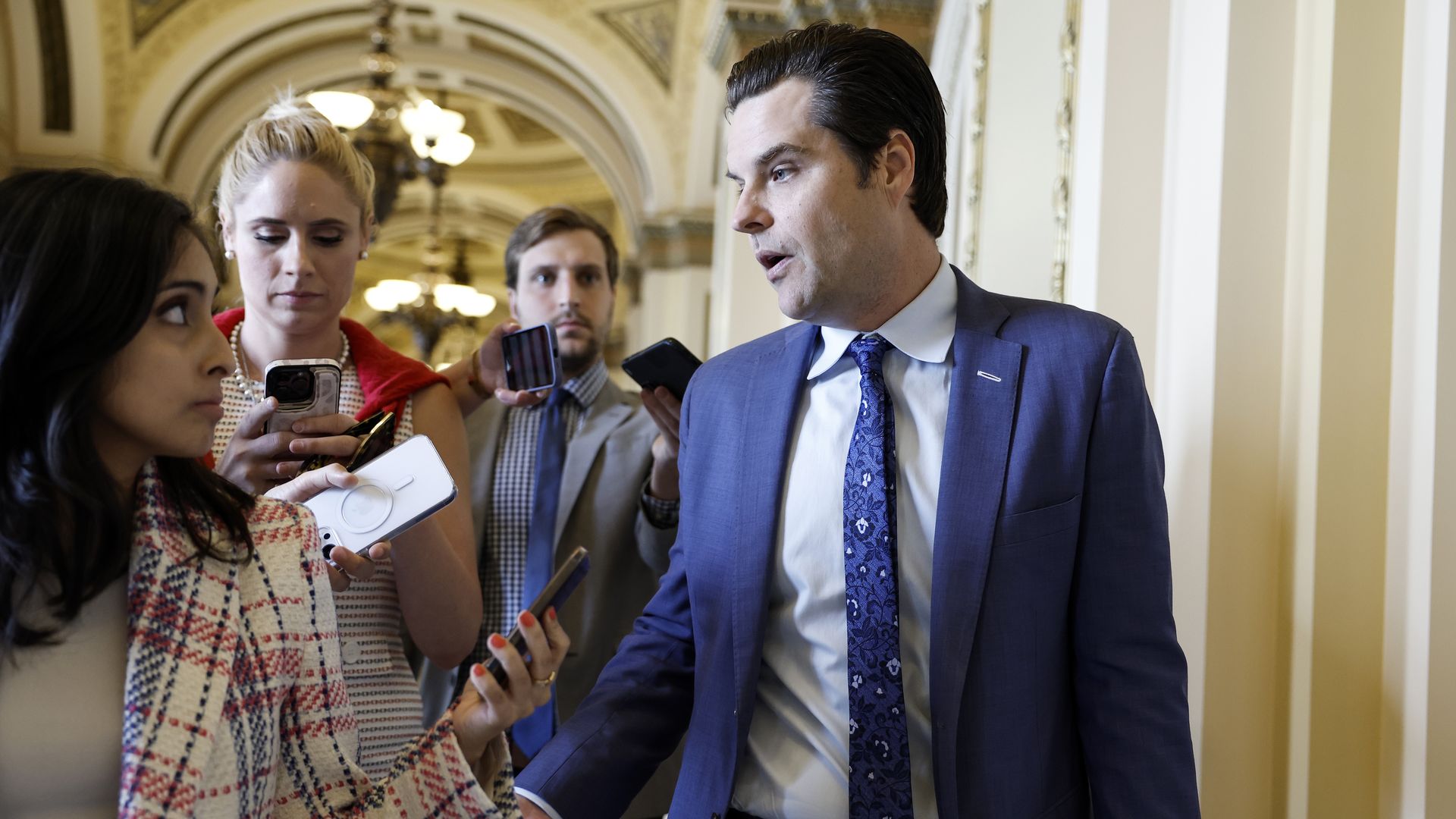 A group of House conservative rabble rousers has agreed with Speaker Kevin McCarthy (R-Calif.) to end a days-long blockade of floor action, Axios has learned.
Why it matters: McCarthy's speakership has been on rocky ground with the far-right flank of his party since the passage of the debt ceiling bill.
A group of 11 conservatives held up the House floor last week from moving on GOP-backed legislation, with leadership ultimately canceling a day of votes.
Hardliners cited frustrations with the way the debt limit bill was handled.
Following a meeting with McCarthy on Monday, multiple conservatives said talks were headed in the right direction.
"Here's what everyone understood: the power sharing agreement that we entered into in January with Speaker McCarthy must be renegotiated and he understood that we understood that," Rep. Matt Gaetz (R-Fla.) told reporters.
"The only thing we agreed to is that we'll sit down and talk more of the process," McCarthy told reporters.
Rep. Tim Burchett (R-Tenn.) said that the group was pushing for leadership to pass Rep. Andrew Clyde's pistol brace bill, calling for unused funds for commissions and boards to be cut, spending levels in appropriations bills to be brought down closer to FY22 levels and more conservative negotiators at the table while working on major issues.
What's next: The House is expected to take procedural votes on multiple pieces of GOP-backed legislation on Tuesday, but conservatives have cautioned that the blockade could return.
"If there's not a renegotiated power sharing agreement, then perhaps we'll be back here next week. — that's not our goal," Gaetz said. "Our goal is to continue to build off the momentum of this discussion with just that."
The big picture: Gaetz warned that the GOP rebels won't support an omnibus spending bill, rather than handling appropriations in more targeted packages.
"We're not voting for an omni again, and if an omni is put on the floor, or if they try a minibus and then CR the rest of this budget, then that will have shown that all of our efforts to change this place have failed," he said.
McCarthy recently told House Republicans he will need all of the different factions' input on an array of issues as they try to pass key legislation with a razor-thin majority during a recent conference meeting.
The bottom line: "We've aired out the issues. We want to see it move forward as a body," said Rep. Ralph Norman (R-S.C.), referencing their talks with McCarthy.
"We'd rather be together … and it's all been expressed in there. And he listened. And he's going to involve more of us in the discussions."
Go deeper