Democrats float scheme to protect McCarthy from debt ceiling revolt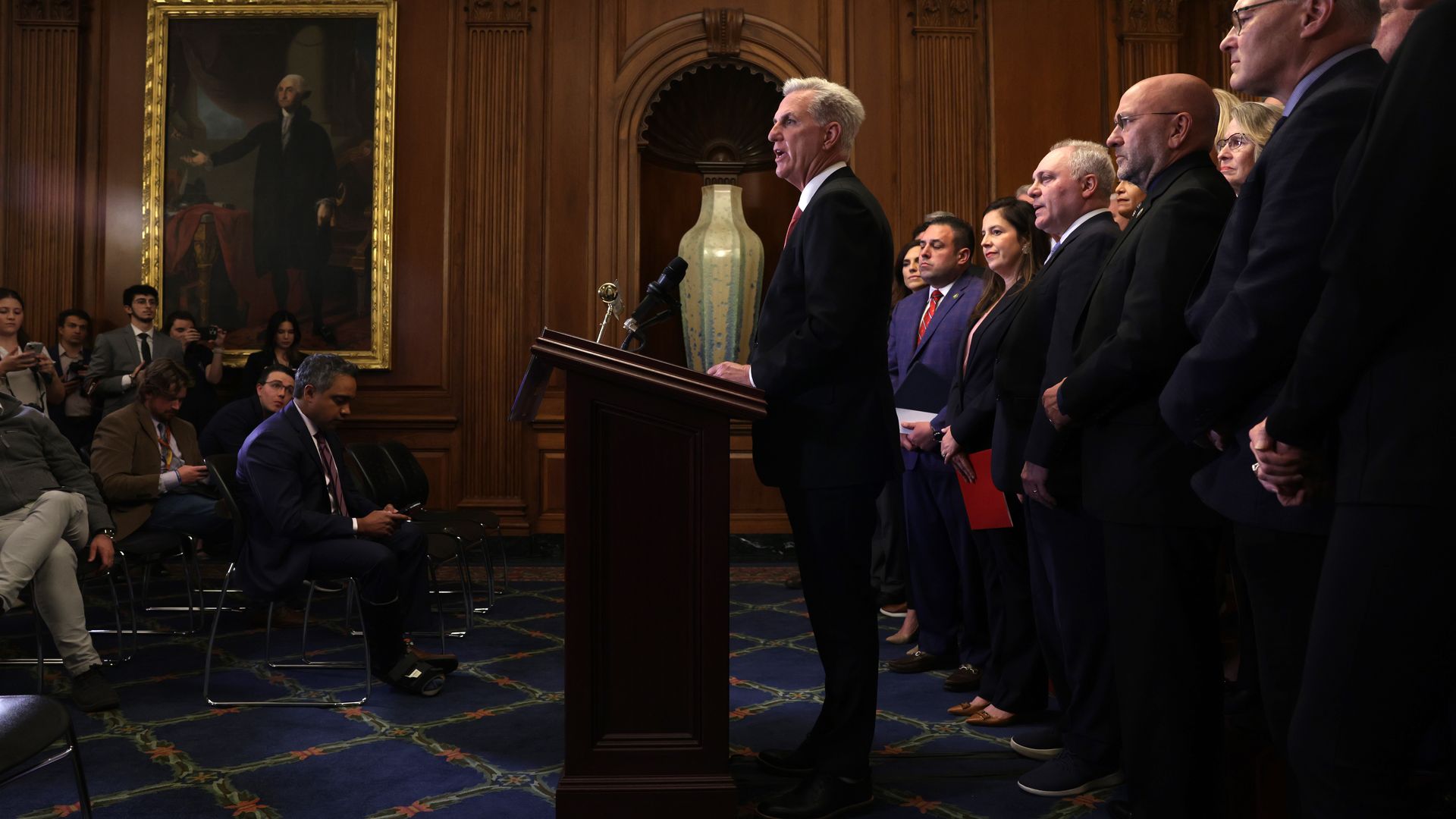 A group of dozens of House Democratic moderates is quietly telling Republicans they could provide House Speaker Kevin McCarthy (R-Calif.) the votes he needs to survive a right-wing effort to oust him.
Why it matters: The development could further complicate matters for McCarthy as he tries to hammer out a debt ceiling deal with the White House without alienating members on his side of the aisle.
GOP hardliners who resisted his efforts to become speaker also say they won't support a watered-down deal, meaning he would likely need Democratic votes to pass it.
What they're saying: "Nobody's talking about" filing a motion to vacate, insisted Rep. Bob Good (R-Va.), one of the Freedom Caucus members vowing to vote against anything less than the House GOP's debt ceiling bill.
A GOP aide said the Democratic centrists are trying to manufacture a scenario in which McCarthy is at risk of a GOP revolt.
"The Speaker has never heard of this garbage, has zero interest in it, and thinks Democrats would be better off focusing on doing the jobs they were elected to do," McCarthy spokesperson Mark Bednar told Axios.
What we're hearing: The group, first reported by Politico, is assuring House Republicans of their openness to providing McCarthy the backup he needs if hardliners revolt, according to three sources familiar with the matter.
One House Democrat involved with the effort described it as a "loosely knit network of Democrats willing to place [principle] over politics if ... he cuts a reasonable deal and then is subject to a motion to vacate."
The member said the group remains informal and isn't officially sanctioned by leadership, and consists of roughly 40 Democrats.
The Freedom Caucus, though it doesn't publish official membership rolls, is understood to have around 40 members.
The intrigue: Reps. Don Bacon (R-Neb.) and Brian Fitzpatrick (R-Pa.), two of the House GOP's most prolific collaborators with Democrats, told Axios they haven't heard about the scheme.
The context: As part of a list of concessions he made to hardliners in his 15-ballot speaker fight in January, McCarthy agreed to lower the threshold to file a motion to vacate — where the House votes on whether to remove the speaker.
A single lawmaker can now trigger the motion to vacate, and it would take only five Republican defectors to topple McCarthy if all Democrats voted to do so.
The state of play: "We passed our bill. We already said what we're willing to do. That's what was passed," Rep. Scott Perry (R-Pa.), the chair of the Freedom Caucus, told reporters on Monday.
Some Freedom Caucus members seem receptive to backing a watered-down version of the bill – or at least not launching a revolt over it.
"What should happen is the Senate passes their own version and then we go to conference with our version versus their version and then we'll see what comes out," said Rep. Warren Davidson (R-Ohio), who added that his vote "comes down to how substantive the reforms are."
Go deeper