House GOP tensions erupt as standoff hamstrings agenda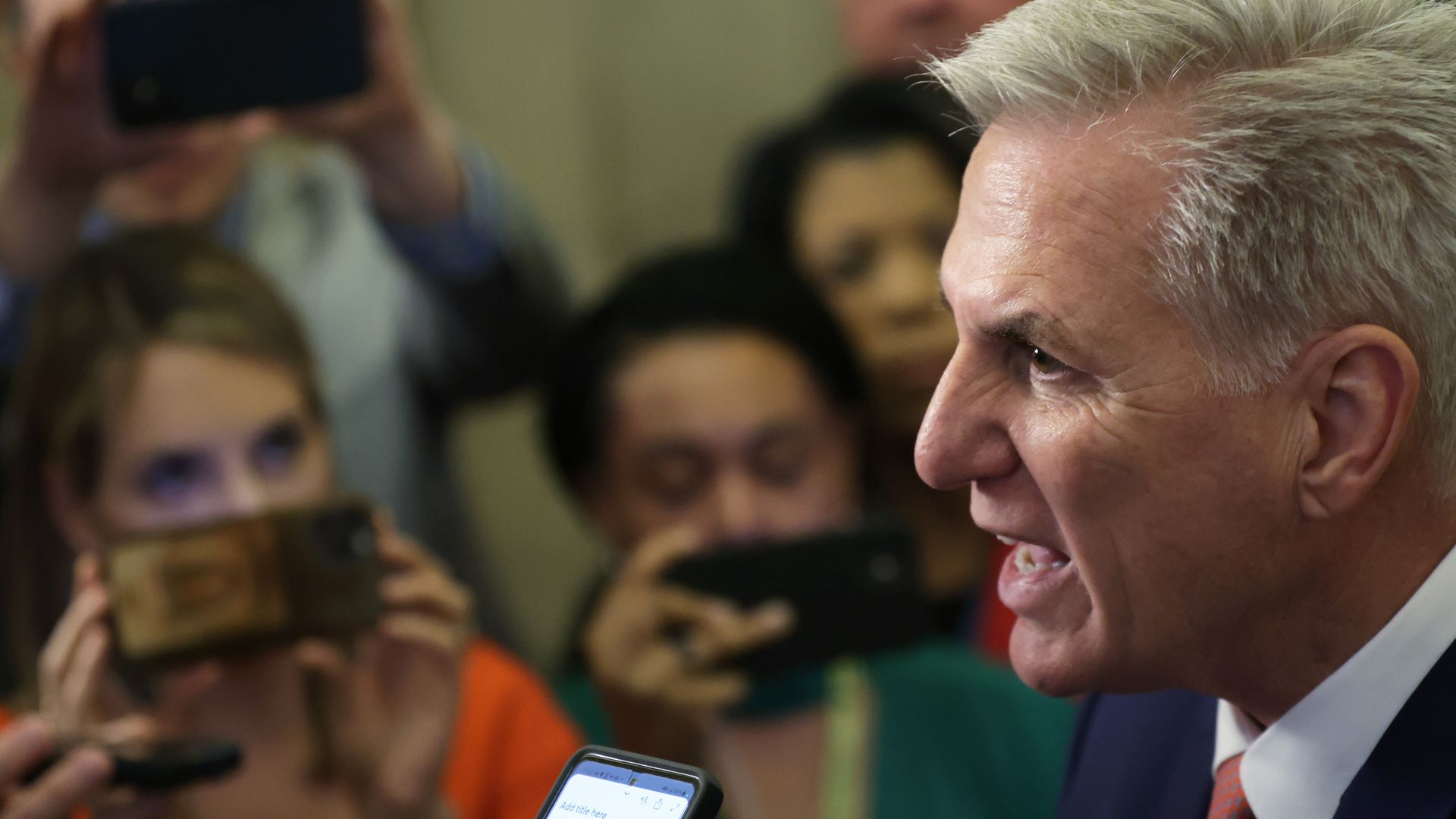 Frustrations from establishment House Republicans spilled out into the open on Wednesday after right-wing lawmakers succeeded in blocking nearly a week's worth of House votes.
Why it matters: The latest bout of infighting has reignited concerns about GOP leadership, all but helpless to stop right-wing agitators from hijacking the legislative process.
"The Dysfunction Caucus does what it does best," Rep. Don Bacon (R-Neb.) told Axios. "This hurts the GOP conference, Congress and the Country."
The backdrop: Nearly a dozen right-wing House Republicans, in protest of House Speaker Kevin McCarthy (R-Calif.) compromising with Democrats to raise the debt ceiling, voted down a measure on Tuesday to bring GOP legislation to the floor.
The underlying bills would prohibit the federal government from banning gas stoves and require congressional approval for major executive regulations – both top GOP priorities with little opposition inside the party.
The state of play: The House is not set to return until Monday, meaning three days worth of votes were scrapped over the maneuver.
What they're saying: Rep. Steve Womack (R-Ark.) fumed to reporters, "This is, in my opinion, political incontinence on our part. We are wetting ourselves and we can't do anything about it."
"In my opinion, a conservative should be supporting moving conservative legislation, and that's not happening right now," Rep. Andy Barr (R-Ky.) said.
Between the lines: One major source of frustration is a lack of clarity about what, precisely, the McCarthy rebels are demanding as they push to reopen the deal they struck in January.
"I don't think anybody understands what the demands are … people are frustrated," Rep. Andrew Garbarino (R-N.Y.) told Axios. "It's frustrating with the uncertainty – not knowing what's going on and not knowing what they want."
The big picture: As Congress moves from the debt ceiling crisis to trying to fund the government, this latest blowup is fueling skepticism that the divergent interests of Senate Democrats and House conservatives can be successfully bridged.
Womack, a senior Appropriations Committee member, predicted Congress may need to resort to stopgap measures to keep the government funded through the 2024 election.
"I've got some serious concerns ... about how antics like this can impact the ability for us to do our basic job of funding the government," he said, adding that "placating a small group of people is, to me, not constructive in the process."
What we're watching: Rep. Kelly Armstrong (R-N.D.) noted that the dynamic could worsen because "we're about to very possibly lose two members in the very near future."
McCarthy, asked at a press conference if he has heard frustrations from other parts of his conference about this dynamic, said: "Very much so."
"I'm fearful that people in the Republican Party are going to be frustrated" with the Freedom Caucus, he said. "I don't want that to happen."
Juliegrace Brufke contributed reporting for this story.
Go deeper