GOP hardliners tank vote to force McCarthy reckoning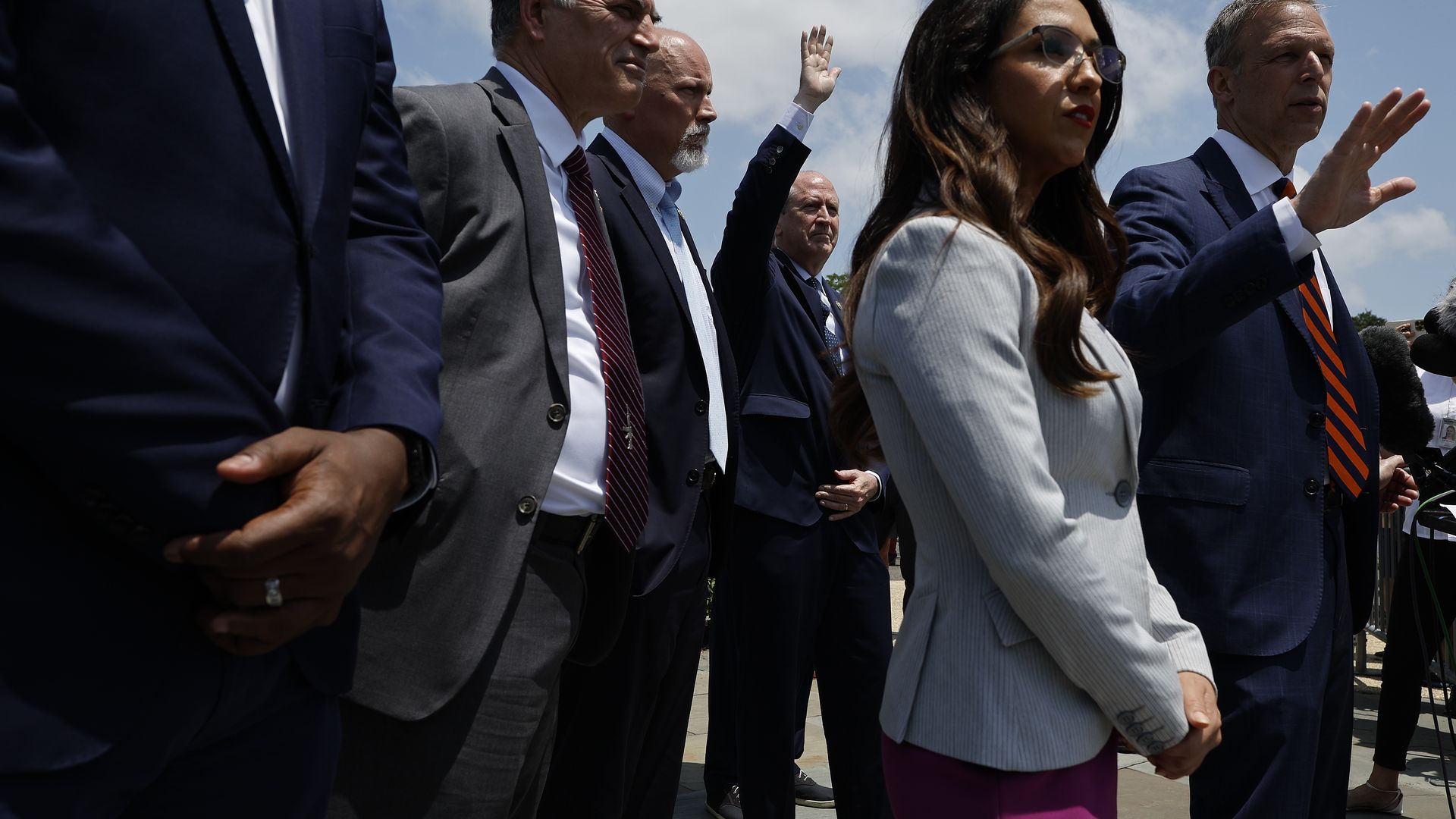 A group of right-wing House Republicans on Tuesday sabotaged a procedural vote teed up by GOP leadership in a bid for retribution over the debt ceiling bill that passed last week.
Why it matters: It signals a renewed willingness by House Speaker Kevin McCarthy's detractors to break with norms to hold his feet to the fire.
Lawmakers traditionally stick with their parties on the "rule," which sets up a House floor vote to pass a bill, even if they oppose the underlying legislation.
The last time such a vote failed was 2002, a source told Axios.
Zoom in: Heated discussions took place on the floor between top Republicans and right-wingers, most notably House Majority Leader Steve Scalise (R-La.) and Rep. Andrew Clyde (R-Ga.), as the vote was unfolding.
Lawmakers and aides said the discussion focused on Clyde's allegation — denied by leadership — that leadership threatened not to give his pistol brace bill a vote over his opposition to the debt ceiling rule.
Driving the news: The vote to advance four bills, including a measure to prohibit the federal government from banning gas stoves, failed 206-220.
Nearly a dozen Republicans, mostly members of the right-wing Freedom Caucus, voted with Democrats against advancing the bill.
None of the bills are controversial among Republicans.
The backdrop: The right has been up in arms after McCarthy shepherded an agreement with President Biden to raise the debt ceiling last week.
The debt ceiling bill passed with votes from 165 Democrats and 149 Republicans.
Many conservative Republicans, who said its spending cuts didn't go far enough, voted no.
What they're saying: "We took down the rule because we're frustrated at the way this place is operating," said Rep. Matt Gaetz (R-Fla.).
He and others said they want promises from McCarthy to prioritize passing legislation with conservative votes rather than Democratic ones.
They also said the vote on Tuesday was retribution for strong-arming tactics leadership allegedly employed against Republicans who voted against the rule on the debt ceiling bill.
"I think that we will do whatever it takes to unify the Republican conference," said Rep. Ken Buck (R-Colo.). "Making sure Kevin abides by his word is what we're hoping for."
"I think leadership now understands it is a matter of some urgency," said Rep. Dan Bishop (R-N.C.).
What we're watching: The lawmakers signaled this is one of several tactics that could serve as alternatives to the motion to vacate – a procedural tool to force a vote on ousting McCarthy.
"It is one of the tools that ... the Republican Conference has available to it to make sure that we unify and move forward," Buck said of voting down rules.
Go deeper