Right's new fight: Gas stoves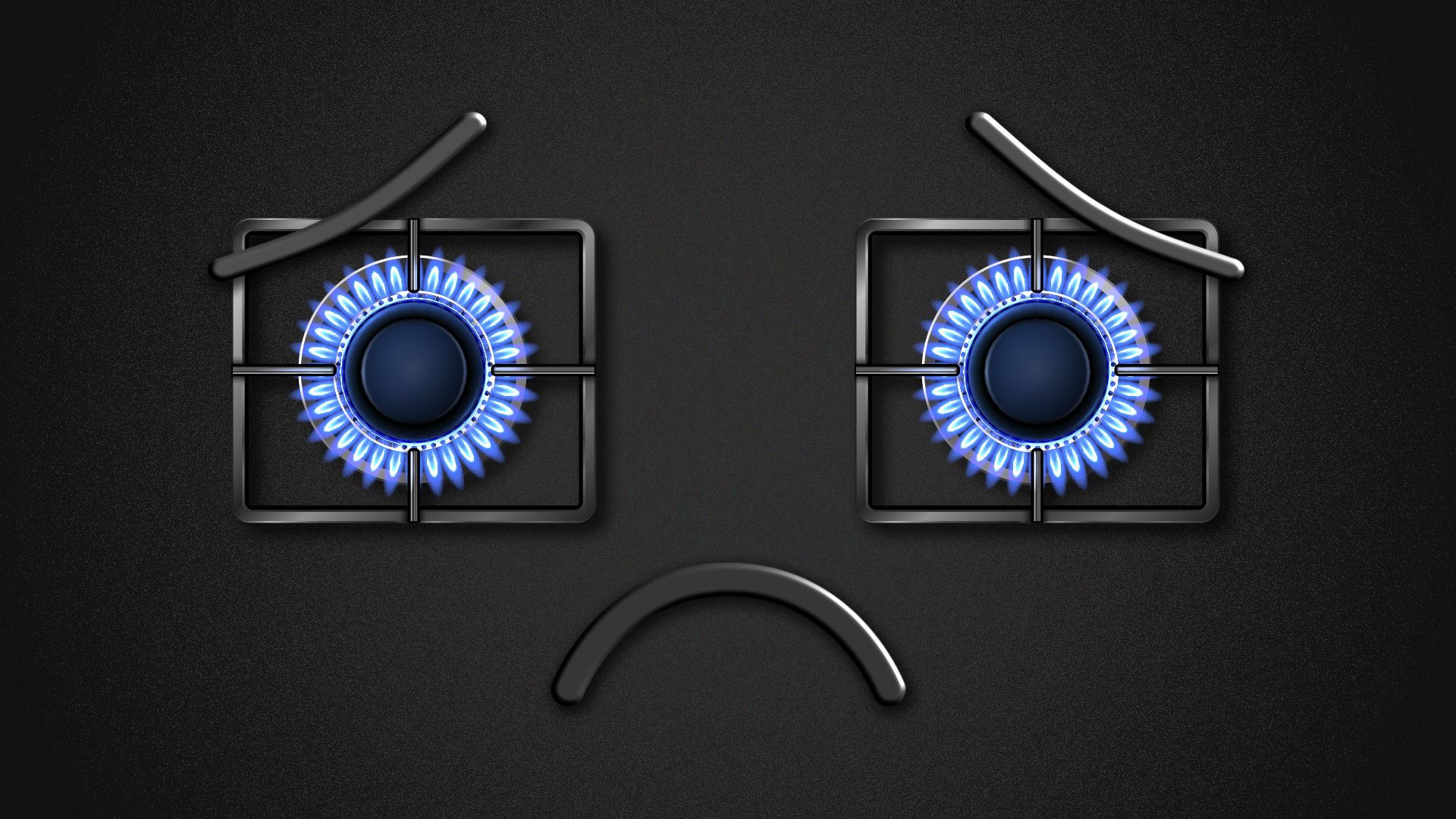 Despite official insistence that fears of a ban are unfounded, conservatives are suddenly championing gas stoves in a new culture war.
Why it matters: Mounting scientific evidence points to a link between a higher risk of respiratory problems and gas stoves — the prevalent means of cooking in roughly 47 million American households.
State and local governments have battled over proposals to ban gas appliances in new construction because of their health and climate impacts.
Some cities, like New York, have already enacted such bans — but federal officials hadn't weighed in until this week.
Driving the news: The Consumer Product Safety Commission (CPSC) — which regulates a range of consumer products for safety and health risks — on Wednesday forcefully denied that it was considering a ban on gas stoves.
The backlash was sparked by an interview Richard Trumka Jr., one of the agency's four commissioners, gave to Bloomberg this week suggesting one was "on the table."
Yes, but: That didn't stop congressional Republicans from turning up the heat.
Sen. Ted Cruz (R-Texas) tweeted Monday that "the Biden Administration is once again going to extreme lengths to appease Green New Deal fanatics — they're considering a national ban on gas stoves."
Reps. Marjorie Taylor Greene (R-Ga.), Gary Palmer (R-Ala.) and Byron Donalds (R-Fla.) — among others — joined the backlash. Rep. Jeff Duncan (R-S.C.) called it a "power grab."
Sen. Joe Manchin (D-W.Va.) made the backlash bipartisan, saying a ban would be a "recipe for disaster."
The White House also said Wednesday that President Biden isn't in favor of a federal ban on gas stoves.
Where it stands: In a statement, CPSC chair Alexander Hoehn-Saric said research indicates that "emissions from gas stoves can be hazardous, and the CPSC is looking for ways to reduce related indoor air quality hazards." 
"But to be clear, I am not looking to ban gas stoves and the CPSC has no proceeding to do so."
Still, there is growing momentum to electrify buildings. So far, cities and states have taken the lead in trying to regulate gas stove usage.
The Los Angeles City Council voted last may to ban some natural gas appliances from newly constructed homes.
CBS News has reported that some 80 local governments have taken steps to dissuade gas stove usage in new homes, while some 20 states have passed laws that prohibit such bans.
A recently released study found roughly 13% of childhood asthma in the U.S. can be attributed to gas stove usage.
The other side: "There are no documented risks to respiratory health from natural gas stoves from the regulatory and advisory agencies and organizations responsible for protecting residential consumer health and safety," said Karen Harbert, president and CEO of the American Gas Association, in a statement to Axios.
Between the lines: It is not just public health risks that are motivating a shift away from gas ranges.
Natural gas stoves are known to leak and emit methane, a powerful greenhouse gas, and policymakers are moving to ban such stoves in new construction in order to limit global warming.
Talor Gruenwald of the nonprofit Rewiring America, who was the lead author of the recent asthma study, cites climate change as a key motivation for moving away from cooking with gas.
"Gas stove emissions are significant contributors to the climate crisis. Direct emissions from buildings — including from space heating, water heating, and cooking — are responsible for 10% of carbon dioxide emissions every year in the United States," he told Axios in a statement.
"Since methane has a much bigger global warming impact than CO2, it compounds the danger of gas stoves for the climate."
What we're watching: What happens when the CPSC opens public comment on hazards posed by gas stoves later this winter, which agency officials told Bloomberg they plan to do.
Go deeper