Rep. George Santos pleads not guilty to federal criminal charges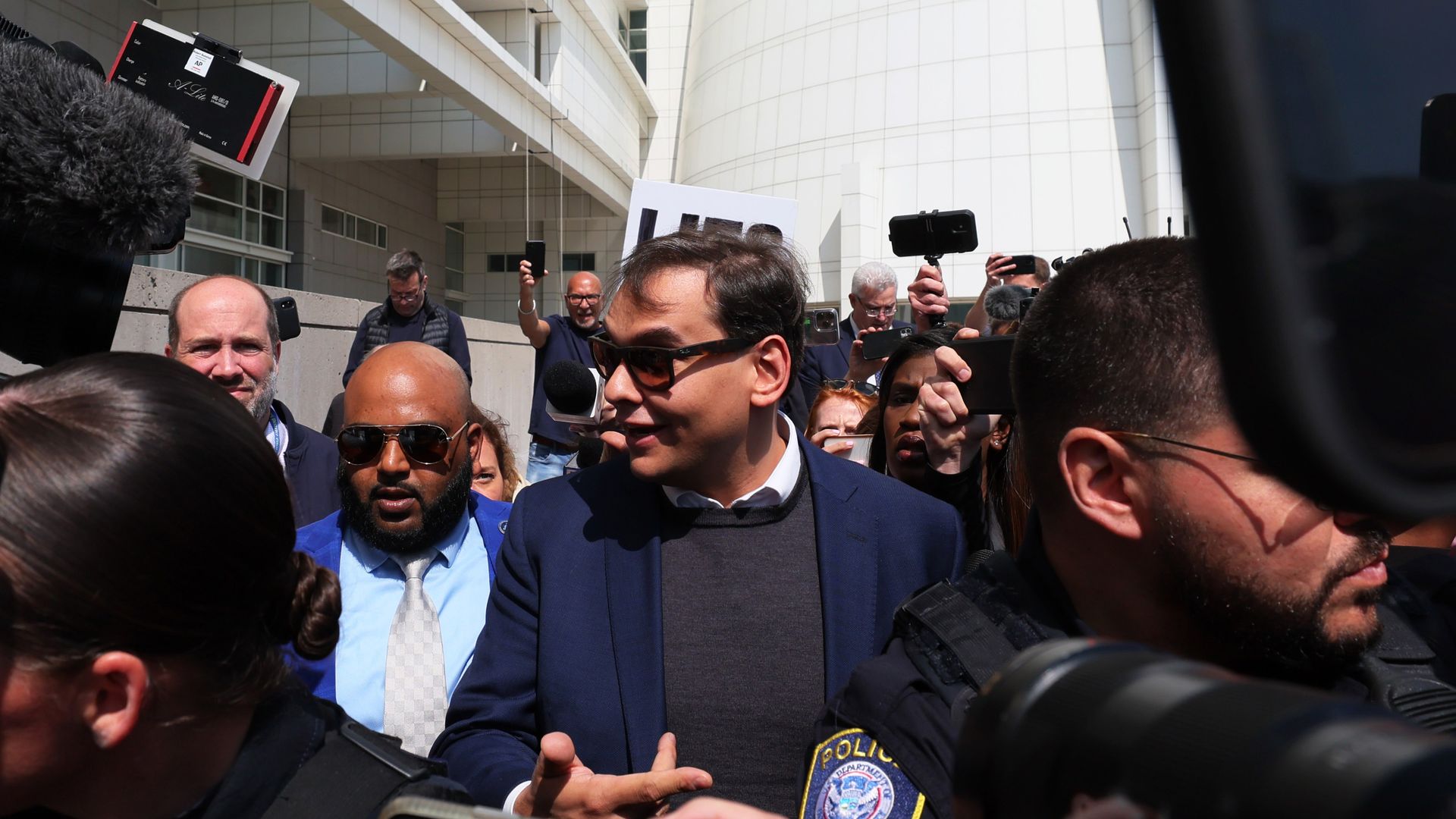 Embattled Rep. George Santos (R-N.Y.) pleaded not guilty Wednesday to 13 federal criminal charges, U.S. attorney for the Eastern District of New York spokesperson Danielle Hass told Axios.
Driving the news: Santos was released on a $500,000 bond, per Hass, after he was charged earlier Wednesday for alleged wire fraud, money laundering, theft of public funds and lying to Congress.
U.S. Attorney Breon Peace said that the indictment, filed in the Eastern District of New York on Wednesday, "seeks to hold Santos accountable for various alleged fraudulent schemes and brazen misrepresentations."
It included seven counts of wire fraud, three counts of money laundering, one count of theft of public funds and two counts of making materially false statements to the U.S. House, per the Department of Justice.
Santos surrendered to authorities and was taken into custody at a federal courthouse in Long Island earlier Wednesday.
What he's saying: Santos, speaking to reporters after his arraignment, called his arrest a "witch hunt" and said that he is planning to run for re-election.
"I will prove myself innocent and then we'll move from there and re-election is a very far time away from now," he said.
Zoom in: Santos allegedly executed a scheme, per the indictment, to "defraud supporters of his candidacy for the House" by inducing supporters to donate to a company "under the false pretense that the money would be used to support [Santos'] candidacy."
Instead, the money was used on personal expenses, including luxury designer clothing and credit card payments, per the indictment.
The indictment also says that Santos in June 2020, during the early stages of the pandemic, applied for government assistance in New York, despite being employed by a Florida-based investment firm, where he earned a salary of about $120,000 a year.
He is accused of efforts to mislead the House and public about his finances in connection with his two runs for congressional office.
During his first — unsuccessful — House campaign in May 2020, Santos allegedly overstated income from one company and failed to disclose the salary he was receiving from the investment firm.
He also allegedly overstated his income and assets during his second House campaign in September 2022.
The big picture: Santos has faced calls to resign from members of his own party, including all his fellow New York GOP freshmen, over revelations that he fabricated vast swaths of his resume, background and personal finances.
Other House Republicans are growing increasingly frustrated over his continued presence in the conference amid the criminal charges.
After multiple reports surfaced Tuesday that he was facing federal charges, Santos told AP in a brief interview: "This is news to me."
House Speaker Kevin McCarthy, who has largely stood by Santos, did not call for his' resignation following the indictment. "He will go through his time in trial and let's find out how the outcome is," the California Republican said.
McCarthy indicated Tuesday, before the indictment was unsealed, that Santos should be able to vote in Congress while awaiting a trial.
"If a person is indicted, they're not on committees, they have the right to vote, but they have to go to trial."
He has previously said Santos would be removed from Congress if an investigation found he broke the law.
What's next: Santos' next court appearance is scheduled for June 30 before U.S. District Judge Joanna Seybert, per Hass.
Editor's note: This story and headline have been updated with additional development, including to reflect Santos pleaded not guilty and was released.
Go deeper