GOP patience with George Santos wears thin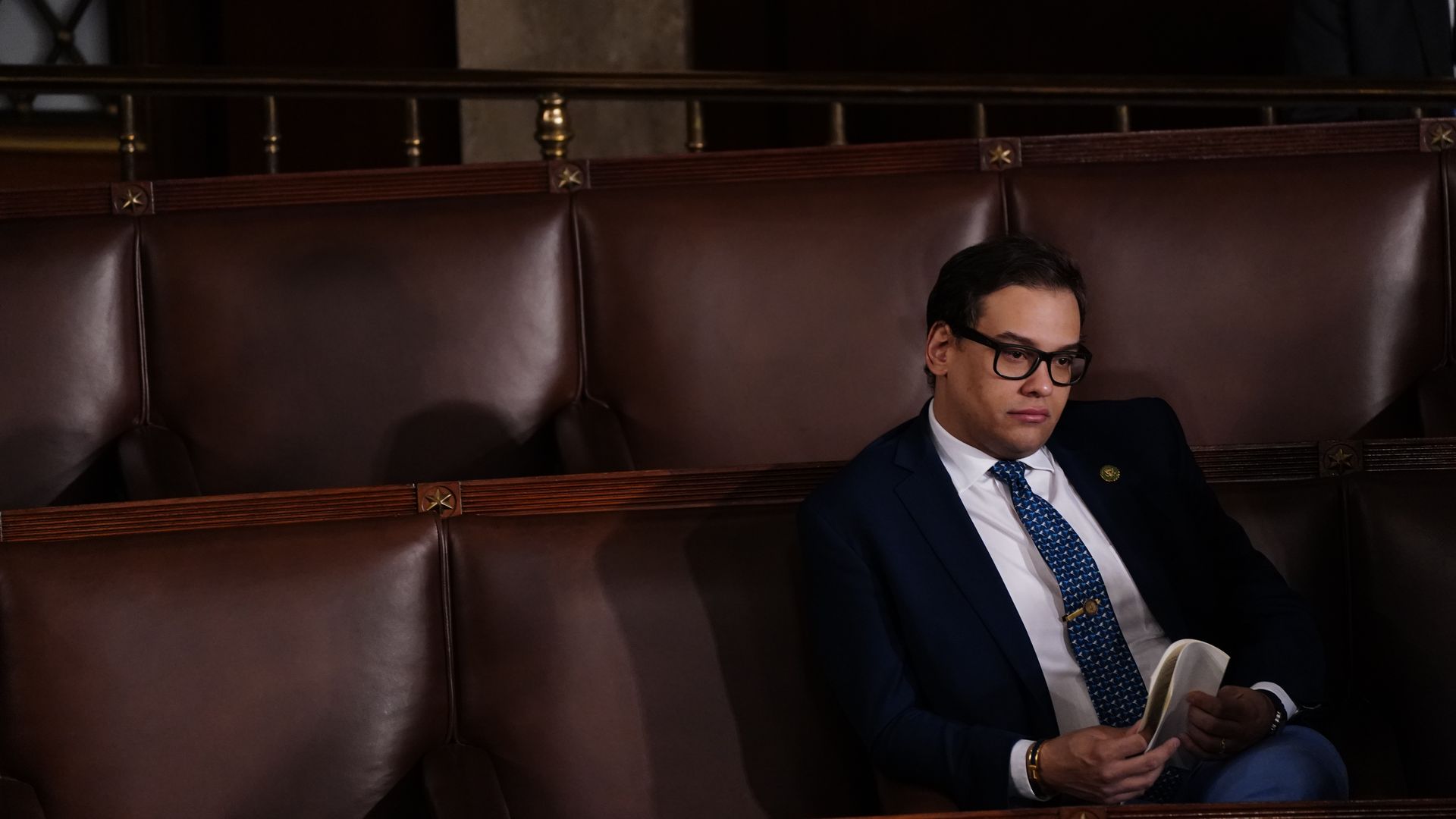 House Republicans are expressing increasing weariness with Rep. George Santos' (R-N.Y.) continued presence in their conference over news he is facing criminal charges from the Department of Justice.
Why it matters: Santos' political future depends on the continued support of his fellow Republicans – and House Speaker Kevin McCarthy (R-Calif.) has not ruled out eventually moving to oust him.
McCarthy said Tuesday that Santos is safe for now, but a conviction could change that: "Just like we had before with Jeff Fortenberry ... he was found guilty and then I told him he needed to resign."
Driving the news: Rep. Nicole Malliotakis (R-N.Y.) became the latest to call for Santos' resignation, telling Axios in a statement: "We are waiting to see the charges, but we all knew this was where things were heading. The sooner he leaves, the sooner we can win the seat with someone who isn't a liar."
Rep. French Hill (R-Ark.) also told CNN: "I do believe that if a member of Congress is charged with a federal crime they should resign."
That marks nearly a dozen House and Senate Republicans who have called for Santos' ouster, including all his fellow New York GOP freshmen.
What they're saying: Even Republicans who aren't calling for Santos to step down are increasingly open about their frustrations with him.
"[On] the political question, it's really detrimental to a lot of our friends in New York ... I don't think it's helpful to any of us," said Rep. Kelly Armstrong (R-N.D.).
Armstrong said Santos is "innocent until proven guilty," but "if he asked my advice, I would just ask the question: 'How can you serve your constituents?'"
"Distractions are never a good idea for us right now," said Rep. Juan Ciscomani (R-Ariz.), who said he wants to see the precise charges.
Rep. Don Bacon (R-Neb.), who said Republicans should wait to see if he is found guilty, told Axios: "Obviously, it looks bad."
The bottom line: "You have the president calling into question the very Constitution ... leadership trying to negotiate during both a debt and a budget crisis, a border crisis," said Rep. Marc Molinaro (R-N.Y.), "And here we are, yet again, talking about somebody who just shouldn't be a member of Congress."
"The day we no longer have to discuss George Santos as a member of Congress will be a good day for America."
Go deeper