All the GOP lawmakers who have called for George Santos' ouster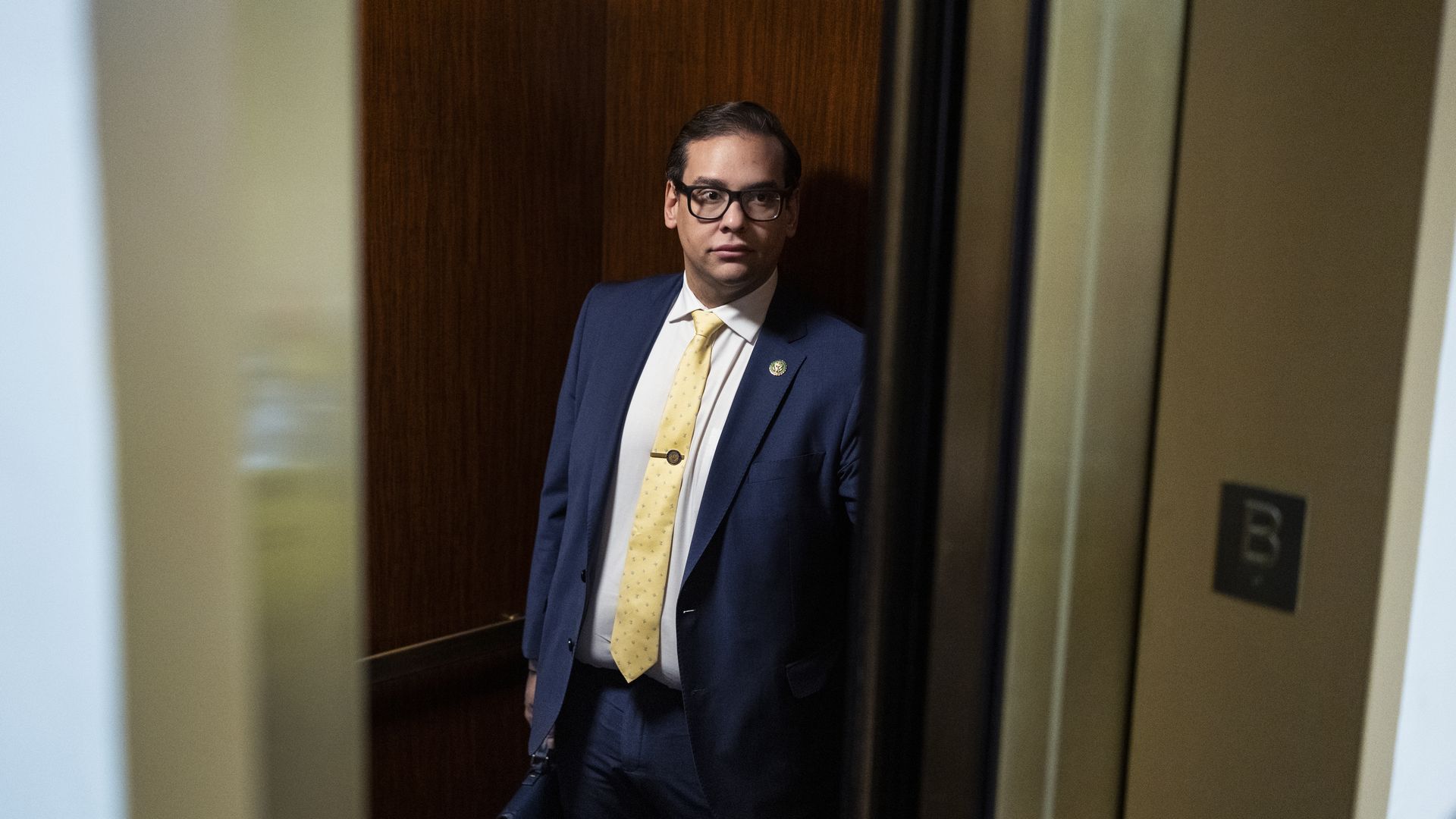 More than a dozen of Rep. George Santos' (R-N.Y.) fellow members of Congress have demanded he resign or be expelled from Congress – calls that ticked up after he was charged and indicted by the Justice Department.
The big picture: Santos has been mired in scandal since it was revealed in December he fabricated vast swaths of his resume, background and more. Now, he faces federal scrutiny for his campaign and personal finances.
Santos' fellow New York GOP freshmen, all of whom hold seats that President Biden won in 2020, called on him to resign back in January.
Rep. Anthony D'Esposito (R-N.Y.), a fellow Long Islander who holds the bluest seat of any Republican, opened the floodgates by calling for Santos' resignation along with local GOP figures.
Rep. Nick Langworthy (R-N.Y.), the then-chair of the New York GOP, followed suit in a statement: "I support the Nassau Republicans' decision today to request the resignation of George Santos."
Rep. Nick LaLota (R-N.Y.), another Long Islander, told Axios: "What he's done is disgraceful, dishonorable and unworthy of the office. I think he should resign."
Reps. Marc Molinaro (R-N.Y.) told Axios: "I just don't see how he can fulfill his duty."
Rep. Mike Lawler (R-N.Y.) said in a statement Santos "lost the confidence and support of his party," and "with the extent and severity of the allegations … I believe he is unable to fulfill his duties and should resign."
Rep. Brandon Williams (R-N.Y.) said in a statement that Santos was elected "in part due to his biographical exaggerations and apparent deceptions … He must resign."
The big picture: Several Republicans outside that block also called for Santos' resignation earlier this year.
Rep. Max Miller (R-Ohio), in January, called for Santos' resignation over his debunked claims of Jewish heritage: "It is not okay to fabricate or lie for political gain ... I do not believe George Santos can effectively serve and should resign."
Rep. Nancy Mace (R-S.C.), who first called on Santos to resign in January, told Axios on Tuesday: "He should have resigned a long time ago."
Sen. Mitt Romney (R-Utah) told Santos "you don't belong here" at President Biden's State of the Union address in February.
The latest: The group of GOP Santos detractors expanded once again this week after news broke on Tuesday that he was being charged by the DOJ.
Second-term Rep. Nicole Malliotakis (R-N.Y.) told Axios in a statement on Tuesday: "We are waiting to see the charges, but we all knew this was where things were heading. The sooner he leaves, the sooner we can win the seat with someone who isn't a liar."
Rep. French Hill (R-Ark.) told CNN on Tuesday: "I do believe that if a member of Congress is charged with a federal crime they should resign."
Rep. Tony Gonzales (R-Texas) tweeted on Wednesday that Santos should be "immediately expelled" and "a special election initiated at the soonest possible date."
Rep. Steve Womack (R-Ark.) told reporters on Wednesday it would "absolutely" be better if Santos resigned: "It's a distraction and it's a punch line for a lot of commentary regarding the Republican Party that we don't need."
State of play: McCarthy has so far resisted calling for Santos' resignation, telling reporters that "the voters of his district have elected him" and that he is entitled to due process.
On Tuesday, McCarthy said: "If a person is indicted ... They have the right to vote [on the floor], but they have to go to trial."
State of play: Santos' vote is critical for House GOP leadership as the party holds just a five-seat majority – and his seat could easily go to a Democrat in a special election.
The other side: Santos has repeatedly resisted calls to step down and even launched a long-shot reelection campaign despite only raising $5,000 in the first quarter of 2023.
What we're watching: Rep. Robert Garcia (D-Calif.) has introduced a privileged motion to expel Santos – which, he said Tuesday, has support from over 40 members – but Democratic leadership has not attempted to force a vote on it.
"I haven't had any conversations with any member of the caucus about that at this point," House Minority Leader Hakeem Jeffries (D-N.Y.) told reporters on Tuesday.
Editor's note: This article has been updated with additional reporting and developments.
Go deeper