Scoop: More NY House Republicans call for Santos to resign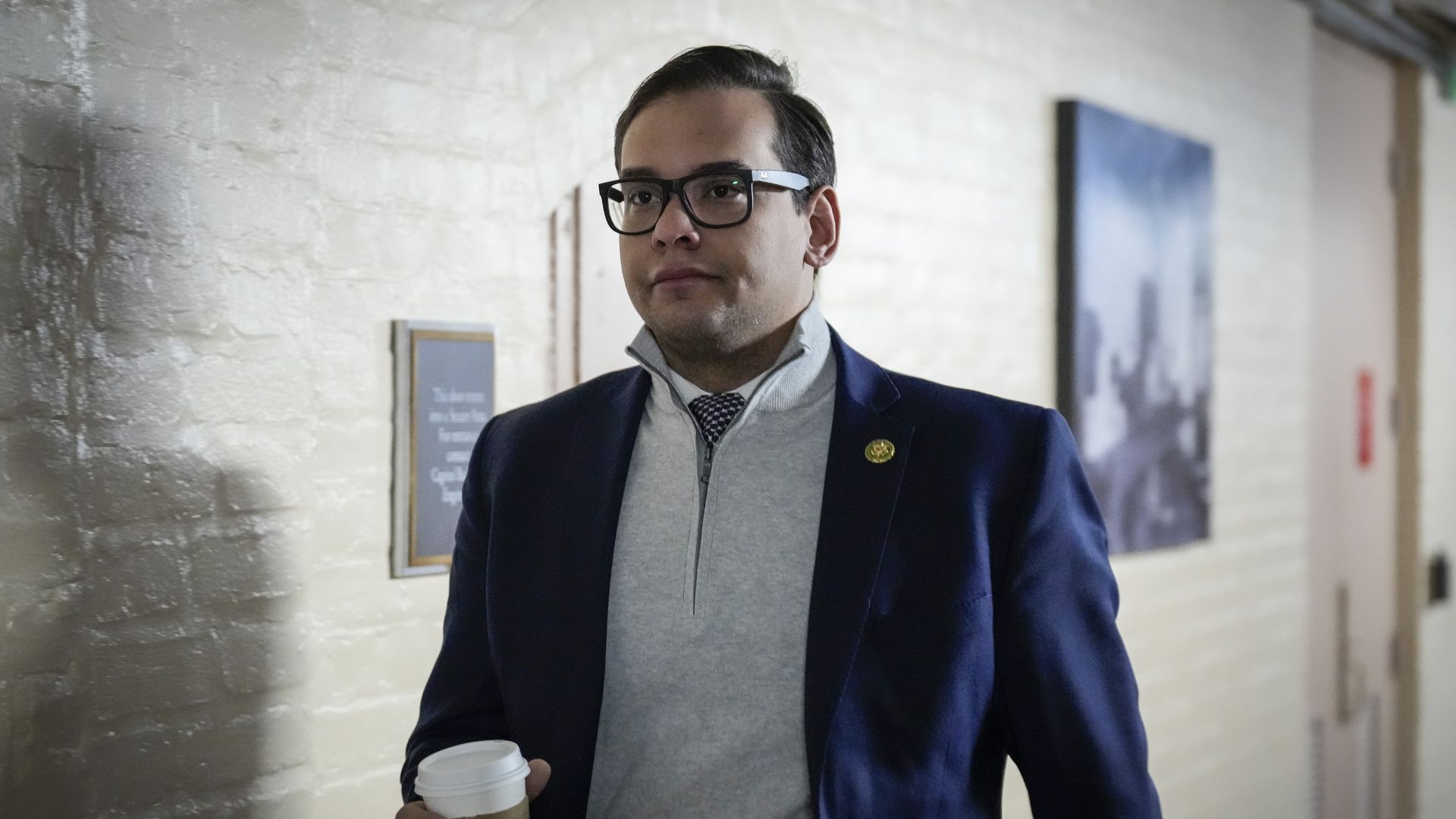 Rep. Nick LaLota (R-N.Y.) on Wednesday called for fellow Long Island Rep. George Santos (R-N.Y.) to resign over revelations he fabricated major portions of his resume and background while on the campaign trail.
Why it matters: LaLota adds to a growing chorus of New York Republicans demanding Santos resign amid an array of probes into his financial disclosures, campaign finances and outstanding legal issues.
What they're saying: "I definitely share their sentiments," LaLota told Axios of the Nassau County Republican Committee officials' and New York State Republicans' calls for Santos' resignation.
"What he's done is disgraceful, dishonorable and unworthy of the office. I think he should resign," LaLota said during a brief interview at the Capitol.
LaLota said Santos' actions since arriving in D.C. have only reinforced his view: "He hasn't shown any remorse, he hasn't corrected any of the behavior. He still has antics like showing a white power sign on the House floor. It's not appropriate for our conference, for our country."
He joins Rep. Anthony D'Esposito (R-N.Y.), who is also from Long Island, and Rep. Nick Langworthy (R-N.Y.), the state GOP chair. Another, Rep. Brandon Williams (R-N.Y.), said in a statement later on Wednesday: "He must resign."
What caught our eye: The fourth member of the Long Island delegation, Rep. Andrew Garbarino (R-N.Y.), told Axios, "I can't comment on [Santos] because I'm on the Ethics investigation subcommittee."
Two House Democrats filed a complaint against Santos to the Ethics Committee on Tuesday.
The backdrop: Last month, LaLota became the first House Republican to say Santos should be probed, calling for a "full investigation by the House Ethics Committee and, if necessary, law enforcement."
"I hear a lot of feedback from my fellow Long Islanders about us wanting to raise the standard or at least keep some standard among elected officials," LaLota told Axios on Wednesday.
"Santos has fallen far below that standard, and that's why I was the first to call for his investigation ... and now I'm one of the few to call for his resignation."
The other side: Santos has been defiant in the face of intensifying calls for his resignation, tweeting Wednesday: "I will NOT resign!"
Further reading: McCarthy's George Santos problem
Editor's note: This story has been updated with comment from Rep. Brandon Williams and additional background and developments.
Go deeper