House Dems file ethics complaint against George Santos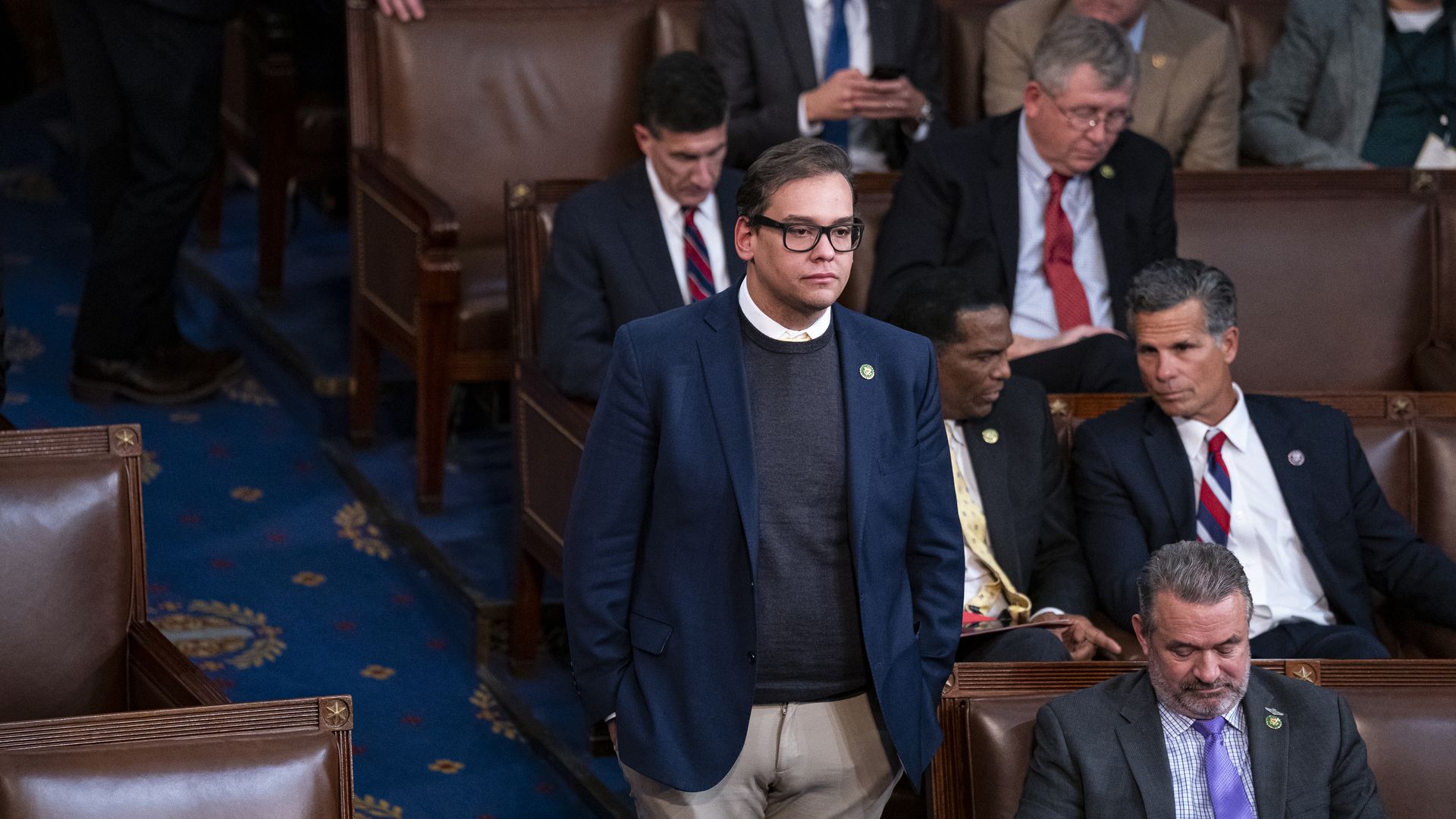 Two House Democrats from New York on Tuesday filed a complaint with the House Ethics Committee against fellow New York Rep. George Santos, a Republican.
Why it matters: The complaint, first reported by the New York Times, comes amid a litany of investigations into Santos over reports he fabricated huge swaths of his resume, wealth and background on the campaign trail.
Driving the news: Reps. Dan Goldman (D-N.Y.) and Ritchie Torres (D-N.Y.) are seeking an Ethics Committee investigation into whether Santos violated federal statute requiring lawmakers to file "timely, accurate and complete" financial disclosures.
"Mr. Santos's financial disclosure reports in 2020 and 2022 are sparse and perplexing," reads the complaint, a copy of which was obtained by Axios. "At a minimum, it is apparent that he did not file timely disclosure reports for his most recent campaign."
"Moreover, his own public statements have contradicted some information included in the 2022 financial disclosure and confirmed that the 2022 financial disclosure failed to disclose other required information."
The panel is empowered to investigate and punish members of Congress for misconduct or violations of House rules.
Between the lines: The complaint places public pressure on the committee, which is evenly divided and requires a majority vote to initiate an investigation.
The other side: While House Speaker Kevin McCarthy (R-Calif.) and others in GOP leadership have largely stayed silent on Santos' alleged fabrications, some Republicans have openly criticized him and even called for him to be investigated.
Rep. Nick LaLota, Santos' fellow New York Republican freshman, called for a "full investigation by the House Ethics Committee and, if necessary, law enforcement" in a statement last month.
House Majority Leader Steve Scalise (R-La.) said at a press conference on Tuesday, "This is something that's being handled internally ... we're going to have to sit down and talk to him about it."
Santos' office did not immediately respond to Axios' request for comment.
What's happening: The two lawmakers showed up at Santos' Capitol office on Tuesday morning to hand deliver the complaint.
"As late as 2020, Mr. Santos reported a salary of about $55,000. And then in subsequent disclosures, in a matter of years, he reported earning millions of dollars," said Torres.
"That is an astronomical growth in his wealth that is so implausible, so inexplicable, that it requires willful suspension of disbelief."
Goldman and Torres expressed confidence that Republicans will put partisanship aside. "If the factual findings are indisputable, then it's certainly plausible that at least one Republican will hold Mr. Santos accountable," said Torres.
Editor's note: This story has been updated with additional developments.
Go deeper