Republican Jewish Coalition blasts Rep.-elect George Santos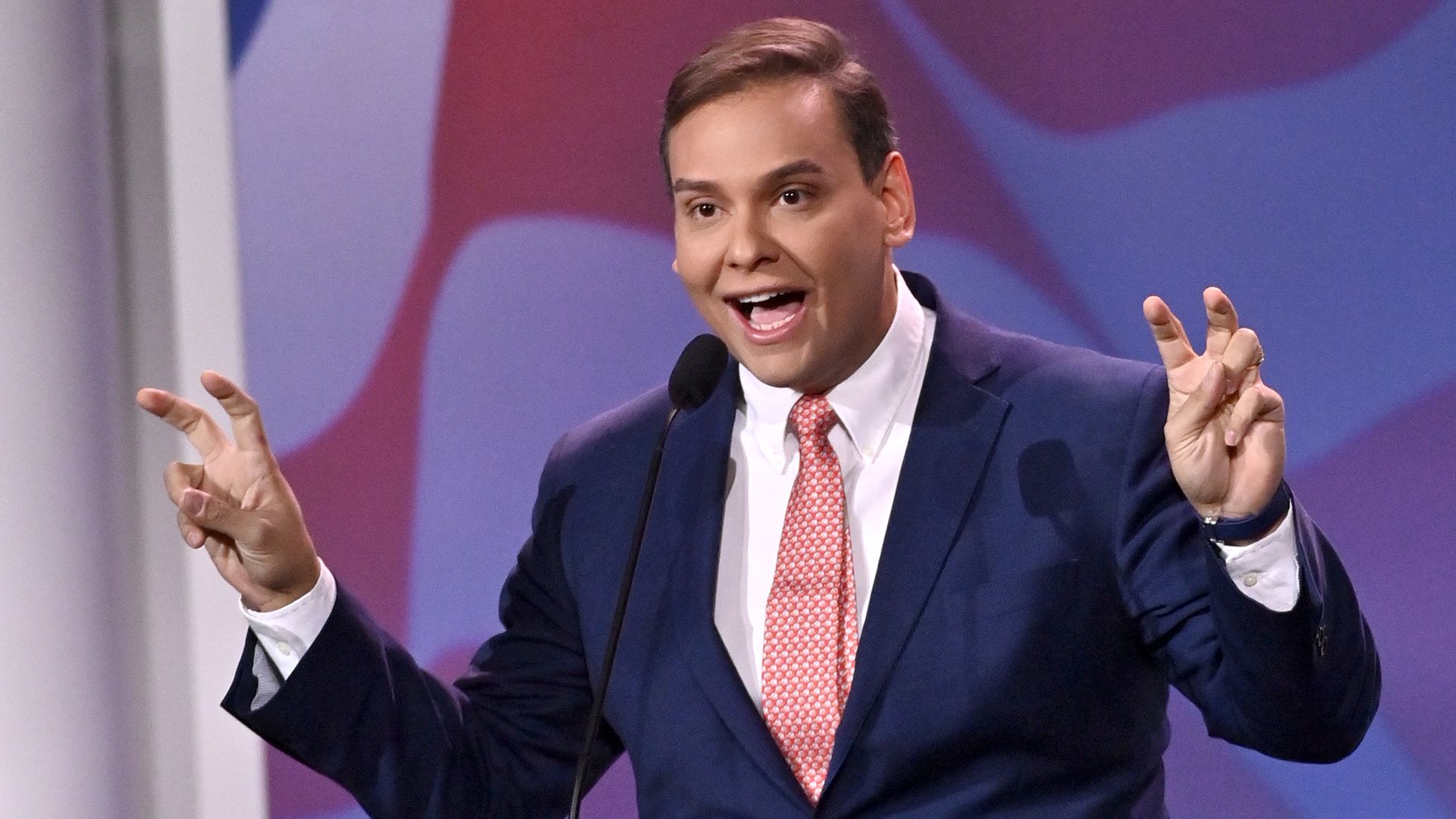 The Republican Jewish Coalition disavowed New York congressman-elect George Santos on Tuesday for misrepresenting his heritage, banning him from future events.
Why it matters: The Long Island Republican admitted in two interviews Monday to "embellishing" parts of his resume and background after being accused of fabricating multiple aspects of his life during his campaign for the U.S. House — including his Jewish ancestry.
Santos had claimed on his campaign website that his mother was Jewish and his grandparents escaped the Nazis during World War II.
"I never claimed to be Jewish," he told the New York Post on Monday. "I am Catholic. Because I learned my maternal family had a Jewish background I said I was 'Jew-ish'."
Meanwhile, The Forward obtained a position paper shared with Jewish and pro-Israel leaders during Santos' campaign, in which he said he referred to himself as a "proud American Jew." 
What they're saying: "We are very disappointed in Congressman-elect Santos. He deceived us and misrepresented his heritage," Republican Jewish Coalition CEO Matt Brooks said in a statement Tuesday. "In public comments and to us personally he previously claimed to be Jewish."
"He has begun his tenure in Congress on a very wrong note. He will not be welcome at any future RJC event," Brooks added.
Nassau County GOP chair Joseph G. Cairo Jr. said in a statement that Santos "has broken the public trust" with his false claims, per the Washington Post, but reportedly stopped short of saying Santos should resign.
"The damage that his lies have caused to many people, especially those who have been impacted by the Holocaust, are profound," Cairo added.
The big picture: Aspects of Santos' background came into question after the New York Times published an investigative report earlier this month that cast doubts on biographical claims he made on the campaign trail.
The report raised questions about information Santos included on financial disclosure forms and alleged that he was charged with check fraud in Brazil, which he has denied.
On Monday, Santos admitted to having "never worked directly" for Goldman Sachs or Citigroup, or from graduating from Baruch College, saying he's never graduated from an institution of higher learning.
Of note: Newly-elected House GOP lawmaker Nick LaLota of New York called for a probe Tuesday into his fellow newcomer.
"As a Navy man who campaigned on restoring accountability and integrity in our government, I believe a full investigation by the House Ethics Committee and, if necessary, law enforcement, is required," LaLota said in a statement.
"New Yorkers deserve the truth and House Republicans deserve an opportunity to govern without his distraction," he added.
But, but, but: Most House Republicans remained silent Tuesday after Santos' admission, suggesting they're prepared to avoid punishing him, the New York Times reports.
If GOP leaders demand his resignation, it would trigger a special election for a swing seat, an undesirable scenario for the party's narrow majority, per the Times.
What's next: Santos said he still intends to be sworn in at the start of the new Congress on Jan. 3.
House Republicans, who are set to take control of the chamber with a slim majority, have remained relatively silent on Santos' admissions, while Democrats have called for his resignation.
Go deeper: Rep.-elect George Santos apologizes for "embellishing" resume
Editor's note: This story has been updated with additional developments.
Go deeper