Rep.-elect George Santos apologizes for "embellishing" resume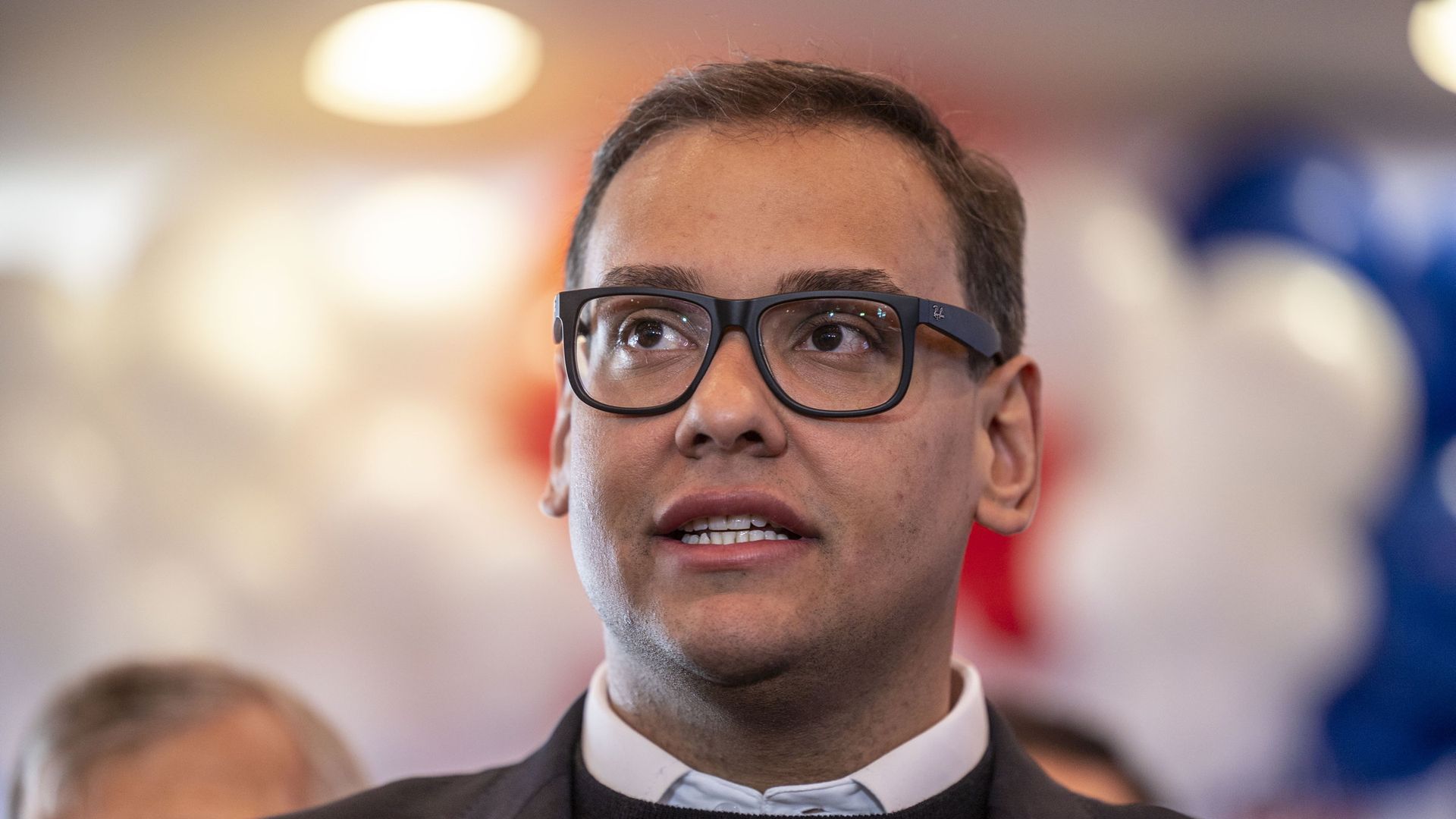 Incoming Rep. George Santos (R-N.Y.) admitted in two interviews Monday to "embellishing" parts of his resume and said he intends to be sworn in at the start of the new Congress on Jan. 3.
Why it matters: Santos has been accused of fabricating his resume that formed a central part of his campaign as House Republicans prepare to take the majority by a slim margin.
The big picture: Several Democratic lawmakers have accused Santos of lying and called for him to resign following his comments to the New York Post and WABC radio.
However, Santos told the Post, "My sins here are embellishing my resume. I'm sorry."
Zoom in: Santos admitted to the Post that he had "never worked directly" for Goldman Sachs or Citigroup and his previous claims of employment there represented a "poor choice of words." Nor did he gain qualifications from Baruch College or New York University, as previously claimed.
"I didn't graduate from any institution of higher learning. I'm embarrassed and sorry for having embellished my resume," Santos told the Post. "I own up to that … We do stupid things in life."
Santos also addressed accusations that he lied about having Jewish ancestry, including that his grandparents fled the Holocaust.
"I never claimed to be Jewish," he told the Post. "I am Catholic. Because I learned my maternal family had a Jewish background I said I was 'Jew-ish.'"
Driving the news: The New York Times published an investigative report earlier this month casting doubts on many of the biographical claims Santos made on the campaign trail — and detailed potential legal and ethical concerns.
These included an allegation that he may have lied on his financial disclosure and was charged with check fraud in Brazil — something Santos strongly denied in his interview with the Post.
"I am not a criminal here — not here or in Brazil or any jurisdiction in the world," the Long Island Republican told the Post. "Absolutely not. That didn't happen."
Of note: Santos was asked by WABC radio host John Catsimatidis if he'd consider suing the NYT. "I don't know what my options are," Santos said.
"I'm gonna look through and see everything, and just like they nitpicked at me, now it's gonna be my time to nitpick at both journalists who made it their mission to slander me across this country and across the world, and let's see what happens at the end," he added.
"But the one thing is, I will be sworn in, I will take office."
For the record: An NYT spokesperson told the Washington Post its "deeply-researched and thoroughly fact-checked reporting speaks for itself" and the outlet "unreservedly" stood behind the publication.
What they're saying: Rep. Ted Lieu (D-Calif.) was among the Democrats calling for Santos' resignation, tweeting that he "has now admitted his whopping lies" and that Republican Kevin McCarthy (R-Calif.) should expel him if he doesn't step down.
Rep. Joaquin Castro (D-Texas) echoed those calls in a tweet that also called for Santos to "be investigated by authorities," adding: "We've seen people fudge their resume but this is total fabrication."
Rep. Eric Swalwell (D-Calif.) called for his Twitter followers to retweet his post if they think Santos should be banned from taking the oath for Congress, saying he "just confessed to defrauding the voters of Long Island about his ENTIRE resume."
Representatives for Santos and McCarthy did not immediately respond to Axios' request for comment.
Editor's note: This article has been updated with further details from Rep.-elect George Santos' interviews and comment from Democratic Reps. Ted Lieu, Joaquin Castro and Eric Swalwell.
Go deeper