McCarthy's George Santos problem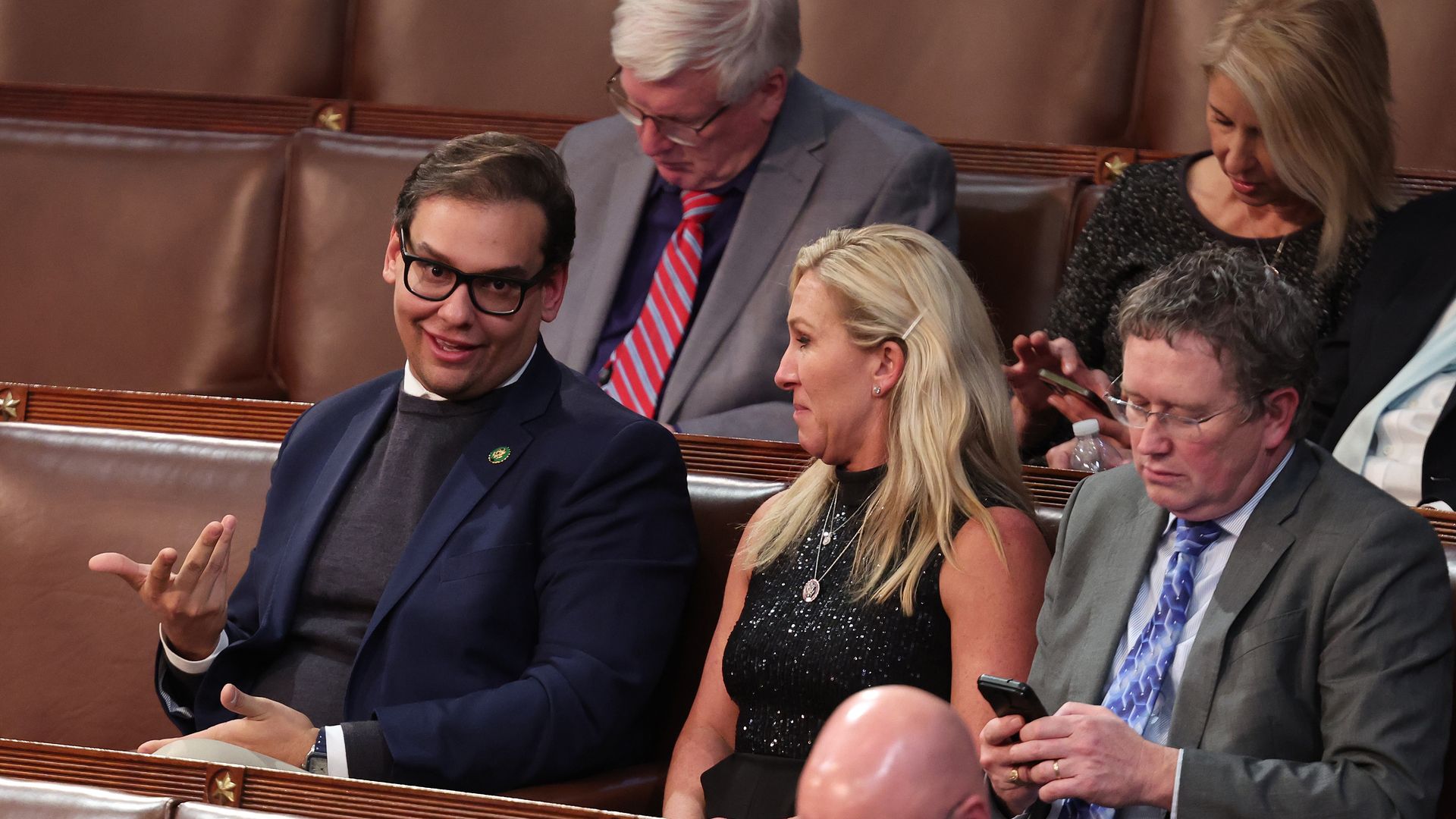 Top Republicans are performing a balancing act between fully embracing Rep. George Santos (R-N.Y.) and abandoning him to a flurry of investigations and calls to resign.
Why it matters: It's another headache that House Speaker Kevin McCarthy (R-Calif.) doesn't need right now as he tries to get his razor-thin GOP majority off the ground following a chaotic speaker battle last week.
McCarthy said Wednesday that Santos will get committee assignments, telling reporters: "The voters elected him to serve. … In America today, you're innocent until proven guilty."
Driving the news: The Nassau County GOP on Wednesday called for Santos' "immediate resignation" over reports that he fabricated huge swaths of his resume and background on the campaign trail.
It was joined by Rep. Anthony D'Esposito (R-N.Y.), Santos' fellow Long Island freshman, who, according to the New York Times, said he will press his congressional colleagues to "join me in rejecting him."
Reps. Nick Langworthy (R-N.Y.), the chair of the New York GOP, and Nick LaLota (R-N.Y.) followed suit.
"When you have your local party saying something so vocally, that's not a helpful sign," said Rep. Patrick McHenry (R-N.C.). "But we're going to leave this up ... to the normal legal and ethics process."
Yes, but: Santos is digging in his heels, tweeting: "I was elected to serve the people of [New York's 3rd District] not the party & politicians. ... I will NOT resign!"
Coming out of a meeting on Wednesday, members of the Republican Steering Committee said the GOP conference will let investigations run their course and treat Santos like any other member.
Zoom in: A Republican aide offered a blunt explanation for McCarthy's defense of Santos: "We have 222 seats."
Republicans have just a five-seat majority and the House has a new rule allowing just one member to trigger a vote on removing the speaker.
Santos represents a district that voted for President Biden by 10 points, making his seat one of the bluest held by a Republican.
That makes the prospect of a special election in his district particularly thorny for Republicans.
National Republican Congressional Committee Chair Richard Hudson (R-N.C.) said he's "absolutely" confident Republicans could hold Santos' seat if it became vacant.
The other side: Democrats are eagerly trying to keep Santos in the news while tying him to McCarthy.
Reps. Ritchie Torres (D-N.Y.) and Dan Goldman (D-N.Y.) filed a complaint against Santos to the Ethics Committee on Tuesday and made a point of hand-delivering it to his office.
"If George Santos wasn't seated, what would the math have been for Speaker McCarthy," said House Democratic Caucus Chair Pete Aguilar (D-Calif.) at a press conference on Tuesday, referring to McCarthy's election as speaker.
"That's the only reason why [Santos] was seated, to give [him] that ability to vote for Kevin McCarthy. So let's call this exactly what it is."
Go deeper