House passes McCarthy's debt ceiling proposal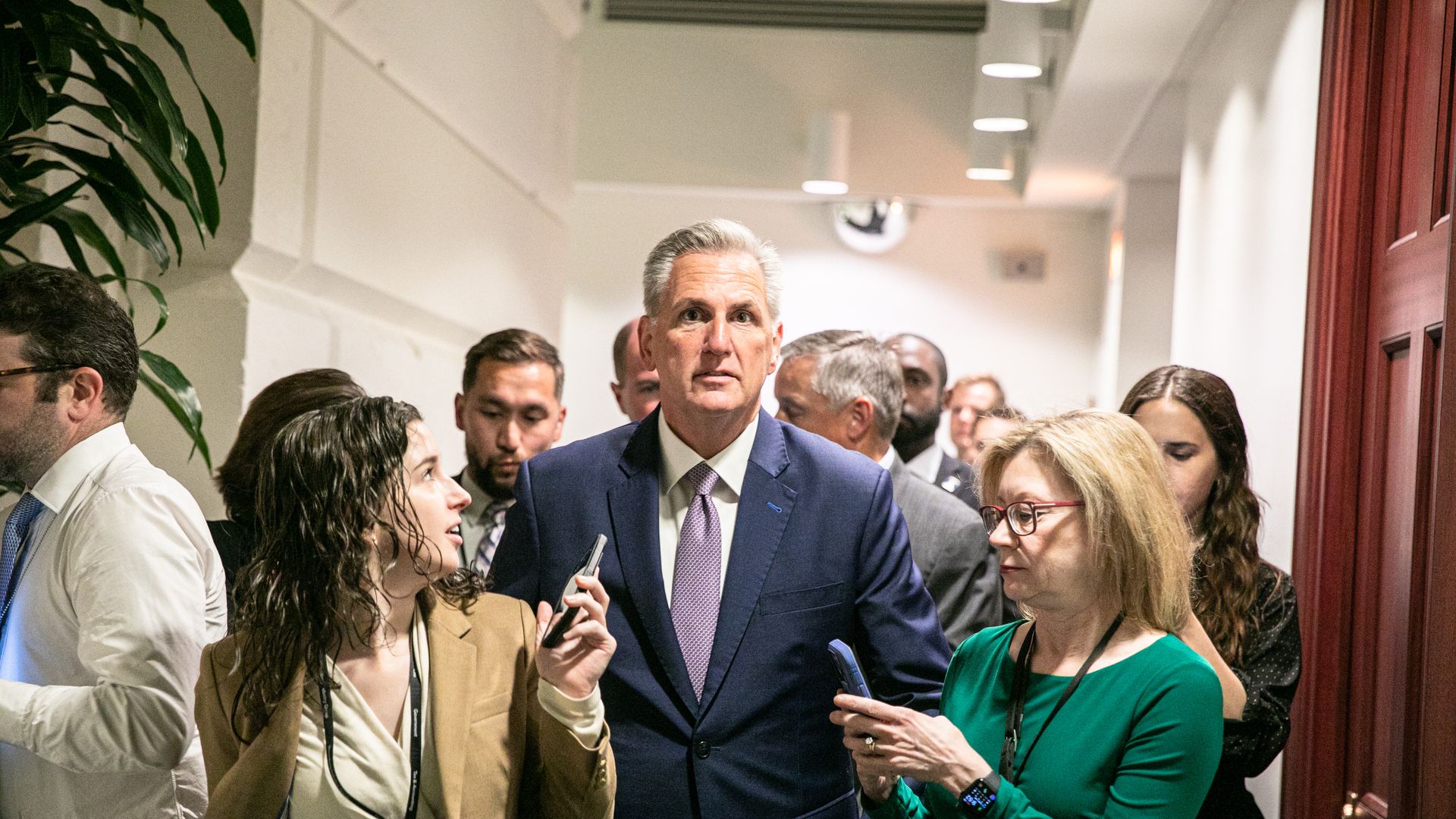 House Republicans on Wednesday narrowly voted to pass House Speaker Kevin McCarthy's (R-Calif.) legislation to raise the debt ceiling through 2024 and slash government spending.
Why it matters: The bill is going nowhere with Senate Democrats and the White House firmly opposed, but it serves as a demonstration that Republicans can get votes behind a debt limit proposal.
McCarthy aims to jump-start negotiations with President Biden, who has been firm in his demands for a "clean" debt ceiling increase.
Driving the news: The House voted 217-215 to pass the bill along party lines on Wednesday afternoon.
In the end, four House Republicans voted against the bill, after overnight revisions ended the objections from Corn Belt Republicans as well as demands from conservative members to tighten work requirements for food stamps and Medicaid.
Three of the four "no" votes were from members of the right-wing Freedom Caucus who felt the bill didn't go far enough: Reps. Andy Biggs (Ariz.), Ken Buck (Colo.) and Matt Gaetz (Fla.).
The fourth, Rep. Tim Burchett (R-Tenn.), has long expressed discomfort about the idea of raising the debt ceiling on principle.
What he's saying: "The president says, 'I'm not going to talk to him until he offers a plan'," McCarthy told reporters after the vote. "Not only did we offer a plan, we passed it.
"For more than 80 days, he has ignored the problem," McCarthy added in a swipe at Biden refusing to sit down since their meeting in February. "He either has to negotiate now or ... take our bill."
What's next: The bill now heads to the Senate, but Senate Majority Leader Chuck Schumer (D-N.Y.) has harshly criticized it and offered no indication he will put it up for a vote.
"My understanding, from people I've spoken with [in the Senate], is that it's not even going to get a vote," Rep. Susan Wild (D-Pa.) told Axios, adding, "I think that's just fine."
Assistant Democratic Leader Jim Clyburn (D-S.C.), on the other hand, said, "They've got to vote on it. And I hope they vote it down."
The other side: While Democratic lawmakers have expressed growing angst about Biden's refusal to negotiate, several House Democrats told Axios on Wednesday the bill shouldn't be sufficient to bring him to the table.
"I think McCarthy actually needs to enter into good faith negotiations ... first with House Democrats," said Rep. Jason Crow (D-Colo.).
Rep. Hillary Scholten (D-Mich.) argued that Republicans "are wasting everyone's time here by passing a bill that is dead on arrival in the Senate."
"The [bipartisan] Problem Solvers Caucus, we are actively working to try to get something that is a serious bill that we can get forward and pass," said Scholten, "Speaker McCarthy needs to bring serious solutions to us."
The big picture: The debt ceiling could be hit as soon as June, thanks to lower tax receipts.
And a default on the U.S. national debt during the current interest rate environment could "escalate into a wave of corporate and sovereign defaults," International Monetary Fund economist Filippo Gori warned Monday.
Editor's note: This article has been updated with comment from House Speaker Kevin McCarthy and Reps. Jason Crow and Hillary Scholten, and with further context.
Go deeper