Bipartisan House group unveils plan to avoid U.S. default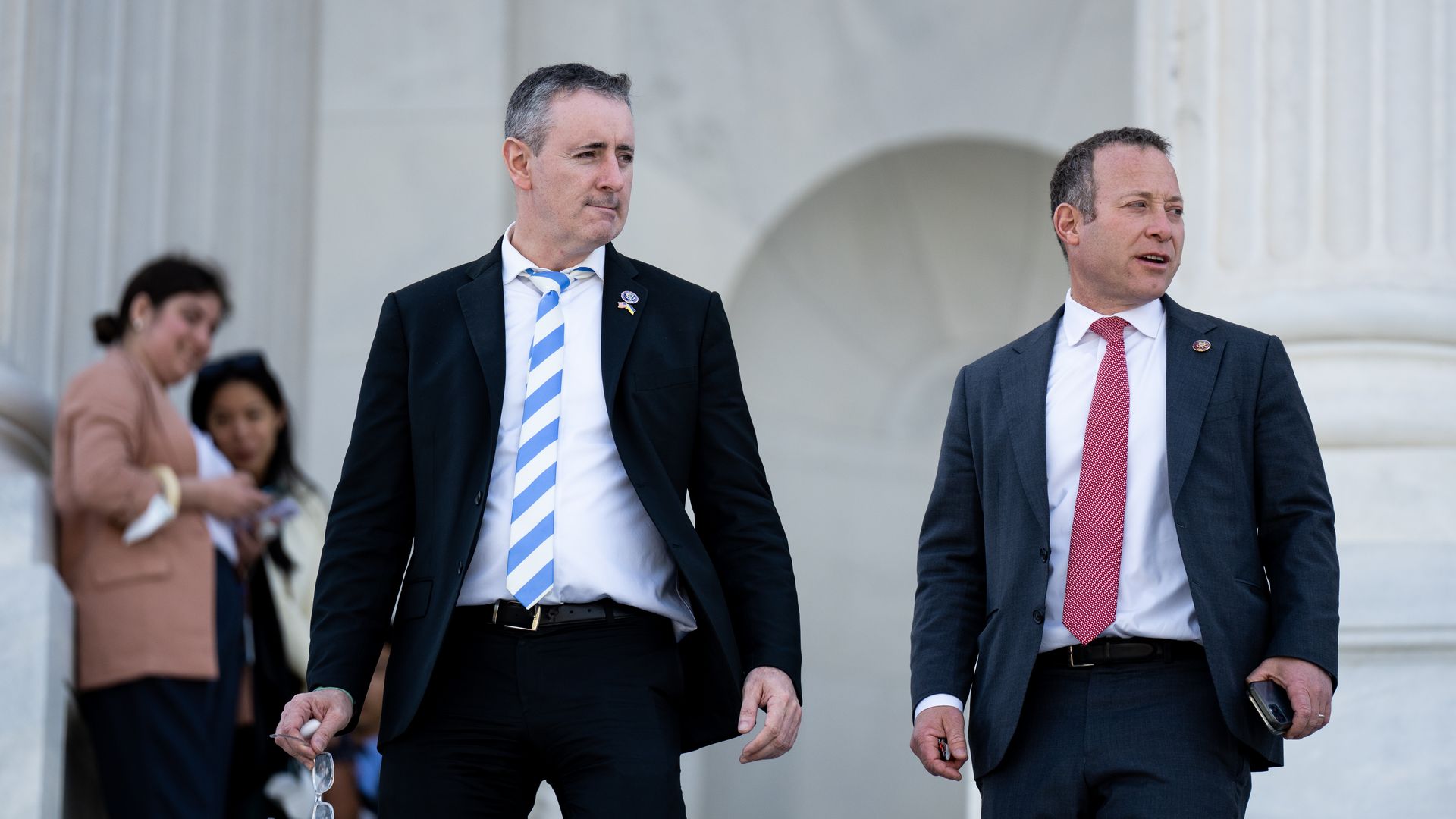 The bipartisan Problem Solvers Caucus on Wednesday released a proposal for avoiding a default on U.S. debt if the White House and congressional leadership fail to reach an agreement.
Why it matters: Congressional leaders have begun openly referencing the prospect of defaulting as House Republicans and the Biden administration dig into diametrically opposite positions.
Driving the news: A draft framework by the caucus — which is made up of 31 Republicans and 32 Democrats in the House — was shared with Axios.
It outlines four steps to avoiding a default if the government's debt limit isn't increased when it's expected to be reached, possibly within a couple of months:
Suspend the debt ceiling through Dec. 31, 2023, and if the remaining steps are followed before then, increase it through Feb. 28, 2025 — after the 2024 elections.
Establish an independent commission — modeled after a Pentagon panel that determines which military bases to close — to recommend a package to stabilize the debt and deficit, which would be voted on by Congress.
Adopt controls for the 2024 federal budget to stabilize the deficit in the near-term.
Change the budget process, requiring appropriations bills and budgets to go through the full committee process, having the Government Accountability Office put out an annual "fiscal state of the nation" report, and mandating a mid-year budget report from the president.
Zoom in: The Problem Solvers Caucus is led by centrist Reps. Josh Gottheimer (D-N.J.) and Brian Fitzpatrick (R-Pa.).
In order for the caucus to issue any proposal, it has to be supported by 75% of its members.
Reality check: Congressional leadership in both parties has shown little interest in climbing out of their respective trenches and coming together on such a plan.
Democrats largely have been content to watch Republicans struggle to bring their conference together on a budget proposal.
"Leadership feels this is not important or necessary at this time," a Democratic leadership aide told Axios earlier this month of the group's efforts.
The caucus also has struggled at times to get its members to vote on legislation it has endorsed, most notably on last session's infrastructure bill, which less than half of the group's Republicans supported.
What's next: House GOP leaders say they plan to hold a vote on a debt ceiling bill as soon as next week — though far more than the five Republicans who could sink the legislation say they aren't yet sold on it.
Go deeper