House Republicans won't commit to McCarthy's debt ceiling plan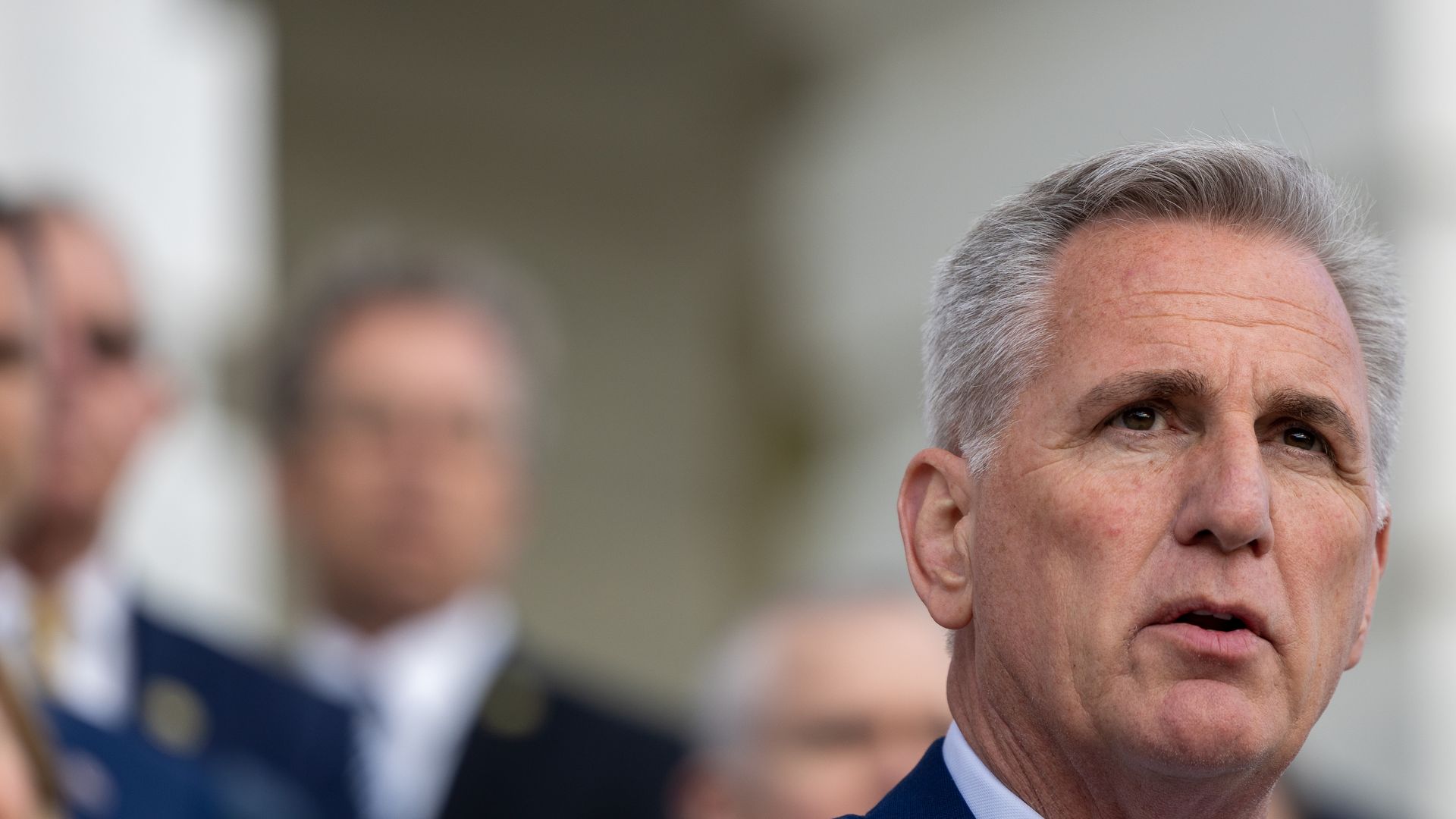 House Speaker Kevin McCarthy (R-Calif.) faces a steep challenge in cobbling together the 218 votes he needs to pass a proposed debt ceiling increase by his new self-imposed deadline.
Why it matters: Top Republicans say they want the bill on the floor by next week, but members across the GOP conference have a range of reservations about a proposal that's still incomplete.
Rep. Nancy Mace (R-S.C.) said it's "probably not" enough time to get her on board: "To turn it around in a week, that's pretty short order."
"This is the single biggest point of leverage that will exist in these two years," said another Republican lawmaker.
Driving the news: GOP leadership unveiled their proposal to raise the debt ceiling into 2024 while slashing spending — but a half-dozen House Republicans, more than enough to sink the bill, said they are still not sold.
Coming out of the closed-door GOP conference meeting where the proposal was laid out, Rules Committee Chair Tom Cole (R-Okla.) told reporters, "I think we'll be moving stuff probably next week."
What they're saying: "I think that they should go further. ... I am in favor of very aggressive cuts," said right-wing Rep. Anna Paulina Luna (R-Fla.).
Rep. Andy Biggs (R-Ariz.), a former chair of the right-wing Freedom Caucus, said McCarthy's proposal to keep nondiscretionary, nondefense at 2022 levels is a "long ways away" from his demand to bring it down to pre-pandemic levels.
"I'm not at the table. And I get it, McCarthy's pissed that I ran against him, so I don't get invited to any of these deals," said Biggs, "But I think it's unfortunate that he doesn't want to hear from everybody."
Rep. Marc Molinaro (R-N.Y.), a Biden-district moderate who has raised concerns about proposed welfare work requirements, told Axios, "I think we're making progress, but we're still taking a look at it."
Between the lines: Others are simply uncomfortable with the whole enterprise. "I just didn't run for Congress to raise the debt ceiling, so ... it's not something I'm excited about," said Rep. Eric Burlison (R-Mo.).
"I really want to see some real restraints and fiscal cuts, not just promises," he said.
Rep. Tim Burchett (R-Tenn.) has raised similar hesitations about raising the debt limit on principle.
State of play: That puts McCarthy far from where he needs to be in terms of floor vote math — but even his detractors say it's possible they could come together.
"We're not there yet as far as I'm concerned, but I'm firmly in support of the idea we have to get a package passed and do it soon," said Rep. Dan Bishop (R-N.C.). "So I think the next week or so is extremely important."
"There are still some negotiations that are going to happen within the conference to put a little more meat around it," said Mace. "I'm waiting for more information. Right now I'm not there yet."
"I'm open to listening to what they have to say," said Biggs.
Go deeper