McCarthy plans vote to raise debt ceiling into 2024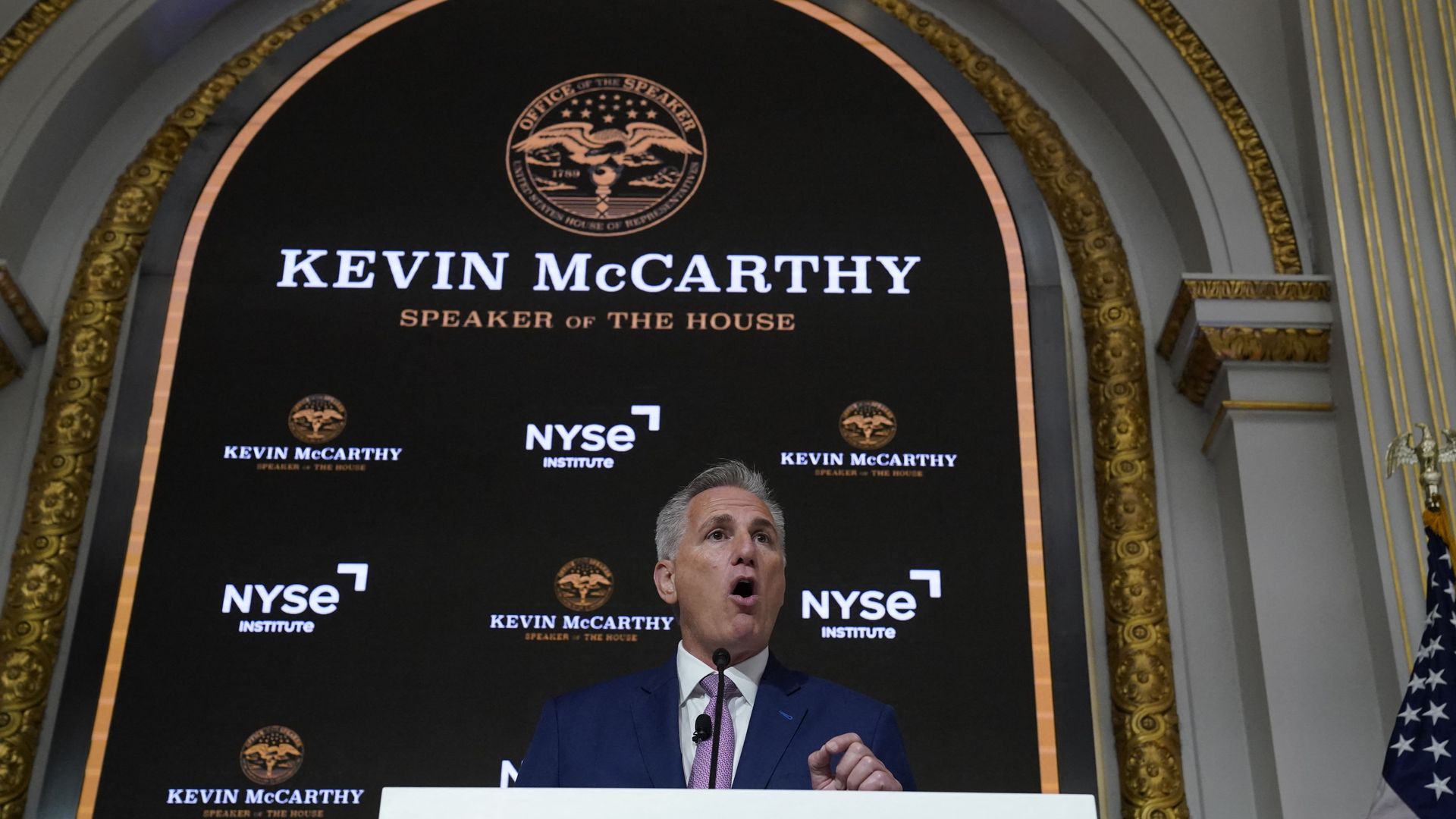 House Speaker Kevin McCarthy (R-Calif.) said Monday the House will vote on a bill to raise the debt ceiling through 2023 and cut government spending.
Why it matters: The U.S. is expected to reach its fiscal cliff this summer, heightening the need for a solution on the debt ceiling in the coming months to stave off default.
What he's saying: "In the coming weeks, the House will vote on a bill to lift the debt ceiling into next year," McCarthy said in a speech to the New York Stock Exchange.
He said the bill will also "save taxpayers trillions of dollars, make us less dependent on China, and curb high inflation, all without touching Social Security or Medicare."
Between the lines: The legislation is not expected to have the Democratic support needed to pass the Senate – much less be signed by President Biden.
Instead, McCarthy is trying to strengthen his hand with the White House by showing his conference can come together and pass something.
"I want to sit down and solve the problem together," McCarthy said as he called for the White House to rejoin talks.
The backdrop: McCarthy and Biden met to discuss the debt ceiling and budget in early February, but have not sat down for negotiations in the months since.
"Unfortunately, I have not heard from the White House since our very first meeting," McCarthy said Monday, asserting Biden is "bumbling into the first default in our nation's history."
The House speaker has attempted to restart talks by laying out cuts his conference largely supports, including rolling back unspent COVID money, strengthening welfare work requirements and ending student loan forgiveness.
The other side: The Biden administration has called for a "clean" debt ceiling increase with no strings attached, a position it signaled is non-negotiable.
"There is one responsible solution to the debt limit: addressing it promptly, without brinksmanship or hostage taking," said White House spokesperson Andrew Bates in a Monday statement before McCarthy's speech.
McCarthy told the New York Stock Exchange that he has told Biden, "There are two things I will not do: I will not raise taxes, and I will not pass a clean debt ceiling. It just won't pass."
The bottom line: The White House has held out for Republicans to release a budget proposal before re-engaging in talks.
"MAGA House Republicans can't even agree what they are holding the debt limit hostage over," Bates said in his statement. "Their proposals are all over the map."
"We will evaluate any legislative text when and if House Republicans can ever agree with themselves about how much they want to devastate American families," said House Minority Leader Hakeem Jeffries (D-N.Y.).
Go deeper