GOP weighs timetable, safety nets in budget talks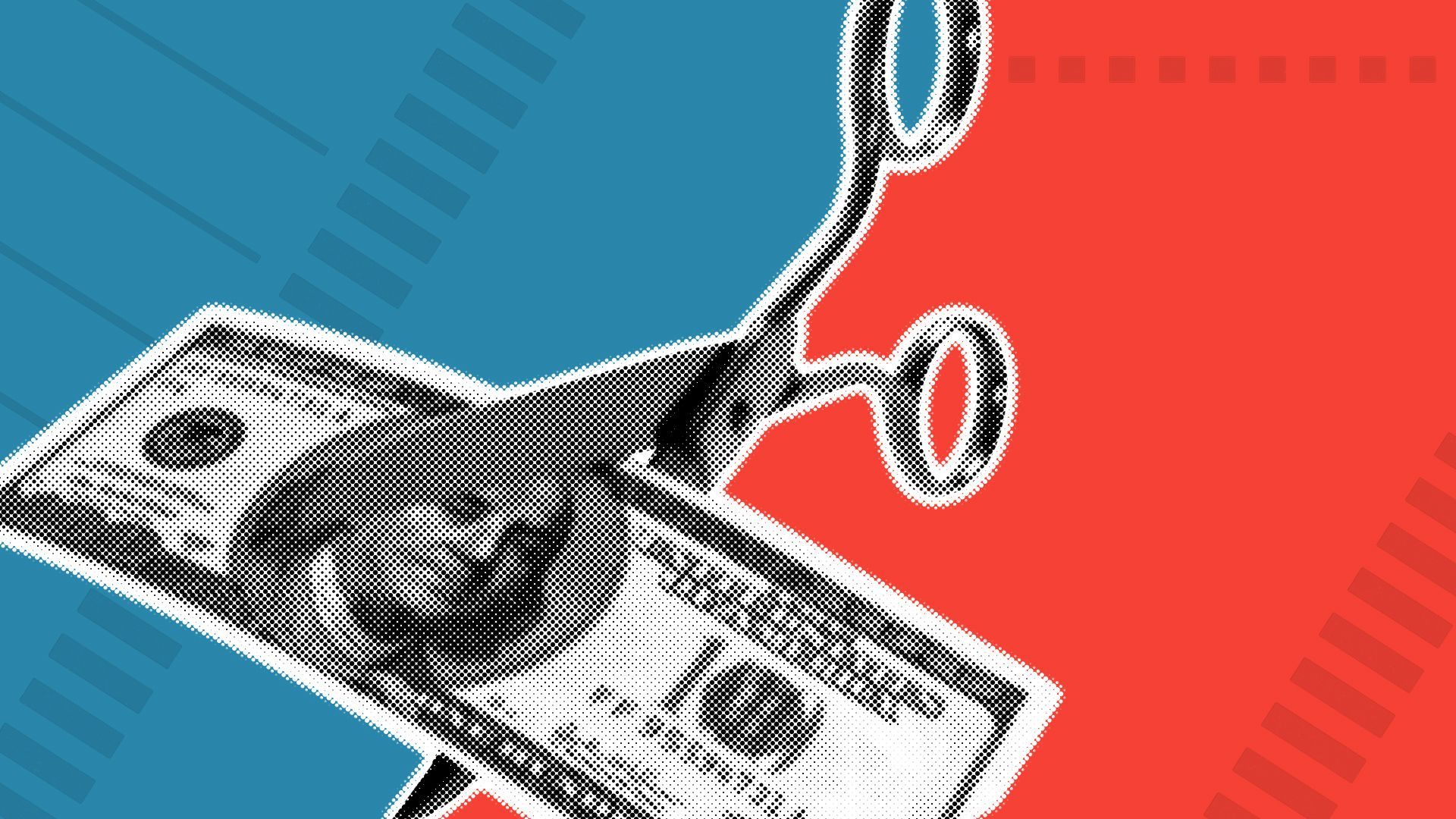 House Republicans wrestling with how to form a budget plan are weighing whether to extend their outlook from ten to 15 years to make spending cuts easier — and whether to create a panel to explore changes to Social Security and Medicare.
Why it matters: Speaker Kevin McCarthy (R-Calif.) repeatedly has said the GOP wants to present a plan to balance the budget within a decade. But with Republicans struggling to reach a consensus, GOP lawmakers are thinking about different avenues to cut spending.
There's chatter about forming a panel to look into Social Security and Medicare — a politically risky idea that reflects some Republicans' view that balancing the budget is too steep of a climb without changing the retirement and health safety nets for millions of Americans.
The GOP's internal debate over cuts comes just two months after President Biden vowed to protect Social Security and Medicare — and elicited a general promise from Republicans to do the same.
Zoom in: But not all Republicans agree with Biden, and believe discussions about Social Security and Medicare should be included in budget talks at some point.
As long as those programs are off the table, many believe the plan for balancing the budget should be on an extended schedule, beyond 10 years.
One senior Republican lawmaker familiar with the House budget talks noted that Congress would need to cut roughly $14.6 trillion to balance the budget in 10 years, and significantly reduce discretionary spending.
"The Budget Committee realizes that it's going to have to be a longer period of time. [T]he amount of spending that has happened over the last few years with COVID and other pieces of legislation that have passed in both administrations — the math is not there to get it done in 10 years," the Republican said.
A second GOP lawmaker said McCarthy needs to be more involved in the budget process and help find options for Budget chair Jodey Arrington (R-Texas).
This lawmaker suggested the House could pass a one-year budget first, to help clear a path for budget negotiations for a longer period, such as ten to 15 years.
What they're saying: Several GOP lawmakers said there is general consensus surrounding proposals that Arrington has laid out.
Those proposals generally include recapturing unspent COVID relief funds, axing Biden's student loan cancellation program, rescinding substantial portions of climate spending, and capping subsidies under the Affordable Care Act.
Conservative Rep. Matt Gaetz (R-Fla.) applauded the proposal Arrington presented to lawmakers recently during their annual retreat.
"House conservatives were very pleased with Arrington's thoughtful, thorough, honest presentation of the facts. He offered precise areas for deep vertical cuts. He also made clear he is ready to go with solutions," Gaetz said in a statement to Axios.
The intrigue: House Rules Committee chair Tom Cole (R-Okla.) has called for a commission on Social Security and Medicare to be attached to any measure to raise the debt ceiling, an idea that has been dismissed by the White House.
Other Republicans also have pushed back on the idea, arguing that it isn't an effective strategy and that such commissions tend to tell lawmakers things they already know.
What we're watching: McCarthy's plans could become clearer in a few days.
He's expected to speak about the debt ceiling at the New York Stock Exchange on Monday, a source familiar with the matter told Axios' Andrew Solender.
McCarthy has said that discussions to raise the debt ceiling — and avoid a catastrophic default by the government — should be tied to talks about budget cuts.
Biden wants GOP support to raise the debt ceiling, and then talk about the budget.
Go deeper