McCarthy beats the odds with debt ceiling nail-biter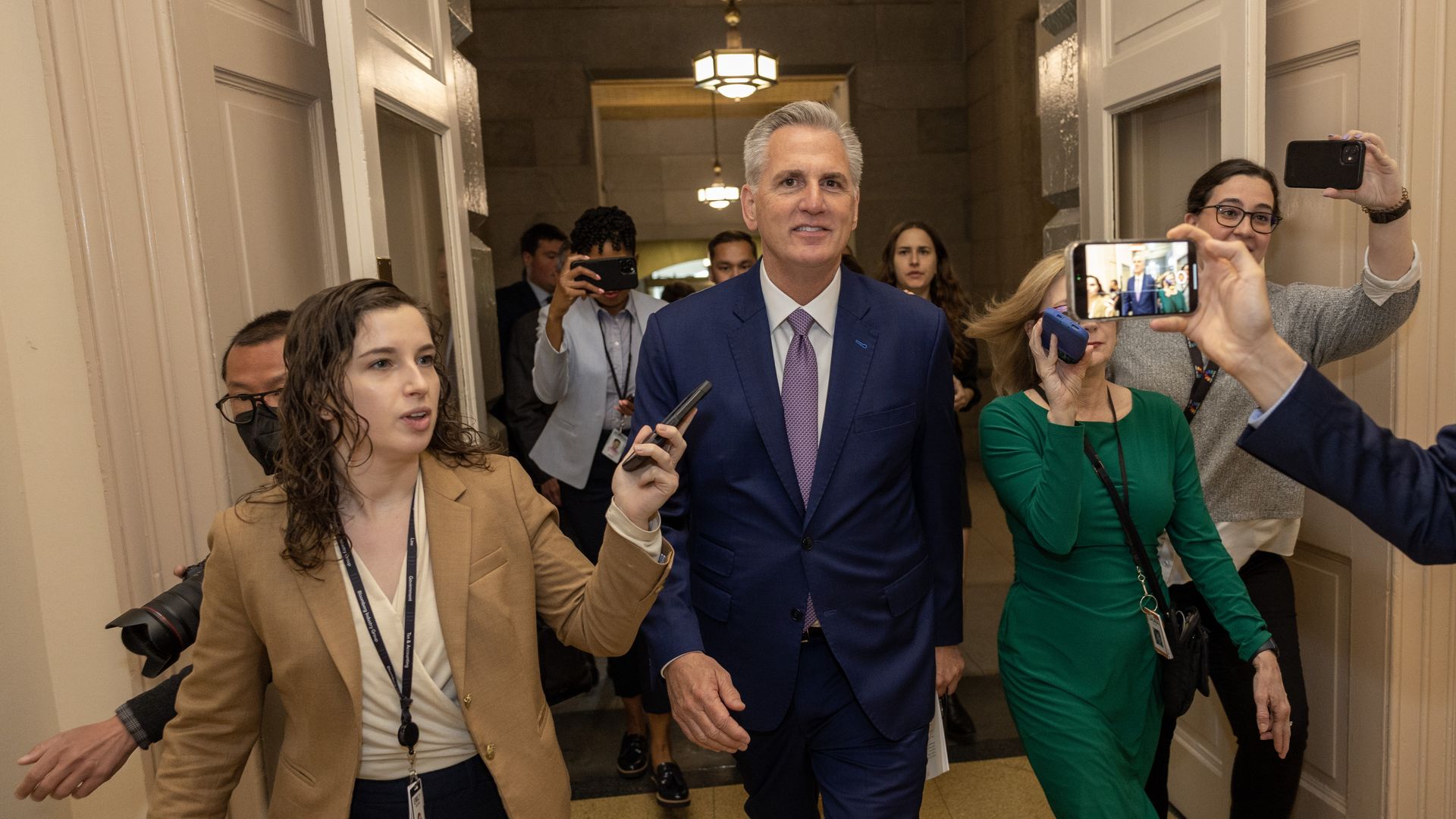 In the end, House Speaker Kevin McCarthy (R-Calif.) lost just four Republicans — one less than he could afford — as the chamber voted 217-215 to pass his bill pairing a debt-ceiling hike with sweeping spending cuts.
Why it matters: The vote, quite literally, could not have been closer — and even benefitted from a few Democratic absences. But McCarthy did exactly what he said would: Unite his fractious conference in an ambitious effort to force President Biden to the negotiating table.
"The Republicans have raised the debt limit. You have not," McCarthy said in a message to Biden and Senate Democrats after the nail-biter vote.
Biden has threatened to veto the Republican bill, and at a press conference Wednesday reiterated his position that he will only negotiate with McCarthy on spending cuts if they are de-linked from raising the debt ceiling.
What they're saying: "President Biden will never force middle class and working families to bear the burden of tax cuts for the wealthiest, as this bill does," White House press secretary Karine Jean-Pierre said in a statement, slamming Republicans for voting to enact deep cuts to government programs.
"In our history, we have never defaulted on our debt or failed to pay our bills," she continued.
"Congressional Republicans must act immediately and without conditions to avoid default and ensure that the full faith and credit of the United States is not put at risk. That is their job."
How we got here: While McCarthy and House GOP Whip Tom Emmer (R-Minn.) had consistently expressed public optimism that the bill would pass, the reality is that over a dozen Republicans were threatening to vote "no" as recently as yesterday.
Just after 2am ET Wednesday, the House Rules Committee amended the bill to appease conservatives demanding stricter work requirements for government benefits — as well as Corn Belt Republicans concerned by the repeal of ethanol tax credits.
GOP leadership had insisted all week that there would be no revisions to the bill but ultimately made what McCarthy spun as "technical changes" in the middle of the night.
Leadership continued to scramble to lock down support right up until the bill was set to come to the floor.
Rep. Nancy Mace (R-S.C.), a key moderate holdout, said she received a promise to hold floor votes on several of her priorities in exchange for her support.
In the end, the four Republicans who voted "no" were Reps. Tim Burchett (R-Tenn.), Ken Buck (R-Colo.), Andy Biggs (R-Ariz.) and Matt Gaetz (R-Fla.).
Between the lines: The entire saga had echoes of January's historic speaker election — fitting, considering that McCarthy would have faced serious doubts about his future if he had failed to pass the bill.
"Hand up, I did not think there were 218 votes for *any* R-only debt limit plan. Appears McCarthy has pulled that off, and it's very impressive," Brendan Buck, a former aide to House Speakers Paul Ryan and John Boehner, tweeted earlier Wednesday.
"The more meaningful phase — and lots of problems — still to come, but this is a strong statement of his standing in the conference."
Go deeper