House Democrats file resolution to expel George Santos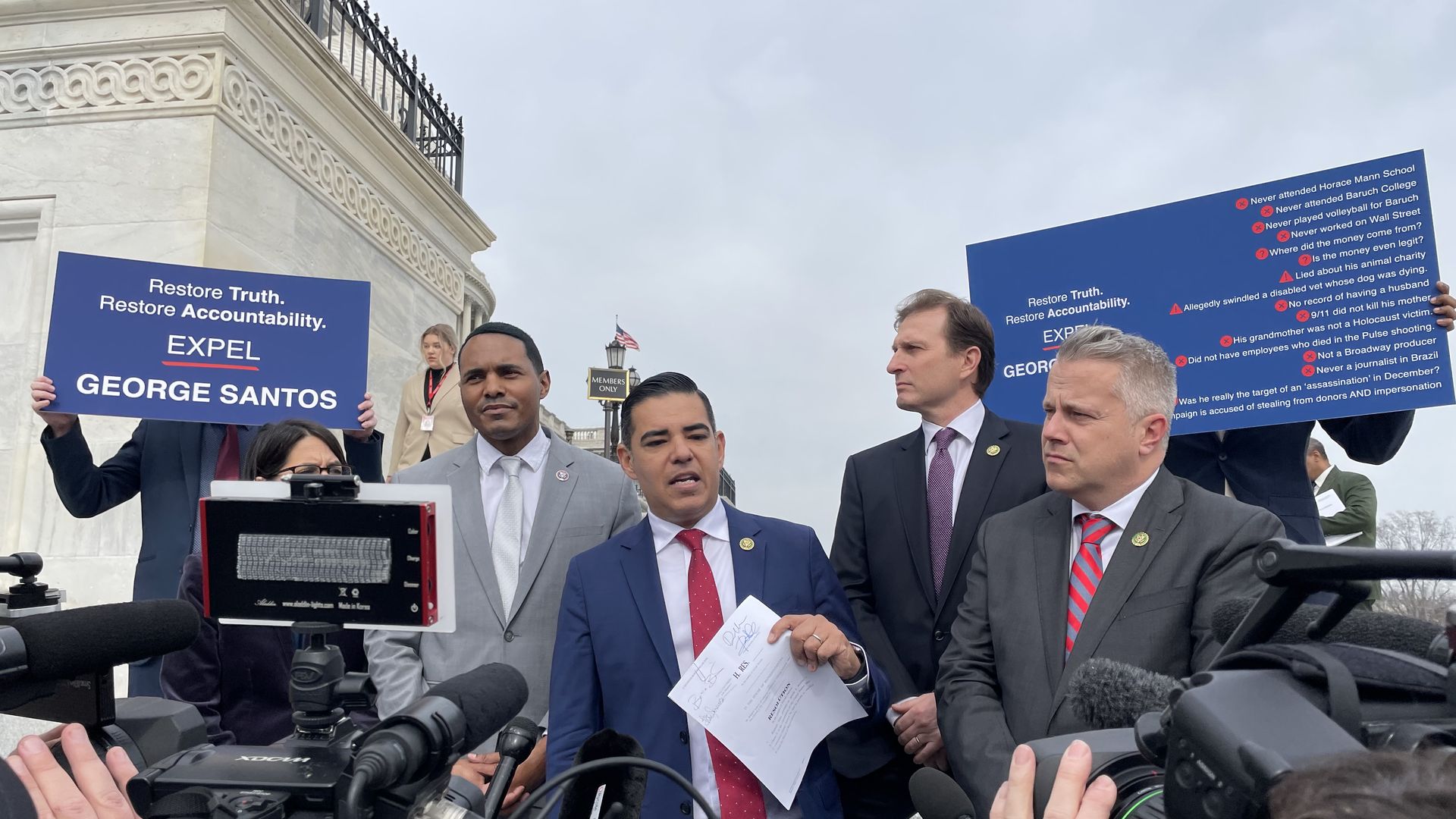 A group of House Democrats on Thursday filed a resolution to expel Rep. George Santos (R-N.Y.) from Congress.
Why it matters: It's the latest escalation of Democrats' efforts to punish Santos for the serial fabrications he made about his background, resume and finances on the campaign trail.
Driving the news: Rep. Robert Garcia (D-Calif.), who led the resolution, told reporters that House Speaker Kevin McCarthy (R-Calif.) declining to block Santos from receiving a classified briefing, despite calls from Democrats to do so, was the "last straw."
Along with Garcia, the single-page resolution was introduced by fellow freshman Reps. Becca Balint (D-Vt.) and Eric Sorensen (D-Ill.), all of whom, like Santos, are LGBTQ+. Reps. Ritchie Torres (D-N.Y.), Dan Goldman (D-N.Y.), Ted Lieu (D-Calif.) and David Cicilline (D-R.I.) are co-sponsors.
Garcia said he coordinated the move with House Minority Leader Hakeem Jeffries (D-N.Y.), who has said he wants Santos to be the GOP's cross to bear.
What they're saying: "It is time for him to go," Garcia said. "He has been given plenty of time to resign and he has chosen not to do so."
Goldman said Santos "should be held accountable" for any potential lawbreaking by the local, state and federal investigations into him, but "we cannot wait for him to be indicted or for an ethics investigation because those ... will not address the things he has already admitted to lying about."
Torres said that Santos "was not invited" to a bipartisan meeting between New York Gov. Kathy Hochul and the New York congressional delegation.
"His colleagues want nothing to do with him, his constituents want nothing to do with him. He's persona non grata except the leadership that's protecting him," Torres said.
What we're watching: The resolution could garner support from some House Republicans, many of whom have been harshly critical of Santos and eight of whom have already called on him to resign.
"We've been talking to, of course, House Republicans," Garcia said. "We already know many of those who have already asked for his resignation."
Rep. Nick LaLota (R-N.Y.), "supports expelling Santos," his spokesperson Will Kiley told Axios.
Rep. Anthony D'Esposito (R-N.Y.) "will support the resolution," said his spokesperson Matthew Capp.
"I'd vote yes," Rep. Marc Molinaro (R-N.Y.) told Axios. "Worse than being a total distraction he's been treating what should be so very serious with a lack of seriousness[.] It's disheartening and disappointing."
By the numbers: The resolution would require a two-thirds majority to pass, meaning about 80 Republicans would have to join with Democrats in voting for it.
The Democrats indicated they want to force Republicans on the record even if they know it won't pass. "We will have an up-or-down vote on whether or not George Santos, a serial fraudster, belongs as a member of Congress," Goldman said.
What's next: The resolution will be referred to the Ethics Committee, which is already investigating Santos.
The resolution can be forced to a vote on the House floor, but Garcia indicated he will wait to see what happens with the Ethics Committee first.
Editor's note: This story was updated with additional reporting.
Go deeper