House grinds to halt as GOP rebels push McCarthy for new deal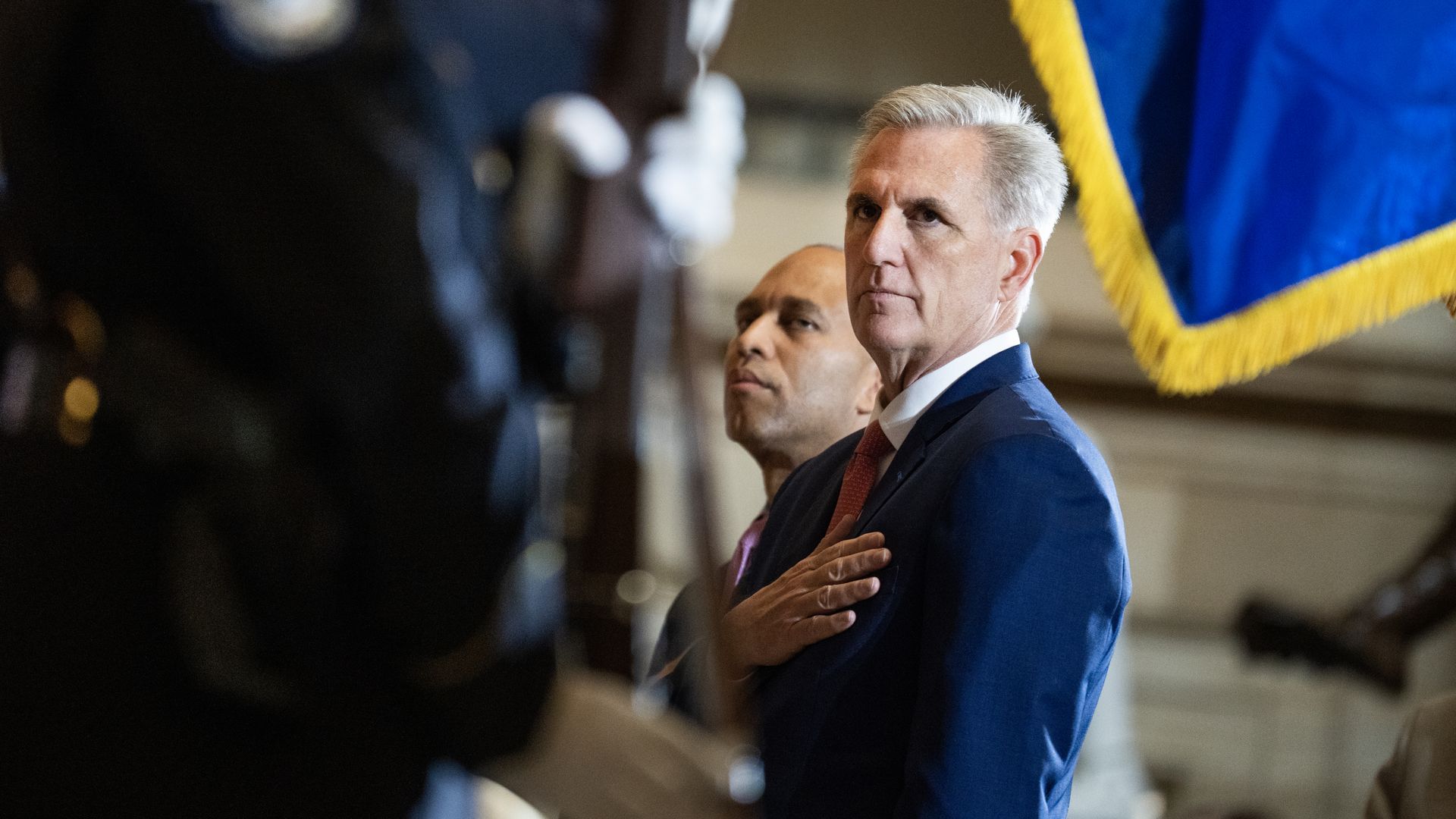 The House continued to postpone votes on Wednesday as a group of right-wing lawmakers pushed to renegotiate a deal they struck in January with Republican leadership.
Why it matters: House Speaker Kevin McCarthy's (R-Calif.) detractors have the numbers to kill any efforts by leadership to pass party-line legislation, meaning they effectively control the House floor.
A predicted Wednesday afternoon vote on a measure the rebels killed on Tuesday came and went as lawmakers shuffled in and out of McCarthy's office.
House Minority Whip Katherine Clark's (D-Mass.) office advised members to "keep their schedule flexible."
What we're hearing: What began as a dispute over allegedly aggressive GOP leadership whip tactics on the debt ceiling has spiraled into a broader retribution over McCarthy's debt ceiling deal with Democrats.
Now the January rebels want to renegotiate the speakership deal, according to sources familiar with the matter.
Rep. Chip Roy (R-Texas) on Wednesday said of the debt ceiling bill, "That water is under the bridge." He added: "I'm just going to … keep moving forward."
The original 20 GOP rebels have added new members to their ranks, including Rep. Ken Buck (R-Colo.), who said of McCarthy on Tuesday: "Hopefully he enters into an agreement that is public, and that he abides by."
State of play: Sources told Axios it is unlikely a resolution will come together in time for votes to resume on Wednesday.
"I'm not going to say it's likely. We're still having conversations," House Majority Leader Steve Scalise (R-La.) said of votes on Wednesday, adding that he's "not sure" if a deal can come together by the end of the week.
"We're going to get it back on track," Scalise said. "Clearly there are still more conversations that need to be had."
What we're watching: Lawmakers signaled that securing assurances for the coming appropriations process will be a top priority after the debt ceiling bill capped 2024 spending at 2023 levels.
Buck said renewing the commitment in the January deal to cap spending at 2022 levels is a key demand of right-wingers.
Go deeper