Inside Biden's relentless soft-sell on the debt ceiling bill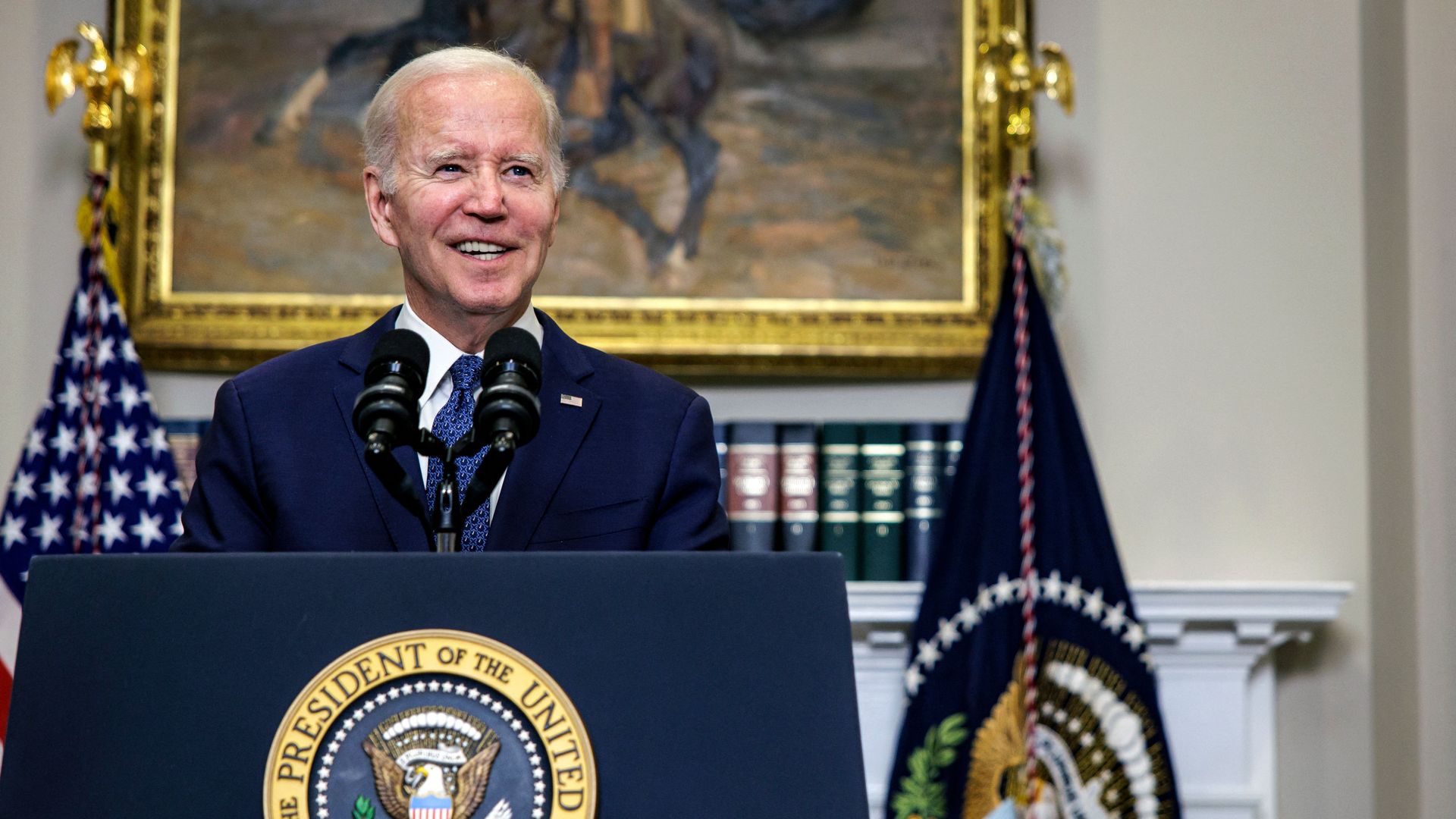 The White House is kicking its outreach to congressional Democrats into overdrive as it tries to sell lawmakers on President Biden's debt ceiling deal with House Speaker Kevin McCarthy.
Why it matters: Democratic votes likely will be necessary to pass the bill through the narrowly divided House, given the vows from right-wing House Freedom Caucus members to oppose it.
Driving the news: The Biden administration's pitch to fellow Democrats is an intellectual appeal on the merits of the bill, rather than trademark D.C. tactics such as legislative horse-trading or high-pressure tactics.
After the deal was announced late Saturday, the White House sent out briefing materials and talking points to Democratic lawmakers.
The administration followed up with Zoom briefings for House and Senate Democrats on Sunday, in which Biden aides offered details on the deal.
Six issue-specific briefings are planned for Democrats on Monday and Tuesday — two each on key components of the plan: spending levels, changes to permitting rules for energy projects, and new work requirements for welfare recipients.
By the numbers: More than 60 House Democrats have received calls about the deal from administration officials including Agriculture Secretary Tom Vilsack, Homeland Security Secretary Alejandro Mayorkas, and White House Chief of Staff Jeff Zients, according to a White House official.
All House Democratic leaders have been called, as have the ranking Democrats on House committees, caucus chairs and leading Appropriations Committee members.
Some Senate Democrats have gotten those calls as well, the official said, but that outreach will begin in earnest on Monday.
Zoom in: House Democrats mostly used their Zoom briefing on Sunday to seek clarification on the details of the bill, according to members on the call and a recording obtained by Axios.
Several members told Axios they felt more secure about voting for the bill afterward, and believe White House officials made a strong pitch.
The call also gave Democrats a chance to air their frustrations about being cut out of the debt ceiling talks — and largely kept in the dark by the White House, even after the deal was struck.
"I feel that the White House has not provided ... direct communication and consistent outreach," said Rep. Steven Horsford (D-Nev.), who was echoed by colleagues in the Zoom chat, according to a screenshot shared with Axios.
Horsford, the Congressional Black Caucus chair, said Republicans got in-depth details "within minutes of the deal being agreed to," adding, "We're in a messaging war… and we're losing."
White House director of legislative affairs Louisa Terrell, one of Biden's debt ceiling negotiators, responded that "we have pivoted now that we have an arrangement. We are … going to be able to be in a place to be really clear and crisp."
State of play: Top Democrats are optimistic about being able to make up for enough GOP "no" votes to get the debt ceiling bill through the House — and avoid a catastrophic default by the U.S. government.
"Most are surprised by how modest the concessions appear to be," a senior House Democrat told Axios.
The lawmaker told Axios they expect the "vast majority" of the House's 213 Democrats to vote for the bill if progressive Democrats don't actively whip against it.
House GOP sources have said as many as 60 of their members could vote against the package because its spending cuts don't go far enough – meaning it could need dozens of Democratic votes to pass.
House aides noted that while Freedom Caucus members have been vocal in blasting the bill, Democrats' misgivings have been relatively muted.
A senior progressive aide told Axios they expect all but a few of the most left-leaning Democrats to hold their noses and vote yes.
Yes, but: Not everyone is sold. One House Democrat with lingering concerns told Axios that Sunday's Zoom meeting with White House aides felt "scripted" and "there wasn't real back and forth dialogue."
Even so, the lawmaker expects the issue-focused briefings that start today to provide the needed clarity.
"I think people are going to slowly get on board, but ... people still want answers."
What's next: The House is expected to return to session on Tuesday, with votes on the debt ceiling bill scheduled for Wednesday.
Go deeper: Listen to the Axios Today podcast, where Margaret Talev, filling in for host Niala Boodhoo, and Hans Nichols talk about the concessions President Biden and Speaker McCarthy had to make to reach a debt ceiling deal.
Go deeper