Democratic tensions rise as Biden narrows debt ceiling talks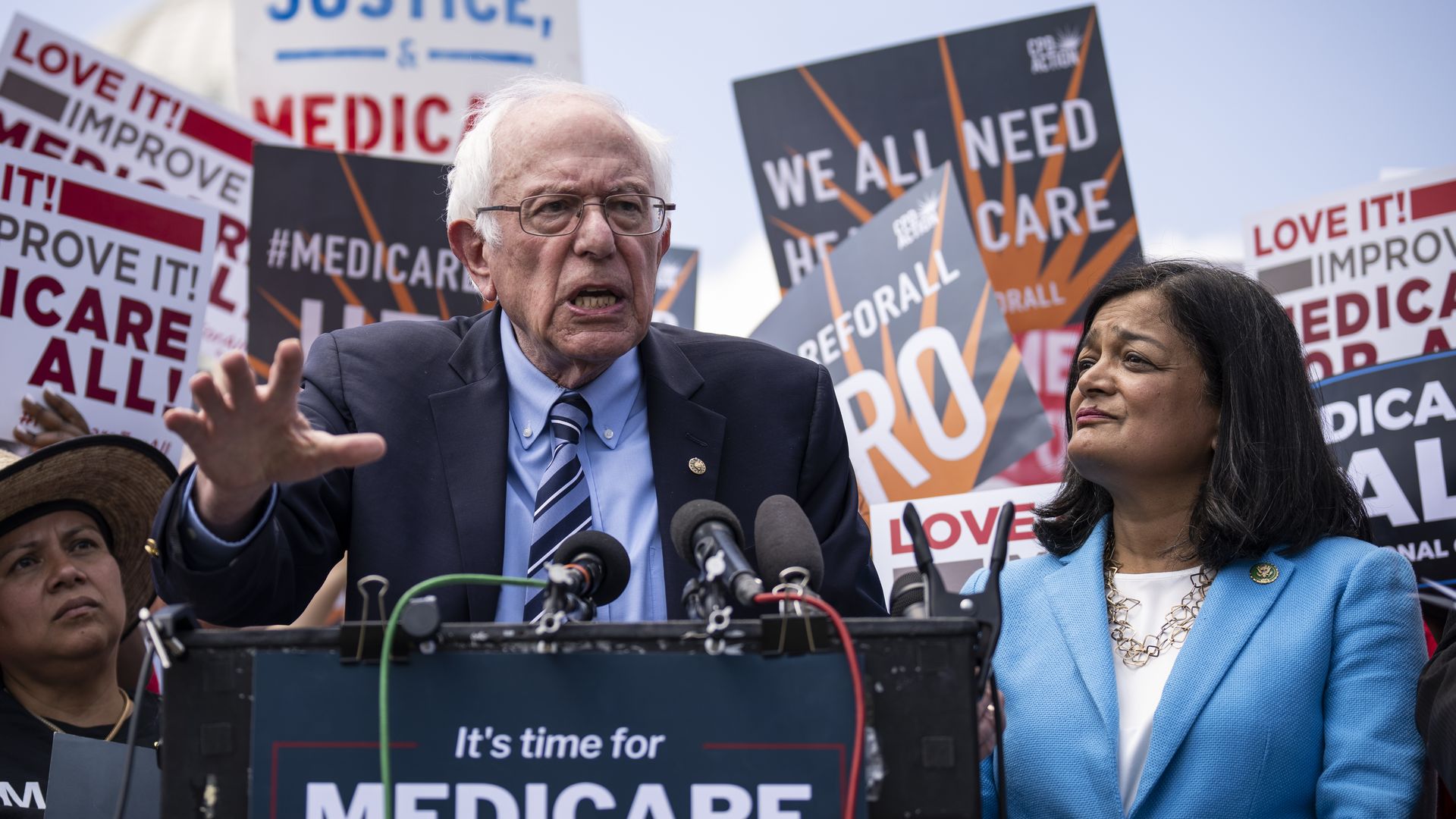 Progressive lawmakers are increasingly anxious about debt ceiling talks after President Biden agreed to have his office negotiate directly with House Speaker Kevin McCarthy's.
Why it matters: Left-wing opposition to an eventual deal could further complicate the already tenuous vote math on both sides of the aisle.
Driving the news: A group of 11 Senate Democrats, led by Sen. Bernie Sanders (I-Vt.), sent Biden a letter on Thursday urging him to "prepare to exercise your authority under the 14th Amendment" to raise the debt ceiling.
"We cannot reach a budget agreement that increases the suffering of millions of Americans," they wrote, arguing that it is "seemingly impossible to enact a bipartisan budget deal at this time."
Rep. Pramila Jayapal (D-Wash.), the chair of the Congressional Progressive Caucus, told Axios that House progressives "will have something similar."
Biden agreed during a White House meeting on Tuesday to appoint three of his advisers to negotiate with McCarthy's team.
That has exacerbated concerns on the left that he may end up acquiescing to too many of the GOP's demands on budget cuts, welfare work requirements and more.
What they're saying: "I have raised the point that nobody should assume, within the White House, that House Democrats or the Progressive Caucus or anyone else is going to go along with something that's negotiated without us at the table," Jayapal said.
Rep. Maxwell Frost (D-Fla.) told Axios, "We want to encourage [Biden] to hold that line as these negotiations are narrowed down between just him and the GOP."
"Whatever they decide is going to have to be voted on by members," said Rep. Ruben Gallego (D-Ariz.). "And I hope they recognize that and make sure they're taking very good stock about what we're feeling."
Between the lines: "There's a growing and legitimate concern among progressives that the keys have been handed over to the White House," said one senior House Democrat, who spoke on the condition of anonymity.
The lawmaker warned that the vote could become a "damned if we do, damned if we don't" decision for those members given the "difficult competing interests" of avoiding default and minimizing spending cuts.
"There are going to be a lot of Democrats in a really uncomfortable position," they said.
The other side: The White House pointed to their readout of Tuesday's meeting that said Biden expressed optimism about reaching a deal "if both sides … recognize that neither side will get everything it wants."
Some conservative Republicans are also warning that their votes can't be taken for granted.
Any deal "will have to have to have the same strength" as the GOP bill, said Rep. Michael Cloud (R-Texas), "So, any give ... is going to have to have some replacement value to it."
"We got our line. We've got to stay firm," said Rep. Troy Nehls (R-Texas), "Let's just see what ... type of deal has been cut, to see if I can stomach it."
What we're watching: McCarthy told reporters on Thursday that a vote could conceivably happen as soon as next week.
The senior House Democrat predicted the bill will probably pass with votes from "the majority of the middle."
"That's ultimately how it's probably going to play out," they said, "which means there are going to be some disappointed Democrats and some disappointed Republicans."
Go deeper