Biden risks "huge backlash" from left in debt ceiling talks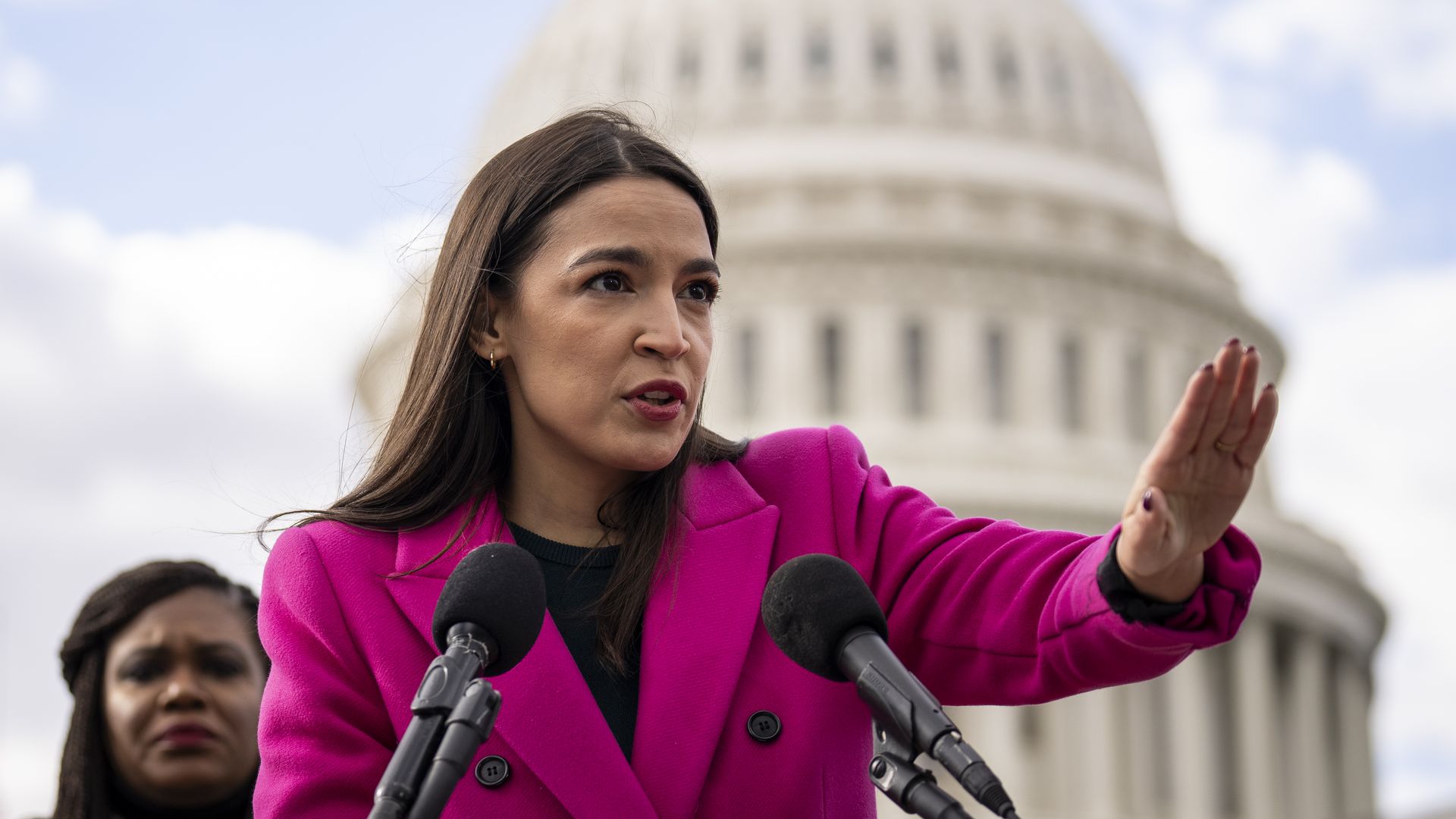 Progressives lawmakers are warning President Biden he could face blowback from the left if he cedes ground to Republicans in debt ceiling negotiations.
Why it matters: This new pressure from the left complicates the White House's balancing act.
Treasury Secretary Janet Yellen said Monday she still estimates the U.S. could stop being able to pay off its debt as soon as June 1.
What they're saying: Rep. Pramila Jayapal (D-Wash.), the chair of the Congressional Progressive Caucus, told Axios it's "really important that we don't give ground" on several areas, including welfare work requirements and energy permitting reform.
"We have made it clear ... that if they give on these core Democratic values, there will be a huge backlash," she said, adding that there will be "backlash at the polling booth" with progressives not turning out.
Rep. Alexandria Ocasio-Cortez (D-N.Y.) said the White House can "expect pushback on nearly any significant concession. This is not an appropriate vehicle ... I don't think we should normalize such destructive tactics."
"I'm very, very concerned," said Rep. Jamaal Bowman (D-N.Y.), who said he is "leaning towards not optimistic in terms of what we're going to give up."
Between the lines: The progressive lawmakers shared concerns that Biden risks emboldening Republicans to make future demands if he abandons his refusal to sign anything other than a clean debt ceiling increase.
"It's profoundly destructive and it also threatens to weaken the president," Ocasio-Cortez said.
"It makes us look weak and like we don't know what we're doing," said Bowman.
State of play: Several parts of the House GOP bill – work requirements, energy permitting reform, COVID aid clawbacks and discretionary spending caps – are on the table in staff-level talks that have been going on since last week, according to a congressional leadership source.
Some Republicans, including House Speaker Kevin McCarthy (R-Calif.), lambasted the White House publicly on Monday, alleging slow progress and a refusal to budge on the demand for a clean debt ceiling increase.
But, privately, one House Republican told Axios the conversations have been "constructive" and that "we'll know ... very soon if they've produced" a workable deal.
President Biden is scheduled to meet with congressional leaders on Tuesday.
A common theme emerged in interviews with more than a half dozen House progressives: Trying to use the 14th Amendment or a discharge petition as work-arounds to force a clean debt ceiling increase.
"I think the president may need to deal with it by just invoking the 14th Amendment and then seeing where it goes," said Rep. Steve Cohen (D-Tenn.), acknowledging it could get wrapped up in the courts.
Rep. Jan Schakowsky (D-Ill.), a senior Budget Committee member, pointed to both options as "an avenue [to raising the debt ceiling], depending on how stubborn [Republicans] actually get."
What we're watching: Rep. Jamie Raskin (D-Md.), a constitutional law professor, is slated to make the case for using the 14th Amendment at the Progressive Caucus meeting on Tuesday.
Go deeper