Democrats unveil plan to bypass McCarthy on debt ceiling increase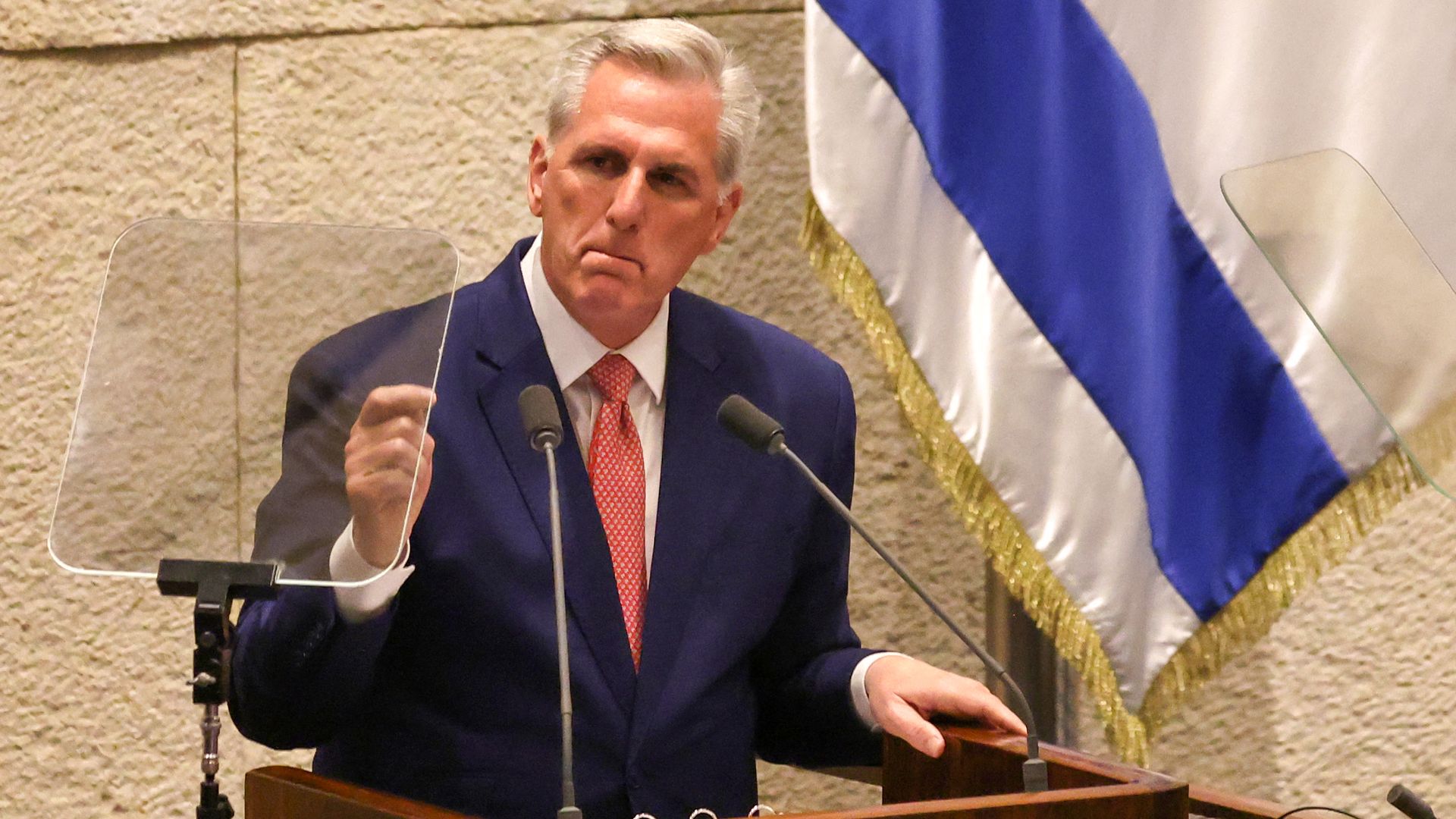 House and Senate Democrats are taking procedural steps to force votes on a clean debt ceiling increase without the spending cuts Republicans have demanded.
Why it matters: Treasury Secretary Janet Yellen warned Congress on Monday that a default could come as soon as June 1 if action is not taken, spurring both parties to double down on their debt ceiling strategies.
Driving the news: House Minority Leader Hakeem Jeffries (D-N.Y.), in a "dear colleague" letter on Tuesday, wrote that Democrats plan to file a discharge petition – which, if signed by 218 House members, would force a vote on a clean debt ceiling increase.
The legislation, he said, was introduced by Rep. Mark DeSaulnier (D-Calif.) at the "beginning of the 118th Congress" in January, making it eligible to try to bring to the floor under that process.
"The filing of a debt ceiling measure to be brought up on the discharge calendar preserves an important option," Jeffries wrote, "We will be in direct contact next week upon our return to Washington in connection with the discharge effort."
The move comes after Senate Majority Leader Chuck Schumer (D-N.Y.) on Monday placed both a clean debt ceiling increase and the House GOP's bill to raise the debt ceiling and slash spending on the Senate calendar.
"This process will ensure that once a clean debt ceiling is passed the House bill is available for a bipartisan agreement on spending and revenue as part of the regular budget process," Schumer's spokesperson said.
Reality check: A discharge petition would require the signatures of five House Republicans to force a vote, and GOP moderates are sticking by their demand for Democrats to negotiate on the debt ceiling.
"Leader Jeffries refuses to negotiate," Rep. Don Bacon (R-Neb.) told Axios. "That's not how it works in a divided government. We have to govern, which means we have to find some agreement, which means we must negotiate."
A moderate Republican, speaking on the condition of anonymity, told Axios: "I don't [support a discharge petition]. Biden has been doing a horrible job of outreach to moderates."
"They won't get that through," said another House Republican.
As for Senate Republicans, they're no more likely to support a clean debt ceiling increase.
"The House has passed a bill, if that's not acceptable to the Democrats, sit down and negotiate something," said Sen. Mitt Romney (R-Utah) on Monday when asked whether he would support a clean debt ceiling increase.
"I'm supporting the House provision," he added.
What we're watching: House Speaker Kevin McCarthy (R-Calif.) has accepted President Biden's Monday request for a meeting on May 9 to discuss the debt ceiling, according to a source familiar with the matter. Senate Minority Leader Mitch McConnell (R-Ky.) also confirmed he'll attend during his news conference Tuesday.
That sets up an opportunity for them to potentially hash out a deal – though Biden is expected to push for a clean debt ceiling increase in the meeting.
The White House on Tuesday reiterated that Biden isn't willing to negotiate, even with a timeline crunch, and still wants a separate process to pass the next budget.
Editor's note: This story has been updated with comments from the White House and McConnell on Tuesday.
Go deeper