Yellen breaks the debt ceiling ice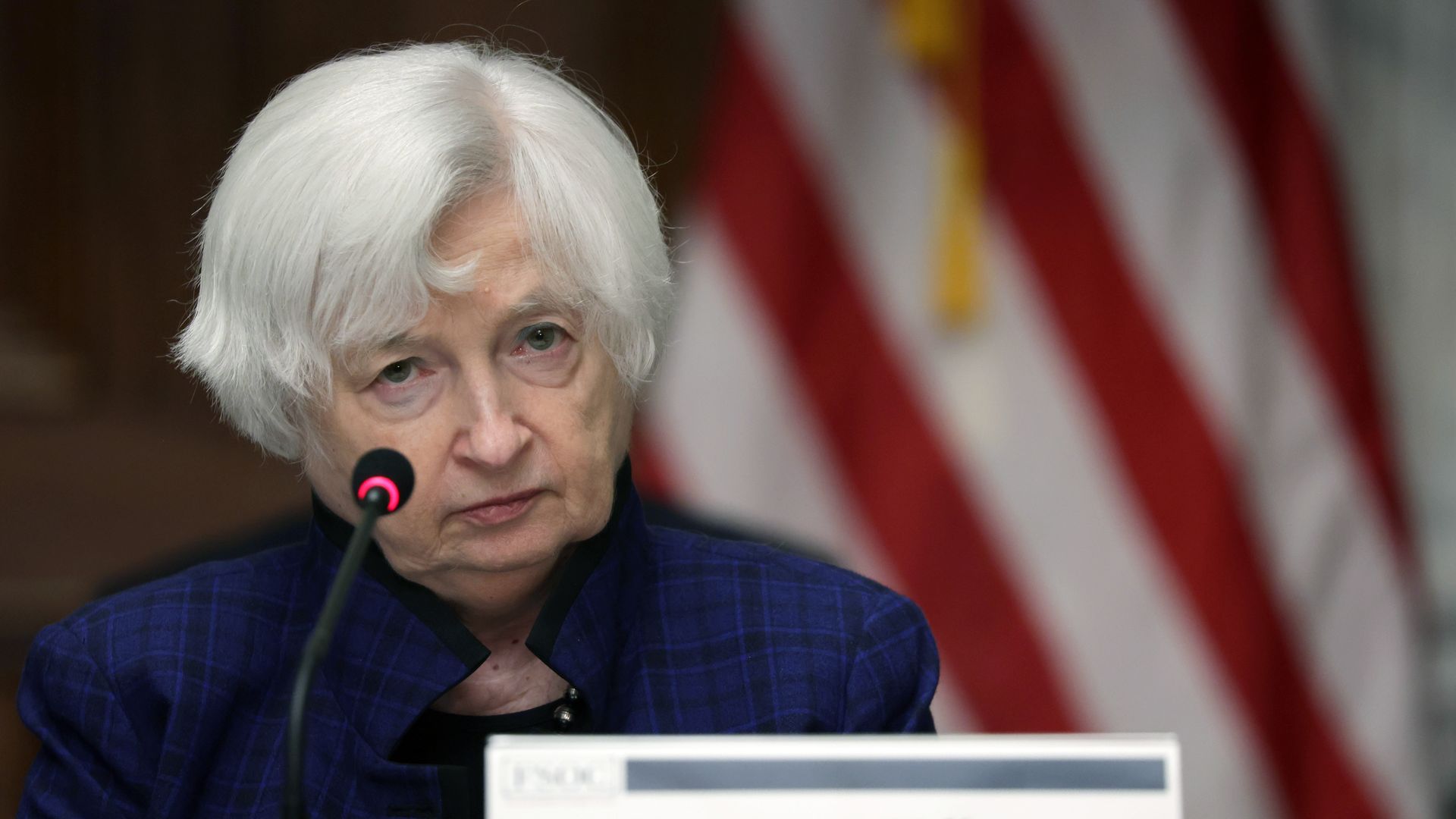 The months-long silence between President Biden and House Speaker Kevin McCarthy is reaching an abrupt end thanks to Treasury Secretary Janet Yellen.
Why it matters: Yellen's urgent deadline on the debt ceiling gives the White House and Congress as little as a month to avert a catastrophic default, spurring Biden to call an emergency meeting with congressional heads.
Reality check: The timeline is more urgent than it looks, and a vast chasm remains between the two parties.
Biden plans to push a clean debt ceiling increase at the planned May 9 meeting with congressional leadership despite Republicans ruling it out.
The Senate is only in session for 14 days before June 1, while the House is in for 12 days.
What they're saying: Senate Democrats interviewed by Axios on Monday stood firm in their opposition to tying the debt ceiling to budget cuts despite the newly truncated timeline.
Sen. Jon Tester (D-Mont.), one of three Trump-state Democrats in the Senate, told reporters he is supportive of Biden negotiating deficit reduction with McCarthy, "but not on the debt ceiling."
"The only thing scarier than not negotiating with [Republicans] is negotiating with them," said Sen. Brian Schatz (D-Hawaii), because "they will never, ever stop holding ... the American economy hostage."
The other side: Republicans celebrated Biden's decision to come to the table, but shut down the idea of a clean debt ceiling increase with seemingly no wiggle room.
"Won't pass the House, won't pass the Senate," said Sen. John Cornyn (R-Texas), a member of Senate Minority Leader Mitch McConnell's (R-Ky.) leadership team.
Sen. Kevin Cramer (R-N.D.) signaled he would only be willing to do that for a "very short term" extension – 30 days or less, he specified – to give negotiators enough time to reach a deal.
The bottom line: Few other senators aside from Cramer were willing to even entertain the idea of a short-term increase or suspension.
"If everybody starts thinking we can get an extension, then the crisis won't happen until the end of that extension," said Sen. Thom Tillis (R-N.C.), "That's just the way it works up here."
Go deeper