Biden seeks emergency debt ceiling meeting with congressional leaders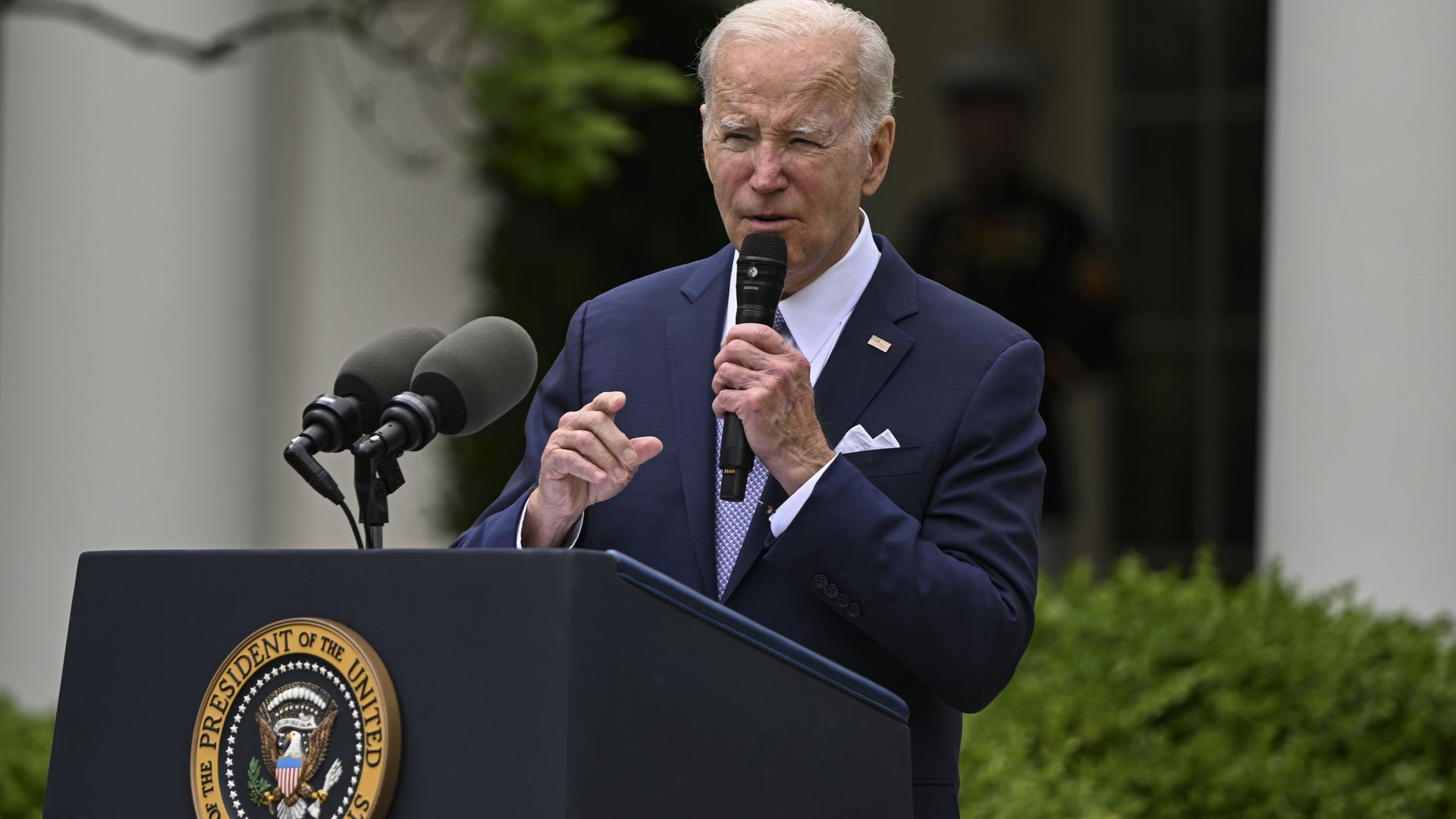 President Biden has called the four House and Senate leaders proposing a May 9 meeting on the debt ceiling, according to three sources familiar with the matter.
Why it matters: The Department of the Treasury and Congressional Budget Office said Monday the U.S. may stop being able to pay off its debts as soon as early June – a startlingly short timeline to reach a resolution.
What they're saying: Senate Majority Leader Chuck Schumer (D-N.Y.) and House Minority Leader Hakeem Jeffries (D-N.Y.) signaled in a statement that they are standing firm in their demand for a clean debt ceiling increase.
"We do not have the luxury of waiting until June 1 to come together [and] pass a clean bill to avoid a default," they said, adding that Republicans "cannot allow right-wing extremism to hold our nation hostage."
A White House official told Axios' Hans Nichols that Biden will stress that Congress must take action to avoid default "without conditions" and frame budget negotiations as a "separate process."
Yes, but: Some Senate Democrats did not rule out the possibility of voting for a debt ceiling compromise that includes deficit reduction measures like what House Republicans have proposed.
"Depends on what it is," said Sen. Jeanne Shaheen (D-N.H.).
Sen. Chris Coons (D-Del.) a close ally of Biden, said the scenario is "three hypotheticals stacked in a row," but added: "Let's see what the president can come up with."
The other side: Centrist Sen. Susan Collins (R-Maine), the vice chair of the Appropriations Committee, called the meeting "long overdue," adding, "The fact that they're finally meeting is very positive."
"That's a lot farther along than we were a week ago," Sen. Mike Rounds (R-S.D.) said of the meeting, "So, probably some good news for everybody today."
Between the lines: Some senators expressed pessimism about the possibility of a deal on a long or medium-term debt ceiling increased by June 1.
"I think it's good that they're all talking," said Rounds, but "clearly it's going to be difficult to come to a consensus."
Sen. Kevin Cramer (R-N.D.) told Axios that 30 days is "long enough for people to get to work and make some progress and ... to maybe extend [the debt ceiling], if necessary, for weeks or a month or two."
Sen. Mitt Romney (R-Utah), asked about the possibility of a short-term, stopgap debt ceiling increase, told Axios: "I'm not going to take anything off the table."
Go deeper