Yellen holds firm on potential June 1 debt ceiling deadline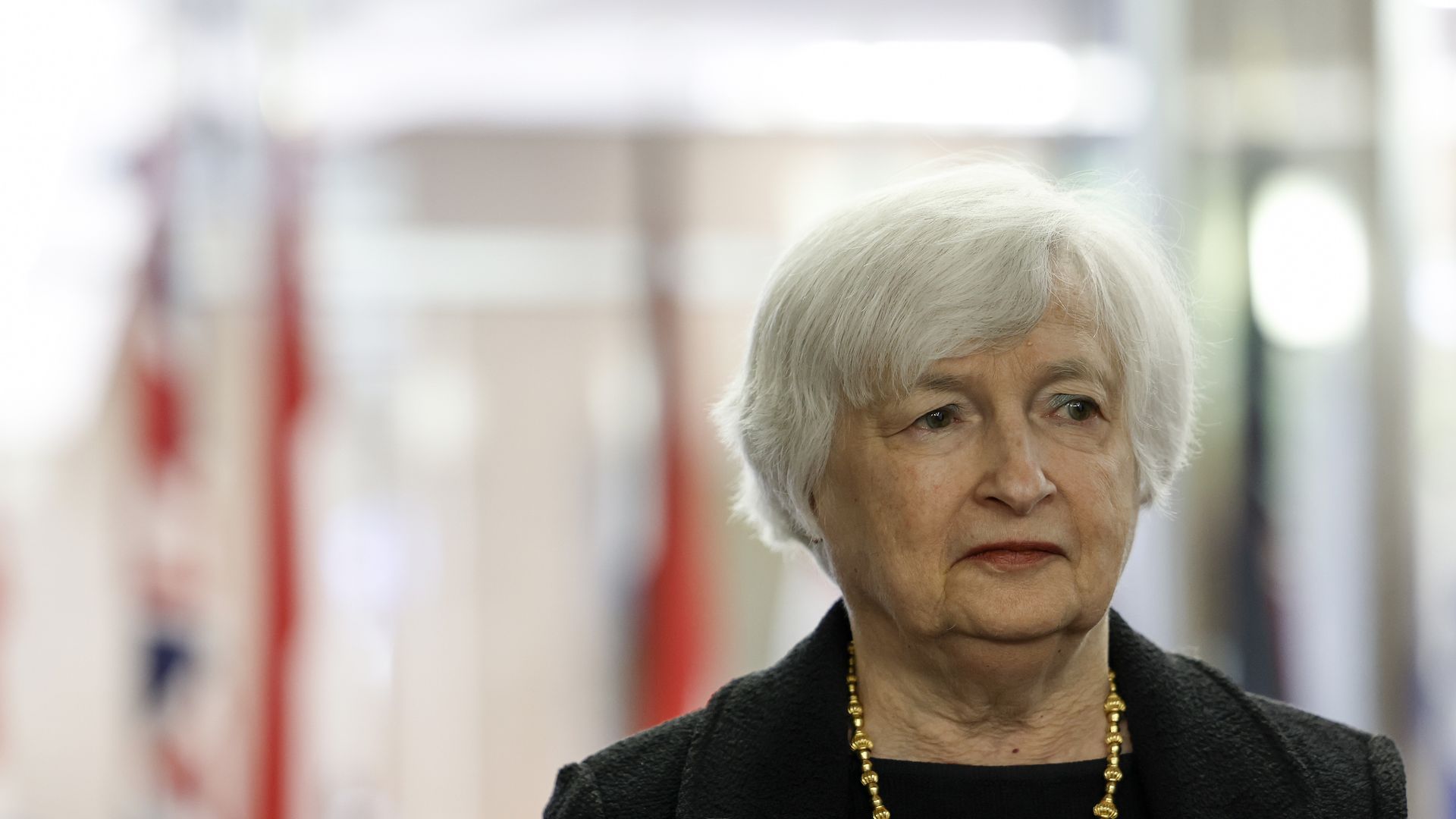 Treasury Secretary Janet Yellen has repeated her warning that the U.S. government could run out of money as early as June 1, and has shortened the potential buffer period to days, not weeks.
Why it matters: Yellen's latest forecast keeps up the pressure on President Biden and Congress to find an agreement on how to raise the debt ceiling before the Treasury department reaches the so-called X-date.
Her previous analysis, released on May 1, said that Treasury could run out of money by "early June, and potentially as early as June 1." She also added that potential X-date "could be a number of weeks later than these estimates."
The new letter, released May 15, says that "we still estimate that Treasury will likely no longer be able to satisfy all of the government's obligations if Congress has not acted to raise or suspend the debt limit by early June, and potentially as early as June 1."
"The actual date Treasury exhausts extraordinary measures could be a number of days or weeks later than these estimates."
Driving the news: On Friday, the Congressional Budget Office said there was "significant risk" the U.S. will default on its debt "at some point in the first two weeks of June."
The Bipartisan Policy Center has pegged the range for when the X-date can fall from early June to early August.
Biden is scheduled to meet with McCarthy and the other top three congressional leaders on Tuesday.
The big picture: House Speaker Kevin McCarthy (R-Calif.) has embraced June 1 as a hard deadline for avoiding a U.S. default, as way ramp up pressure on President Biden to cut a deal on raising the debt ceiling.
McCarthy told reporters today that the framework of a deal has to be finalized this week.
Biden is scheduled to leave for Asia for a G-7 summit on Wednesday.
What we're watching: As Treasury approaches the X-date, the estimates will become both more frequent and more specific.
Every weekday afternoon, the Treasury Department releases fresh data on how much money is flowing into the department and how much is flowing out.
If Treasury has enough cash to get past June 15, when a large tranche of corporate tax revenue is expected, it may have a couple more weeks to pay its bills.
The bottom line: "This week will be critical for assessing the strength of federal revenues and narrowing the X-date range," said Rachel Snyderman, the senior associate director of business and economic policy for Bipartisan Policy Center.
"If revenues continue to come in below expectations, for example, it could heighten the risk that the X-Date falls earlier in BPC's range."
Go deeper