McCarthy embraces June 1 default deadline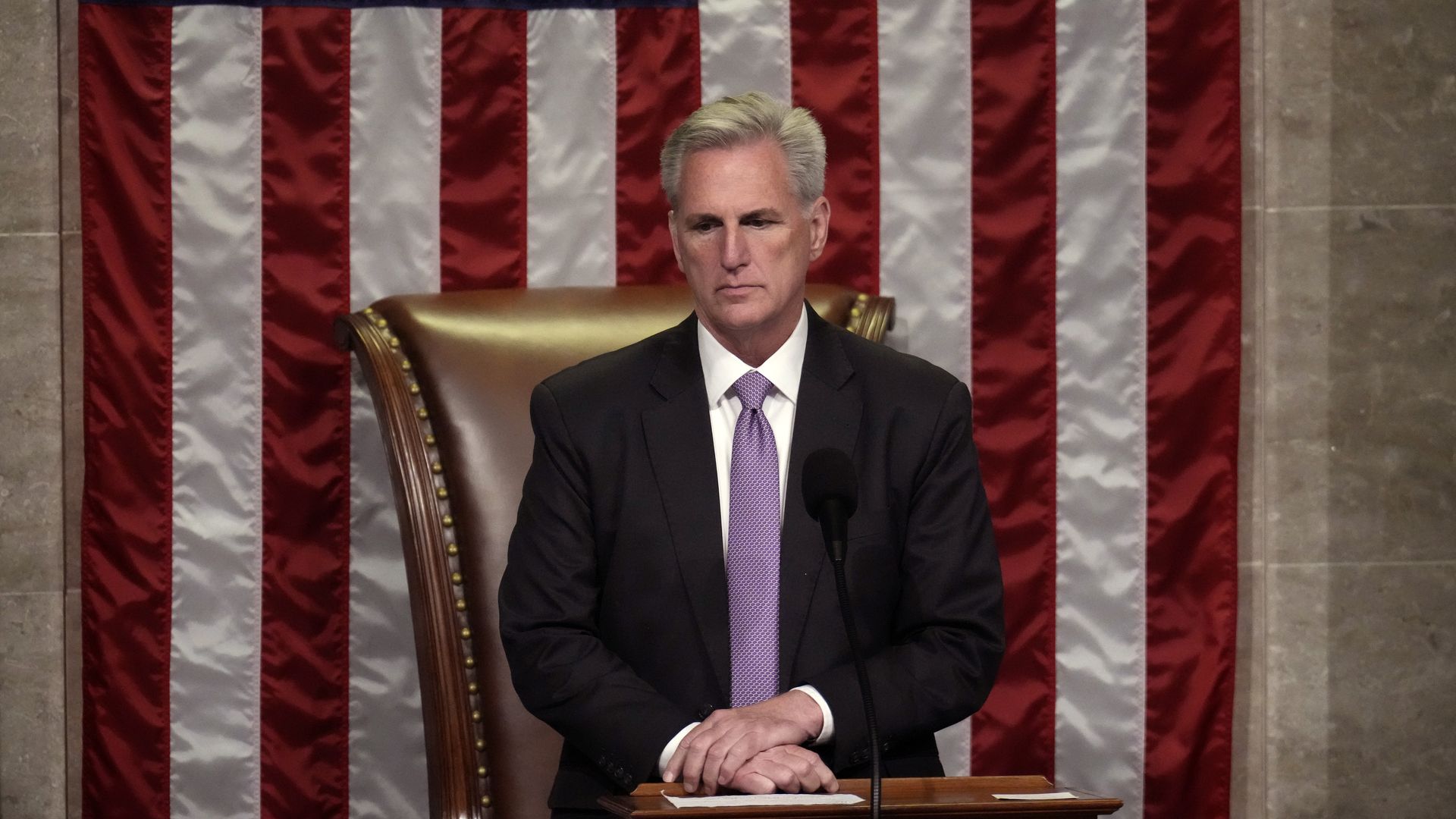 House Speaker Kevin McCarthy (R-Calif.) is embracing June 1 as a hard deadline for avoiding a U.S. default, as he looks to ramp up pressure on President Biden to cut a deal on raising the debt ceiling.
Why it matters: McCarthy is trying to turn the calendar into an ally.
Before Biden met with congressional leaders on Tuesday, there was broad skepticism among Senate Republicans that the June 1 date was a hard and fast deadline.
But in staff-level conversations this week with White House officials, Republicans acknowledged that the June 1 X-date, offered at the beginning of the month by Treasury Secretary Janet Yellen, was real.
On Thursday evening, McCarthy publicly seized on the June 1 deadline as another reason Biden and Congress needed to get serious about avoiding default.
What they're saying: "We all know that the deadline for default is June 1," McCarthy told reporters on Capitol Hill.
"Apparently, President Biden doesn't want to deal. He wants to default," he said. "Mr. President, my message is very simple: Do not miss another deadline."
Driving the news: Despite McCarthy's hot rhetoric, officials on both ends of Pennsylvania Avenue claimed that progress was being made in the last two days of staff-level talks on cutting spending.
Biden and McCarthy agreed to postpone a follow-up meeting, initially scheduled for Friday, to give aides more time to talk.
The big picture: For more than three months, McCarthy has been demanding that Biden start to negotiate with him on pairing a debt ceiling with spending cuts.
Now that Biden officials are engaged in direct conversations with McCarthy's team, the speaker has little interest in relieving any pressure.
The White House maintains that they are not negotiating over raising the debt ceiling, but are instead engaged in a two-track process.
Between the lines: On Capitol Hill (and in newsrooms), deadlines drive decisions.
Just because negotiators have agreed to recognize June 1 as the consensus X-date doesn't mean that it's the real day — or that they truly believe it.
The actual deadline could be as late as August, according to the Bipartisan Policy Center, which pegs the range for when the X-date can fall in early June.
Zoom out Half a world away in Japan, Yellen continued to warn about the economic and financial "catastrophe" that will hit the global economy if Congress doesn't raise the debt ceiling.
She also cautioned that cutting a deal too close to the X-date could cause some damage as well.
"Short of a default, brinkmanship over the debt limit can also impose serious economic costs," Yellen said overnight at a G7 summit of finance ministers.
The intrigue Yellen dismissed the practicality of the White House invoking the 14th Amendment as a legal justification for ignoring the debt ceiling law.
"There would clearly be litigation around that," she said. "It's legally questionable whether or not that's a viable strategy."
Go deeper