Republicans believe debt-ceiling cliff is further than it appears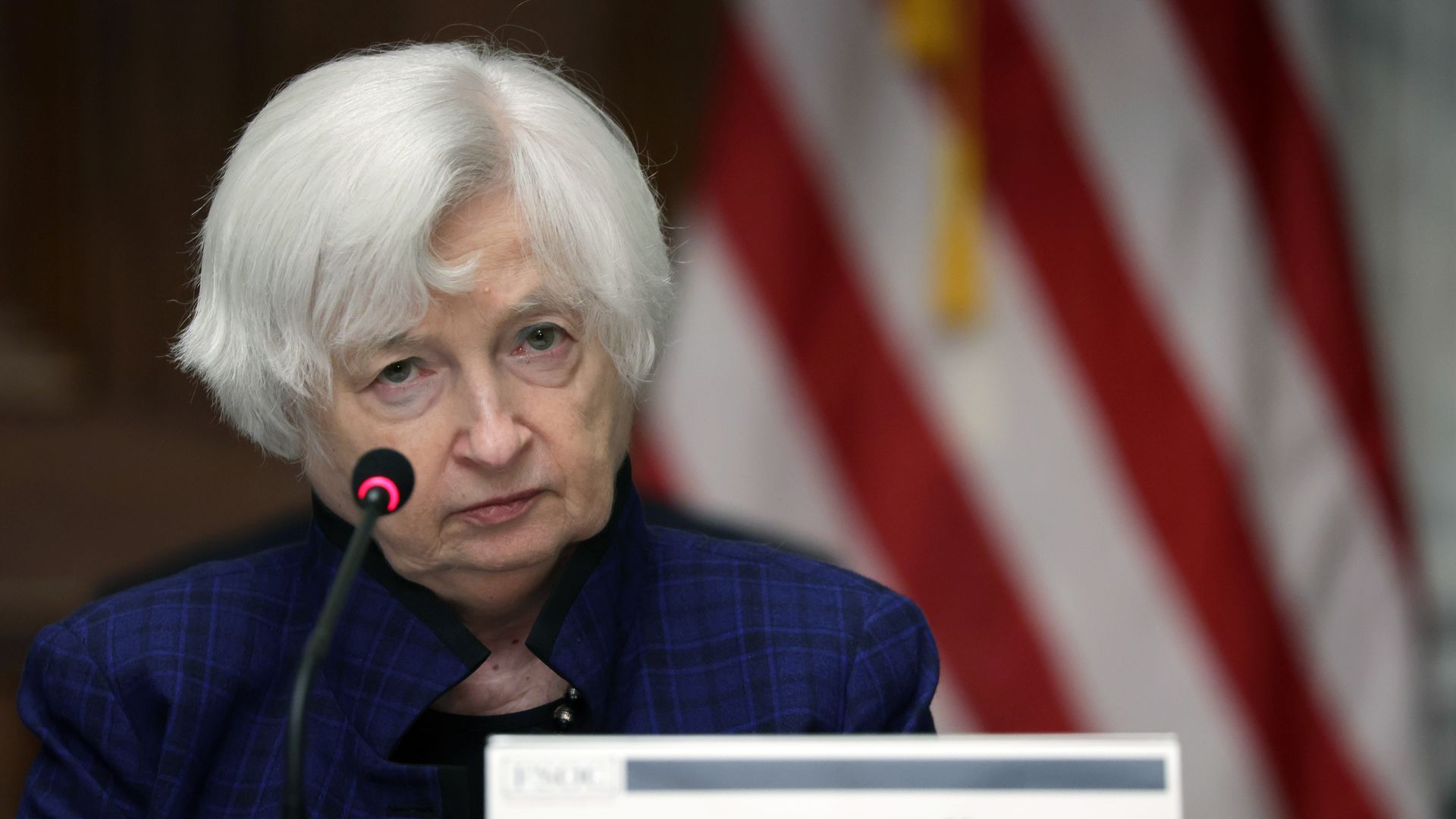 Senate Republicans are deeply skeptical of Treasury Secretary Janet Yellen's estimate that the U.S. will not be able to pay its bills as early as June 1 if Congress does not raise the debt ceiling.
Why it matters: A firm deadline can be a forcing mechanism in any negotiations, especially on Capitol Hill. But deadlines only work if all the parties actually believe that they are real.
The true day of reckoning could land somewhere in July or even August, according to some GOP lawmakers.
That timeline allows them to maintain their current position, which is to call for direct negotiations between President Biden and House Speaker Kevin McCarthy (R-Calif.) — and dismiss any talk of potential release valves, such as a short-term extension.
Driving the news: With the House out of session, Senate Republicans are lining up behind McCarthy's plan, touting their unity and testing Biden's resolve not to negotiate over raising the debt ceiling.
On Monday, Yellen told McCarthy that "our best estimate is that we will be unable to continue to satisfy all of the government's obligations by early June, and potentially as early as June 1."
But Republicans appear to be focusing more on the next sentence, in which Yellen suggested the actual deadline "could be a number of weeks later than these estimates."
They are also apparently skeptical of other forecasts, such as Monday's from the Congressional Budget Office, which also moved up the potential arrival of the deadline. In a research note, Goldman Sachs said "the early deadline is not surprising," given tax receipts.
What they're saying: "Hard deadlines do make a difference, because there's a sense of urgency around them," Senate Minority Whip John Thune (R-S.D.) told Axios. "But I think the impression here is that there's probably still some flexibility there."
"I don't believe June 1 is the ceiling, I think that is a political ceiling set by the secretary to put pressure on people," said Sen. John Kennedy (R-La.). "I think the ceiling is more like [the] end of July, sometime in August."
"Nobody believes her. I don't believe her," said Kennedy. "I'm not saying she's a liar, I'm just saying Janet Yellen is no longer an economist and a professor — she's a politician."
"Given the nature of the letter, I think it opens the door to this being a little longer, but let's not go right into the deadline," said Sen. Mitt Romney (R-Utah). "There's got to be a deal reached and whether it's by June 1 or June 15 or June 30, we have got to get the four corners to return a deal."
The big picture: After Yellen sent her letter, Biden called McCarthy, as well as Senate Majority Leader Chuck Schumer (D-N.Y.), Senate Minority Leader Mitch McConnell (R-Ky.) and House Minority Leader Hakeem Jeffries (D-N.Y.) and invited them the White House for a meeting on May 9.
Biden and top White House officials continue to insist that they won't negotiate with McCarthy over raising the debt ceiling, which technically crossed its $31.4 trillion limit in January, forcing the Treasury to rely on "extraordinary measures."
But the White House has signaled that they are willing to engage in a discussion with Congress on overall spending levels, allowing Biden to claim that he isn't — technically — negotiating over the debt ceiling.
In theory, a dual-track approach would allow some sort of negotiations to start. In practice, the two sides are miles apart on what kind of spending cuts should be considered, not to mention other knotty issues such as permitting or immigration reform.
The other side: Democratic senators are sounding the alarm that time is running out and are urging their colleagues to listen to Yellen.
"It's kind of funny how everybody becomes an economist in these moments," said Sen. Michael Bennet (D-Colo.). "I really just don't understand the politics of playing chicken with Americans' mortgage rates and with their interest rates on their loans."
Between the lines: Predicting the actual deadline this far out is more of an art than a science. Some lawmakers are scarred by previous warnings from earlier administrations.
"This is something over which Treasury secretaries have, over the last decade, exercised a lot of discretion over," said Sen. Mike Lee (R-Utah). "It's the kind of a black box we can't always peer into."
The bottom line: Republicans point to the eight-day delay between Biden summoning lawmakers and the actual planned sit-down as evidence that the White House lacks a sense of urgency — though it's worth noting that McCarthy is currently traveling outside of the country.
"Yellen stepped up and said, 'OK, now it's going to be the first of June,'" said Sen. James Lankford (R-Okla.) "The president's response was, 'OK, well, we'll talk about it next week.'"
Go deeper