Biden agrees to direct debt ceiling talks with House GOP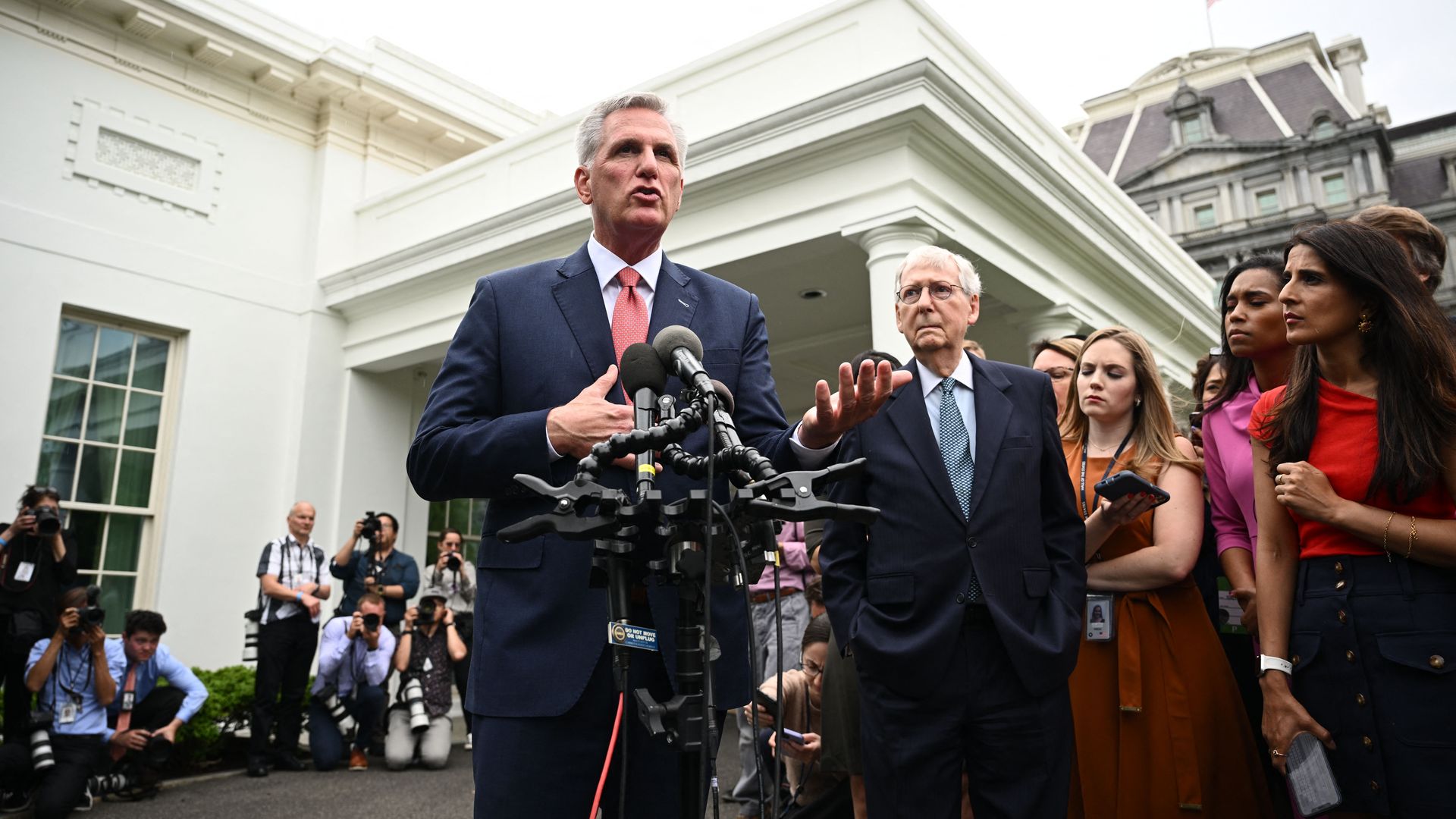 Congressional leaders on Tuesday said President Biden agreed to have the White House negotiate the debt ceiling directly with House Speaker Kevin McCarthy's office.
Why it matters: Biden is acceding to a key demand by Republican lawmakers – for the White House to acknowledge the House GOP majority's leverage in the process and act accordingly.
What they're saying: McCarthy (R-Calif.) and other congressional leaders emerged from an hour-long White House meeting telling reporters progress was made.
"I think we set the stage to carry on further conversations ... We've got a lot of work to do in a short amount of time," McCarthy said.
The speaker said Biden "changed the scope of who's all negotiating" by agreeing to appoint White House officials to negotiate directly with his team.
Senate Minority Leader Mitch McConnell (R-Ky.) said Biden and McCarthy are "the keys to the deal," adding, "I'm prepared to try to deliver as much as I can for whatever the speaker and the president can agree to."
The context: The meeting comes as Treasury Secretary Janet Yellen reiterating her warning that the U.S. could run out of money to pay its debts as soon as June 1.
Biden previously met with the four congressional leaders last week, which kicked off staff-level negotiations that have been going on in the interim.
Republicans have argued that Biden needs to negotiate directly with McCarthy, whose support is necessary for any bill to pass the House.
"It sounds like there might be too many cooks in the kitchen," Rep. Andrew Garbarino (R-N.Y.) told Axios after a House GOP leadership meeting on Monday. "Maybe it should just be the president discussing this with McCarthy."
The details: Biden is tapping White House counselor Steve Ricchetti and Office of Management, Budget Director Shalanda Young and White House legislative affairs director Louisa Terrell as his point people, according to a White House official.
Rep. Garrett Graves (R-La.), a McCarthy ally, will represent the House GOP along with members of the speaker's staff, McCarthy said.
"The President directed staff to continue to meet daily on outstanding issues," the White House said in a readout of the meeting. "He said that he would like to check in with leaders later this week by phone, and meet with them upon his return from overseas."
Biden is shortening his trip to Asia after the G7 summit, the White House announced Tuesday.
What we're watching: McCarthy said "it is possible to get a deal by the end of the week."
Asked how much the bill may raise the debt ceiling, McCarthy said "that's all up for negotiation."
Go deeper