NYT poll: Trump set to romp Biden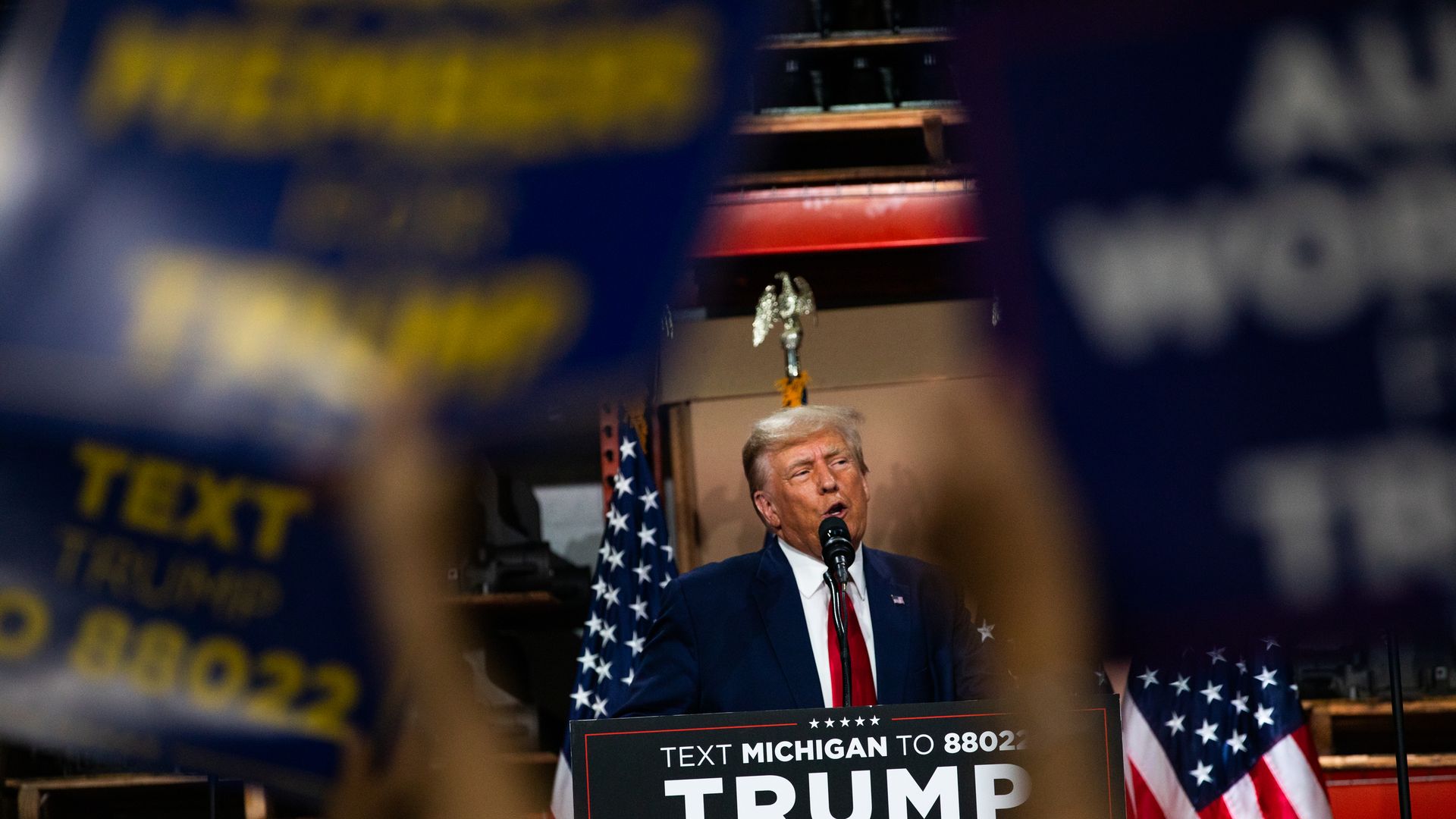 If the election were held today, former President Donald Trump would easily beat President Joe Biden with over 300 electoral votes, according to a new swing state poll from The New York Times and Siena College.
Why it matters: The poll will increase anxiety among Democrats about the 2024 election and undermines the idea that Biden is the most electable Democrat against Trump.
By the numbers: The poll shows Trump leading Biden in five of six swing states — Nevada, Georgia, Arizona, Michigan, Pennsylvania, and Wisconsin —all of which Biden won in 2020.
Biden led Trump in Wisconsin but is down 4 points in Pennsylvania, 5 in Arizona, 6 in Georgia, 5 in Michigan, and 10 in Nevada.
71 percent said Biden was "too old," including 54 percent of Biden's supporters.
Only 39 percent of those voters felt the same about Trump, who would be the oldest president ever inaugurated and has shared no details about his health.
Swing state voters said they trust Trump over Biden on the economy by a 22-point margin, 59 to 37 percent.
Trump and Biden are effectively tied among voters under 30 — a large shift from 2020.
Biden also polls weaker than alternative Democrats, even Vice President Kamala Harris.
Trump leads Biden by 5 points and Harris by only 3 points.
A generic, unnamed Democrat fares even better with an 8-point lead over Trump — a 13-point swing from Biden.
What they're saying: Kevin Munoz, a spokesperson for Biden's re-election, told Axios that "predictions more than a year out tend to look a little different a year later. Don't take our word for it: Gallup predicted an eight point loss for President Obama only for him to win handedly a year later."
He added: "We'll win in 2024 by putting our heads down and doing the work, not by fretting about a poll."
Flashback: Biden benefited from the same Times/Siena College poll 4 years ago, which showed him as the most electable Democrat against Trump.
Biden's campaign seized on the poll and others like it to argue that he deserved the nomination because he had the best chance of beating Trump.
The same poll four years later shows the opposite.
Go deeper