Trump has his own age problem as he mocks 80-year-old Biden's fitness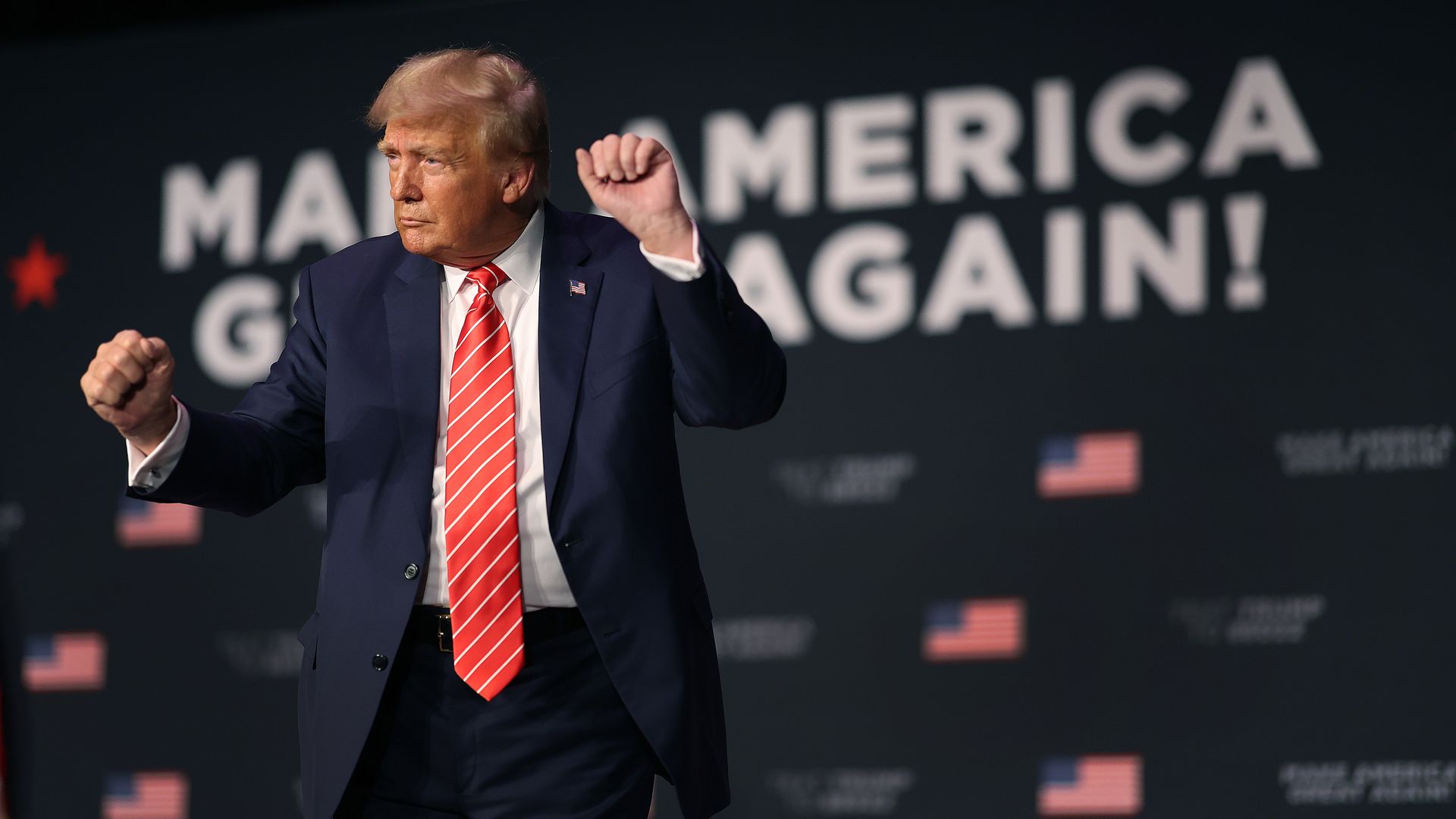 Joe Biden's age is a big theme of the 2024 campaign, but if Donald Trump wins the presidency he'd also be the oldest person ever to be inaugurated — and his campaign has disclosed far less about his health than the White House has about the president.
Why it matters: Trump, 77, often mocks the 80-year-old Biden as feeble and confused — even as some of Trump's foes are highlighting the former president's own gaffes and relatively light campaign schedule.
The debate over the leading presidential candidates' age and fitness comes as several polls suggest most Americans think both men are too old for another term — with more voters concerned about Biden's age.
Driving the news: Florida Gov. Ron DeSantis' campaign, trying to cut into Trump's big polling lead in the GOP presidential race, has been targeting Trump's age.
Last week, DeSantis' campaign revealed a "Trump accident tracker" to compile the former president's verbal slips on the trail, and asked whether Trump had the "stamina" to be president — using a word Trump often has invoked against his opponents, particularly Hillary Clinton in 2016.
"This is a different Donald Trump than 2015 and '16 — lost the zip on his fastball," DeSantis told reporters in New Hampshire last week.
In recent weeks, Trump has mixed up Jeb Bush with George W. Bush and repeatedly said "Obama" and "Obama administration" while trying to criticize Biden or Hillary Clinton, slip-ups the DeSantis campaign has highlighted.
Between the lines: Trump has long tried to hide or obscure details about his physical health.
Biden's White House is reluctant to discuss details about the president's health, but it does release annual updates from the White House physician about his physicals, which Trump has not done. Biden's last report, in February, indicated he is 6 feet tall, weighs 178 pounds, and is in good health for his age.
In his 2016 campaign, Trump did not disclose much information — except a doctor's note claiming that he would be "the healthiest individual ever elected to the presidency."
That physician, Harold Bornstein, treated Trump from 1980 to 2017. He died in 2021.
Asked whether Trump had a new doctor or a comment for this story, his campaign didn't respond.
Trump's last known doctor was White House physician Sean Conley, whom Biden replaced in 2021. Conley didn't respond to emails asking whether he or another physician now treats Trump.
Trump went public in 2020 about taking what he called a "very hard" cognitive test to try to prove his mental soundness. He's also tried to portray himself as athletic and vigorous, posting videos of himself golfing in recent months.
Trump self-reported that he was 6-3 and weighed 215 pounds in August, when he was booked into the jail in Fulton County (Ga.), where he's charged with trying to overturn the results of the 2020 presidential election in Georgia.
Trump's claim of weighing 215 pounds prompted a wave of online mockery.
Trump's campaign has posted many videos of Biden stumbling, while Biden's campaign has run ads with Trump looking overweight and sweaty, often while golfing.
Zoom in: Among the presidential candidates who took part in the last GOP debate, only entrepreneur Vivek Ramaswamy, 38, agreed to provide some certification about their health.
Ramaswamy, who has cast himself as a young Trump, provided a note from a doctor who said the candidate was in "good health."
Other candidates provided statements or declined to comment rather than provide a note from a doctor or medical records, as many nominees have done in recent decades.
Nathan Brand, a spokesperson for Sen. Tim Scott, pointed to the senator's videos from the gym on the trail and told Axios: "He's fit and ready to serve."
A spokesperson for former Gov. Chris Christie said he would release the results of a physical if he is the GOP nominee.
DeSantis' and former UN ambassador Nikki Haley's campaigns declined to comment.
What they're saying: "He's not the same person he was eight years ago," Ramaswamy said of Trump last spring.
"I hope ... my best days are ahead of me. And I think we might just want a U.S. president whose best days aren't behind him."
Go deeper