Biden's age trap: Risks of running at 80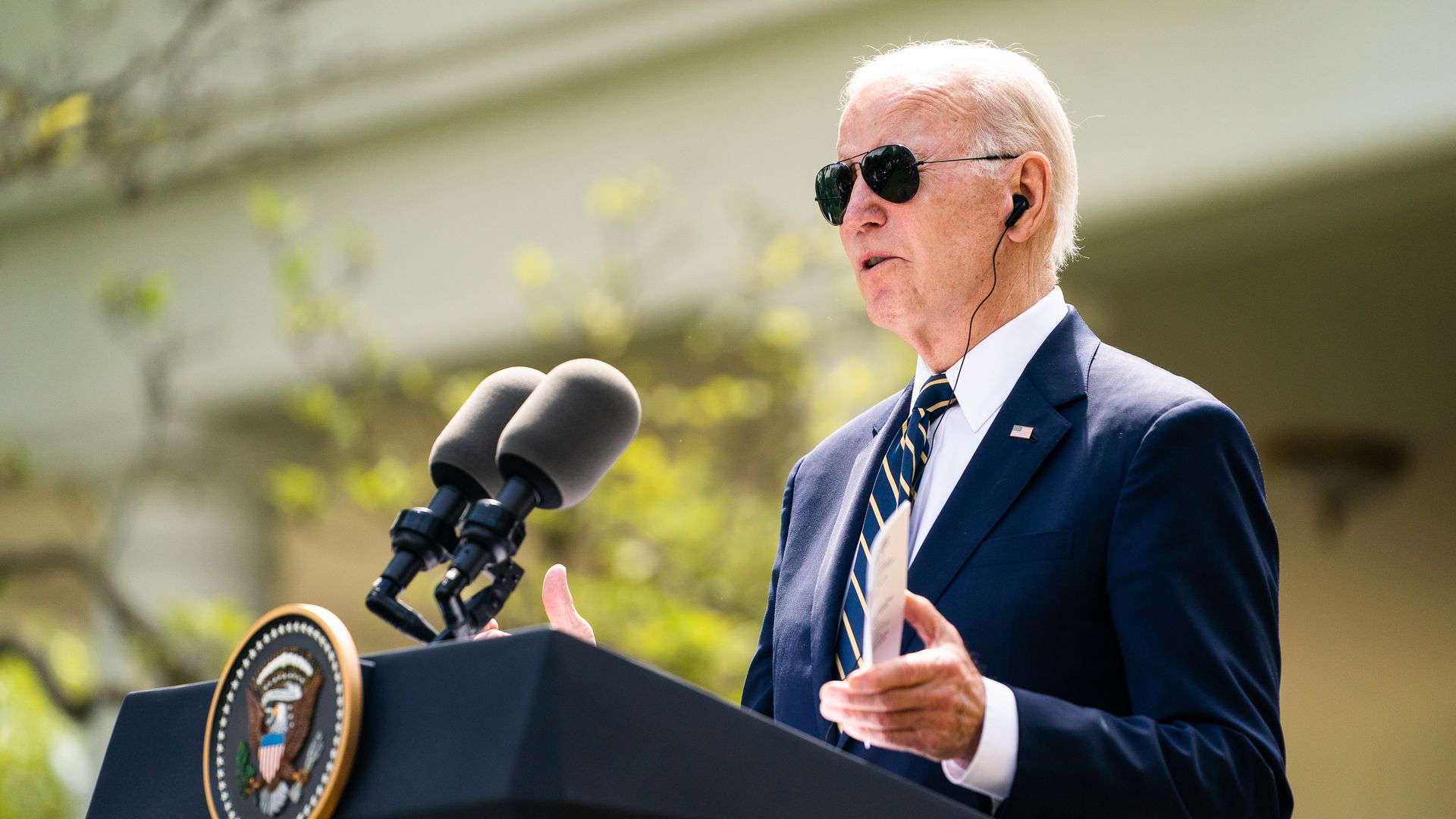 Polls show that most voters of most ages wonder the same thing: Can President Biden really win the White House again at nearly 82 — and run it competently into age 86?
Why it matters: It's a line of questioning the White House hates, and tries to brush off. But there are so many unknowns to rolling into your mid-80s with more power than anyone on Earth.
It's already an issue in the 2024 campaign, with some Republicans bluntly saying Biden might not live through a second term.
"[T]he idea that he would make it until 86 years old is not something that I think is likely," GOP presidential candidate Nikki Haley told Fox News on Wednesday.
Zoom in: The White House rarely puts Biden in improvisational settings — or in front of hostile questions from reporters. So it's tough for anyone outside his tight bubble to truly appraise the reality of Biden being the oldest president in U.S. history.
Behind the scenes: Biden's close advisers say he's mentally sharp. But even some of them concede his age has diminished his energy, significantly limiting his schedule.
Many White House officials say they're amazed at Biden's stamina — often adding the caveat: "for his age."
Some White House officials say it's difficult to schedule public or private events with the president in the morning, in the evening, or on weekends: The vast majority of Biden's public events happen on weekdays, between 10 a.m. and 4 p.m.
Jen Psaki, who was Biden's first White House press secretary, acknowledged this dynamic: She noted that the president's remarks on the Silicon Valley Bank crisis must have been a high priority since he delivered them at 9:15 a.m.
"President Biden does nothing at 9 a.m.," she said last month on MSNBC's "Morning Joe." "He is a night owl."
Biden has said he takes his time in the mornings. "I'm up at 7, 7:15," he told the "Smartless" podcast last November, adding that he works out from about 8 to 8:45 a.m.
By the numbers: A breakdown of Biden's schedule so far in 2023 reveals how his staff tries to ensure he's at his best:
Only four public events before 10 a.m.
Just a dozen public events after 6 p.m. — mostly dinners and receptions with foreign leaders or fundraisers.
12 full weekends with no public events.
In response to this reporting, White House Deputy Chief of Staff Jen O'Malley Dillon sent a one-word reply: "False."
Reality check: Biden has remained an active traveler, with more than 20 trips this year— including a long, risky and complicated visit to war-torn Kyiv.
Deputy Press Secretary Andrew Bates told Axios: "To quote a young, healthy, and capable AP reporter's tweet about the president energetically mixing with service members in the middle of a long trip back to the U.S. from Asia: 'I am so tired.'"
Flashback: As president, Donald Trump started his Oval Office days late, with hours of "Executive Time" scheduled in the morning.
If Trump wins in 2024, he'd be 78 on Inauguration Day 2025 — a few months older than Biden was when he took office in 2021.
The intrigue: The White House is basically hiding Biden as he auditions for another term.
Some White House aides privately have compared Biden to an aging king: He has a tight-knit palace guard of longtime aides whose first instinct is to protect him, and not take chances.
As president, Biden hasn't done an interview with The New York Times, The Washington Post or The Wall Street Journal — a break from decades of presidential precedent.
Biden's team points to scores of brief Q&A "interactions" he's had with reporters, along with the access he's given to largely sympathetic social media influencers and others — part of a strategy to help him reach voters by working around traditional media.
The bottom line: This likely will be the most Rose Garden-centered presidential campaign in nearly half a century — since President Ford in 1976.
Go deeper