Biden's team sees a "very close" election in '24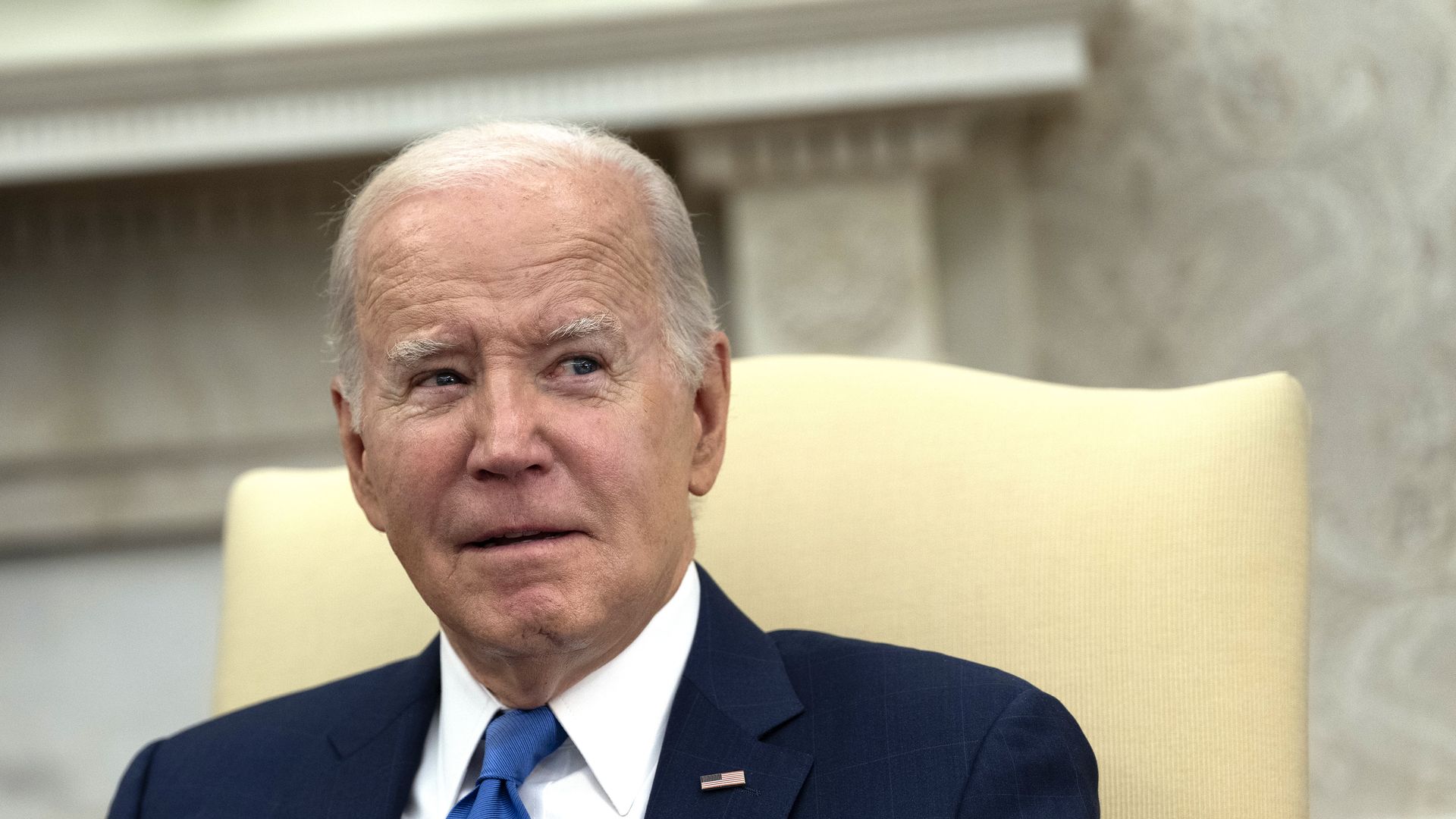 President Biden's campaign is confident it can reassemble the coalition that won the White House in 2020 — but Democrats' optimism is tempered by a recognition that they face "a very close general election," the campaign says.
Driving the news: In a memo Thursday, campaign manager Julie Chavez Rodriguez outlined Biden's strategy for the 2024 election, a year from Sunday: Offer voters a choice between the president's steady hand and "whoever emerges from the extreme MAGA Republicans' primary field."
The campaign wants to avoid a straight referendum on Biden's policies, some of which voters give poor marks — especially on the economy.
Zoom in: The memo lays out in print what Biden has been doing in practice since he announced his bid for re-election in April: selling his legislative accomplishments while running against former President Trump and his MAGA acolytes.
Between the lines: The memo is silent on an issue Democratic strategists — and voters — see as a challenge for Biden: His age.
By the numbers: The subjects on which Biden's team thinks he's polling particularly well are good indications of the issues he'll highlight.
Some 88% of voters — including 85% of independents — support the president's $35 monthly price cap on insulin, the memo claims.
73% of voters — including 65% of independents — like the bipartisan infrastructure bill that Biden got through Congress, the campaign says its polling indicates.
Zoom out: Since the U.S. withdrawal from Afghanistan in the summer of 2021 and the surging inflation that year, Biden's approval rating has been well below 50%. Some surveys show Trump ahead in key swing states.
Biden's Democrats lost control of the House in the 2022 midterms, but a much-hyped GOP "red wave" failed to materialize and Democrats actually gained a seat in the Senate.
The midterms — and other recent special elections, several of which focused on Republicans' push against abortion rights — have convinced Biden's advisers that polls can't always be trusted, especially in the post-Dobbs era.
"As we saw in 2020 and 2022, the MAGA extremism that now defines the Republican Party is a significant barrier to victory for the GOP in key battleground states and restricts their path to 270" electoral votes, Rodriguez wrote in her memo.
The bottom line: To win in 2024, Biden needs motivated young people and people of color to support him with the same enthusiasm as they did in 2020.
The Israel-Hamas war is threatening to erode that support.
A Gallup Poll last month indicated Biden's approval rating among Democrats plummeted to a record low of 75% — down a stunning 11 percentage points in just a month.
Besides a primary challenge from Rep. Dean Phillips, a moderate Democrat who launched a long-shot campaign last week, Biden aides are closely watching a well-financed effort by No Labels to field a potential third-party ticket.
Go deeper