Biden to run against MAGA in 2024, not just Trump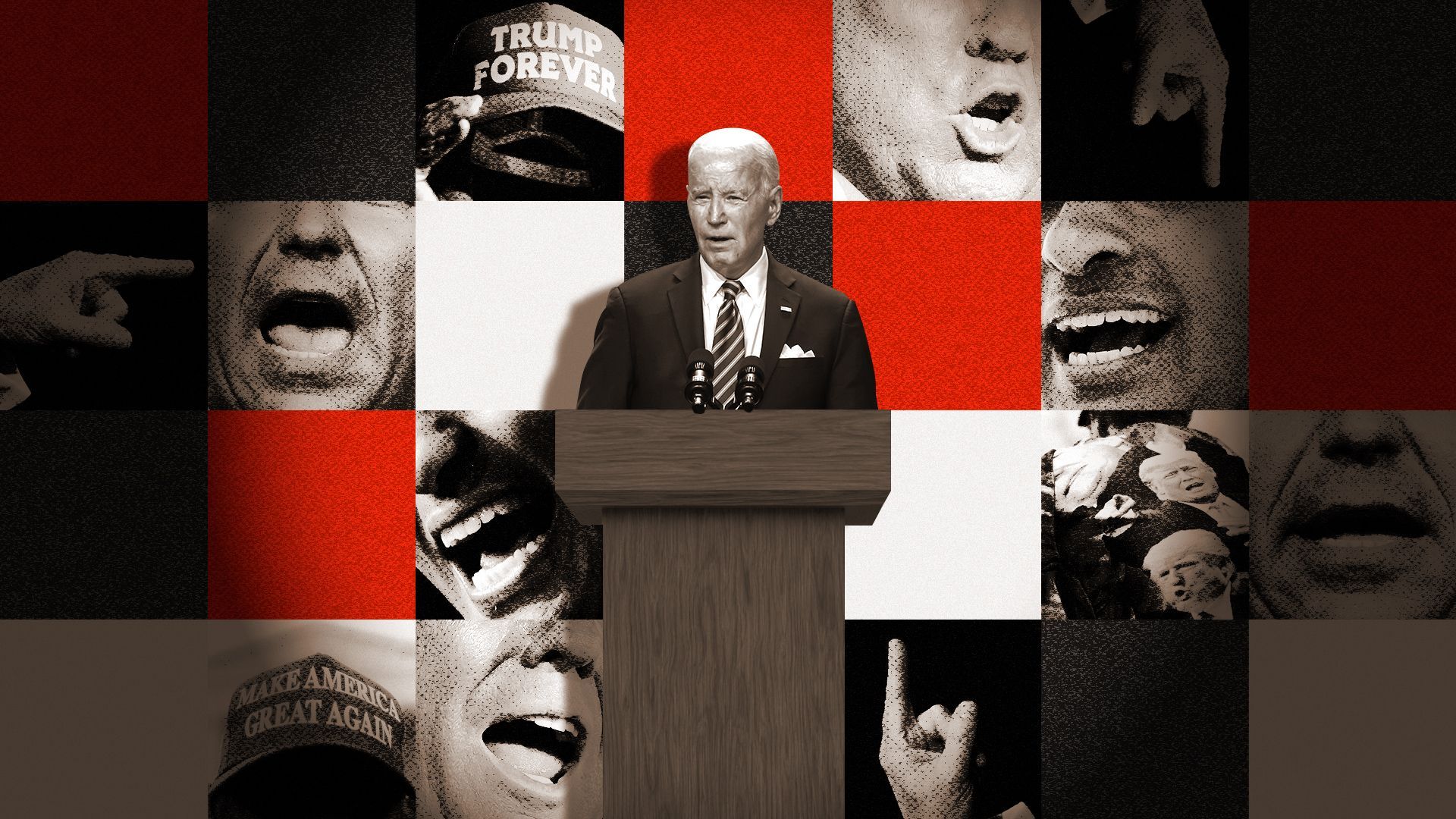 President Biden's team is expanding his re-election strategy beyond Donald Trump to target the MAGA movement and its impact on U.S. politics, figuring it will endure even if Trump isn't the GOP nominee, Axios has learned.
Why it matters: The move aims to cast Trumpism as a far-right authoritarian force — and stems partly from Democrats' polling that suggests the term "MAGA" is viewed more negatively than "Trump Republicans."
Biden's team believes Trumpism will continue to permeate through the GOP at least through 2024, regardless of who emerges as the party's presidential choice.
Trump has a big lead in GOP polls, but it's unclear how his growing legal troubles will weigh on his campaign.
The big picture: By attacking the "Make America Great Again" movement that some Americans see as particularly coarse and divisive, Biden's team will seek to paint many Republicans across the ballot as MAGA candidates.
Already, the Democratic National Committee is using "MAGA Republicans" to link most GOP candidates to Trump — and portray them as representing a party that's to the right of most Americans' beliefs.
Biden, meanwhile, has called the MAGA movement "semi-fascist," "petty" and "mean-spirited."
There is a risk to Biden's strategy: It could be seen as divisive for a president who's vowed to bring Americans together — though polls have suggested only about a quarter of Americans view MAGA positively.
What we're watching: Trump and Florida Gov. Ron DeSantis (R) are battling for the GOP nomination, but Biden's strategy essentially views the two as different branches of the same MAGA tree.
If DeSantis wins the nomination, Democrats plan to target his "Florida blueprint" as extreme on abortion, immigration and education.
This week, Biden surrogates fanned across national TV outlets to cast DeSantis' defense of Florida's new Black history standards as symptomatic of the extremism they see as driving the GOP.
Zoom in: Biden's war against MAGA has been more than a year in the making, solidified by a pool of GOP presidential candidates who often seem to be racing to be more like Trump, rather than making a case against him.
Six months before the first primary votes are cast, DeSantis is promising to be Trump without the drama, while entrepreneur Vivek Ramaswamy is vowing to take Trump's "America First" slogan "even further."
As Ramaswamy put it: "'America First' does not belong to Trump. It doesn't belong to me. It belongs to the people of this country."
What they're saying: "With every passing day of the GOP primary, the 2024 Republican field lurches further right just to cater to the MAGA base," DNC spokesperson Ammar Moussa told Axios.
"Whoever comes out of this Dumpster fire of a primary to become the GOP nominee will only have done so by being the most MAGA — and alienating millions of voters."
Trump's team welcomes Biden's MAGA strategy, a senior Trump adviser told Axios, suggesting that running against MAGA means running against "half" the country — a reference to the 46.8 percent of voters who backed Trump in 2020.
How we got here: Before the 2022 midterm elections, Biden advisers saw research from the liberal group Center for American Progress that criticizing the term "MAGA" was highly effective for Democrats, particularly in battleground states.
Biden rolled out the term "ultra-MAGA," a tagline first used against Sen. Rick Scott (R-Fla.) for his controversial 11-point policy plan that led Biden to accuse Republicans of weighing cuts to Social Security and Medicare.
The DNC has since used "MAGA" to describe more than a half-dozen Republican presidential candidates over their support of abortion bans and their records on Social Security and Medicare.
Between the lines: Team Biden expects Republicans' moves against abortion rights to be an even bigger issue in 2024 than in 2022, based on focus groups and polling, advisers tells Axios.
Democrats also will continue to highlight protections for Social Security and Medicare, fight tax breaks to the ultra wealthy, and what Democrats see as MAGA allies' soft stance on Russian president Vladimir Putin.
Go deeper