The next Trump: younger and to the right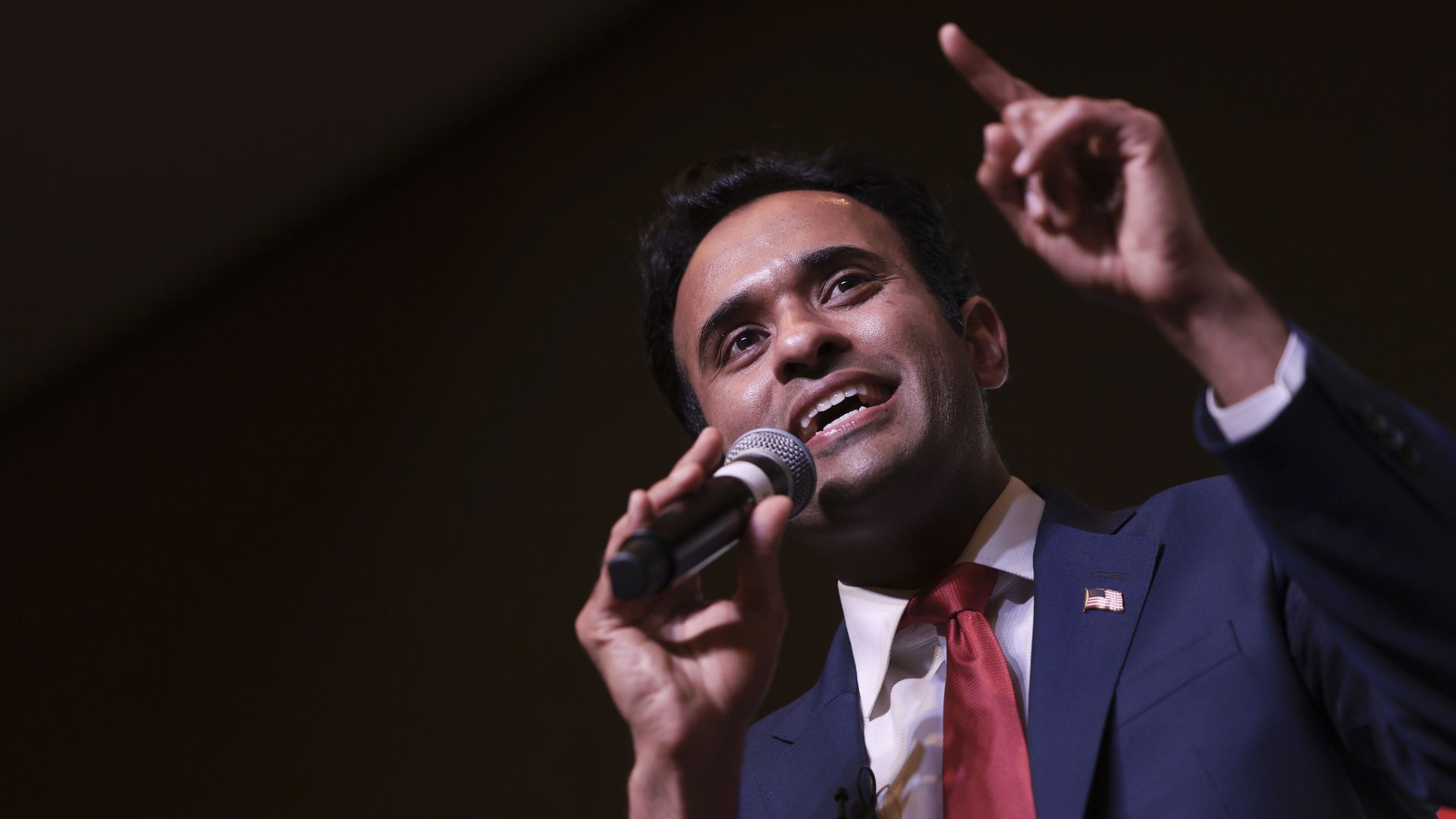 Vivek Ramaswamy — the little-known biotech multimillionaire who jumped into the '24 GOP presidential race — is auditioning to be the party's next Donald Trump, with hyper-Trumpian positions on the border, voting, culture wars and more.
Why it matters: By running to the right of Trump, the 37-year-old entrepreneur seems to be positioning himself as heir apparent to the former president, 76. Ramaswamy is an understudy in plain sight —  and already mentioned as a plausible V.P. pick for Trump.
The intrigue: Trump, long known for bashing his opponents, not only hasn't criticized Ramaswamy — he's praised him.
"I am pleased to see that Vivek Ramaswamy is doing so well in the most recent Republican Primary Poll," Trump posted last week on Truth Social, referring to a survey that showed Ramaswamy tied with former Vice President Mike Pence for third among GOP contenders.
Trump could have been celebrating Ramaswamy's rise because it represents support that's not moving toward Florida Gov Ron DeSantis, Trump's chief rival.
But there are signs of a possible Trump-Ramaswamy alliance: Former Trump campaign manager Corey Lewandowski has spoken with a super PAC backing Ramaswamy about coming aboard — and had the conversation with Trump's blessing, Politico reports.
State of play: Ramaswamy has cast himself as a post-Trumper who'll bend policies further right than Trump ever would.
He hasn't criticized Trump much beyond equating him to Joe Biden for refusing to debate GOP opponents, but Ramaswamy often speaks of the former president in the past tense — and suggests he could deliver better results, without the baggage.
"We can take the America First agenda even further than Trump because we will do it from a moral foundation," Ramaswamy told Axios in a recent interview.
"He had his chance to do a lot of things" that were left undone, he said.
"I think it's a mistaken concept that there's a body of this country that's loyal to a person — they're loyal to a country, most of them."
Driving the news: Ramaswamy's pleasant manner cloaks the sledgehammer he'd like to take to government agencies, policies and laws, and he talks of seizing power in a way no modern president has.
What they're saying: "Vivek is just much closer to the actual id of Trump than these other candidates," said Sarah Longwell, Republican political strategist and publisher of The Bulwark.
"Actual governing experience means you do things like compromise and work with people," she added. What the GOP wants "is a purebred culture warrior."
Zoom in: Ramaswamy has an estimated net worth of $630 million through his biotech and asset management ventures, per Forbes.
In 2014 he founded biotech firm Roivant Sciences, now a publicly traded company in which he has an 8% stake. Since 2020, he has written books and given speeches against critical race theory, Big Tech censorship, and stakeholder capitalism.
Don't forget: Ramaswamy has never held elected office and isn't known to the vast majority of voters.
But he's vowed to spend as much as $100 million on his campaign, and already has put $10 million of his own money toward ads and trips to key primary states.
Go deeper