"Woke, Inc." author launches GOP presidential campaign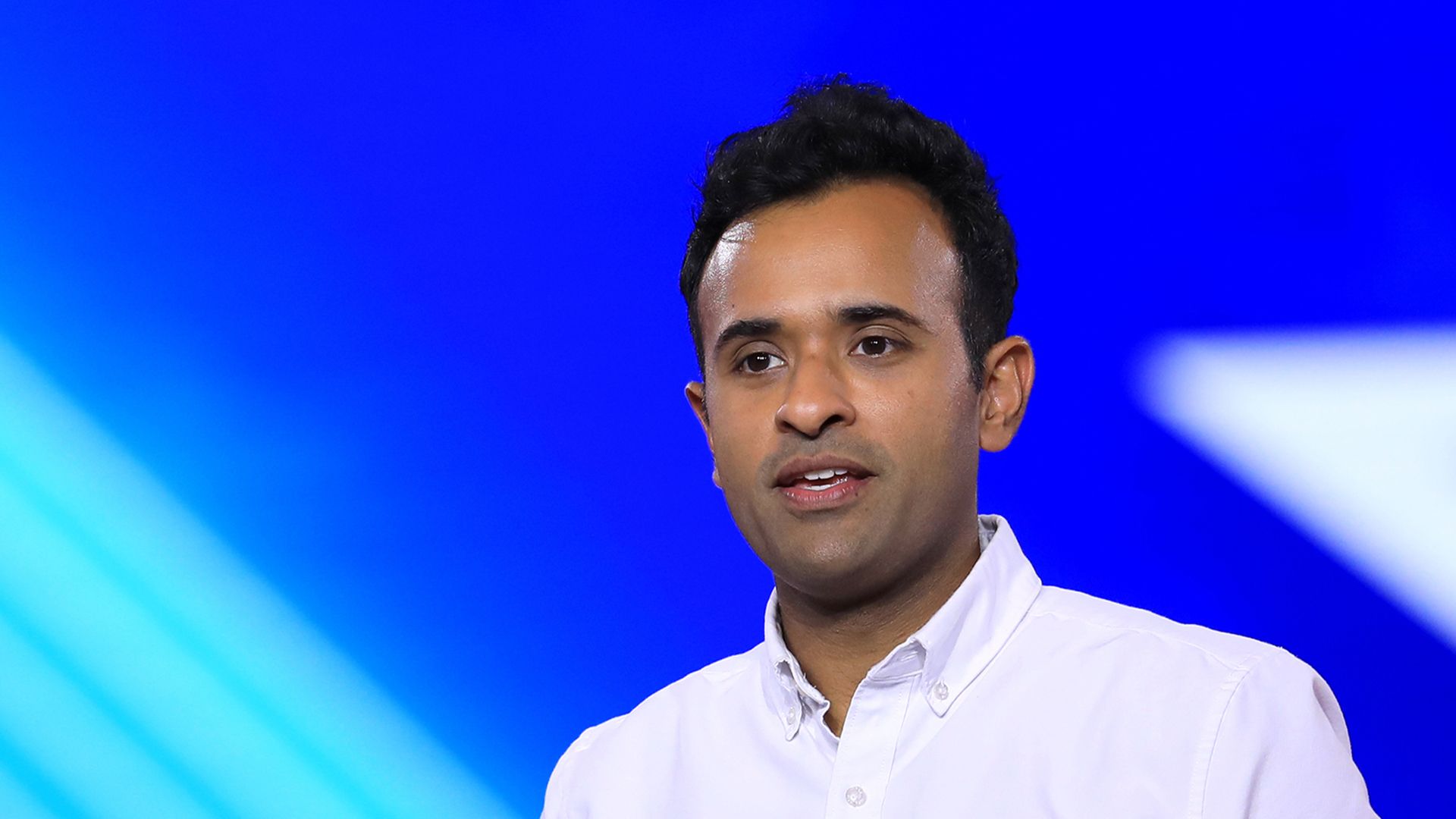 Venture capitalist Vivek Ramaswamy, the author of the book "Woke Inc.," announced on Tucker Carlson's Fox News show on Tuesday that he's running for president.
Why it matters: Ramaswamy's long-shot candidacy tries to fill the role that idea-driven outsiders have played in presidential politics, from Steve Forbes' 1996 GOP flat tax campaign to Andrew Yang's 2020 Democratic universal basic income push.
In an interview with Axios, Ramaswamy said he will be focusing on addressing what he views as America's biggest challenge — a national identity crisis that has left America adrift.
"American today is so hungry for meaning and identity at a moment in our history when the things that used to fill that void of purpose — be it faith, patriotism, hard work, family, you name it — those things have disappeared," Ramaswamy told Axios.
"What the conservative movement needs to do is more than just criticize the poison that fills the void but fill the vacuum with a vision of American national identity that runs so deep that it dilutes these other religions, from wokism to Islamism," he said.
The big picture: Ramaswamy would be a long-shot candidate in a Republican presidential field that has coalesced around fighting the Left on cultural battles.
Florida Gov. Ron DeSantis, in particular, has made this a central part of his political identity — and has achieved notable governing successes on that front.
But Ramaswamy argues that he was one of the first voices that spoke out against "woke capitalism" and the rise of the environmental, social and corporate governance (ESG) movement — issues that leading Republicans have taken up as top priorities.
"Conservatives can tell the difference between somebody who is speaking with originality versus someone who is channeling what they were told to say."
Ramaswamy is the founder of the biotech firm Roivant Sciences, and he served as its CEO from 2014-2021.
After he wrote his book attacking the rise of "woke capitalism," he stepped down and launched Strive, a financial firm that invests without taking political or social issues into account.
In September, Ramaswamy published his second book, "Nation of Victims: Identity Politics, the Death of Merit and the Path Back to Excellence."
The issues that Ramaswamy is focused on for a presidential campaign include:
Restoring merit and excellence over equity in American life.
Restraining Big Tech to ensure free speech.
Rolling back civil service protections for federal workers.
Reducing our economic dependency on China, which he calls the "greatest existential threat to America."
Between the lines: Ramaswamy told Axios he views China, not Russia, as the greatest geopolitical threat to America and criticized President Biden's visit to the Ukrainian capital.
"He should've gone to Ohio before he went to Ukraine," Ramaswamy said, referring to the toxic chemical spill in Palestine, Ohio.
"The idea of further depleting US resources through distractions, and drawing Russia closer to China, actually fortifies what [China] views as needing to do — to invade Taiwan," he said.
Ramaswamy boasts a veteran lineup of political consultants advising his bid, including Rex Elsass and Ben Yoho of the Strategy Group. Yoho will be serving as the campaign CEO.
Gail Gitcho, who served as a top strategist with Herschel Walker's Senate campaign, will be serving as a communications adviser.
Go deeper