Updated Feb 21, 2023 -

World
Biden says "Ukraine will never be a victory for Russia" in major speech from Poland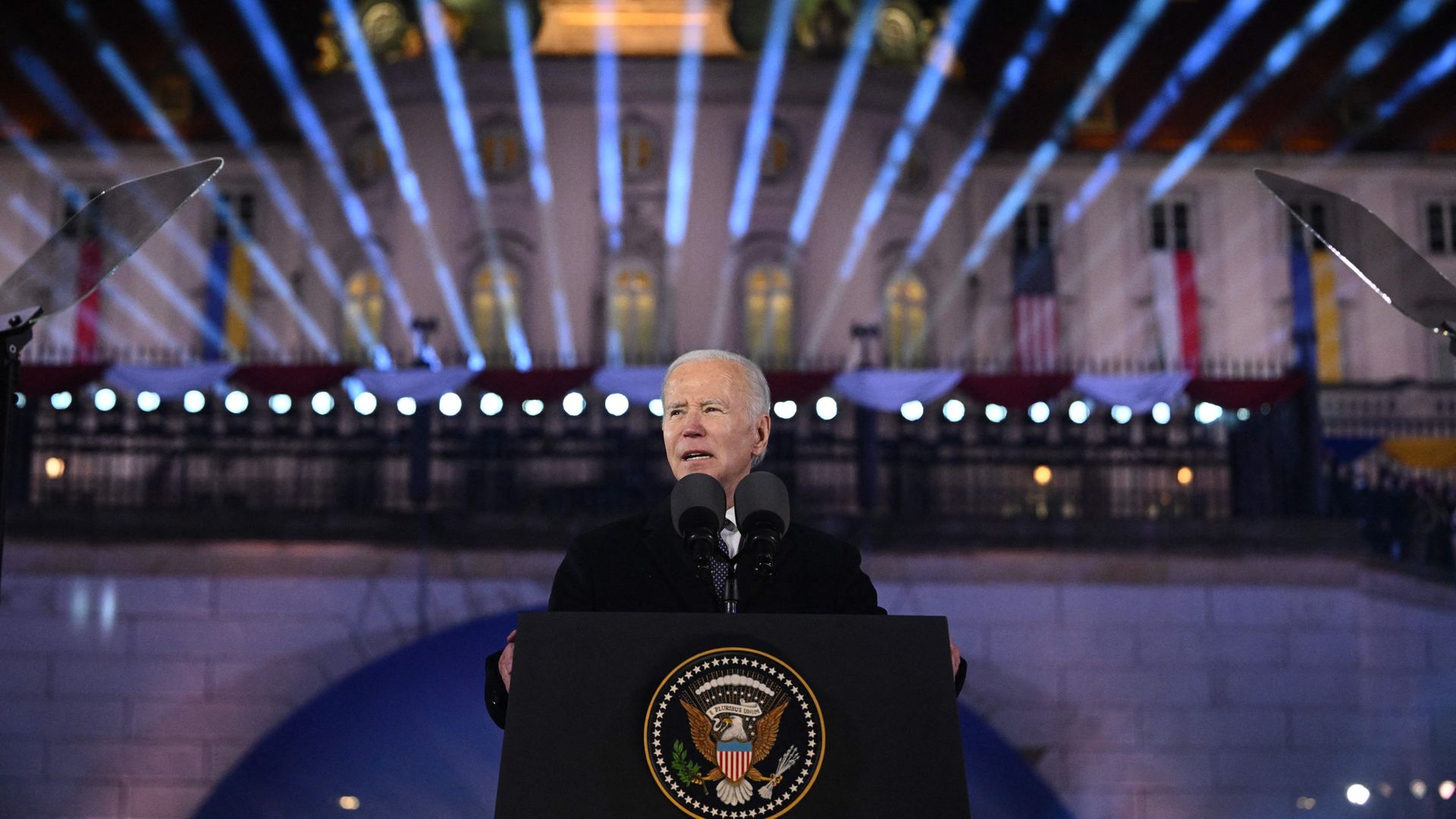 President Biden delivered a fiery message of freedom and democracy during a major speech Tuesday from Poland to mark the upcoming first anniversary of Russia's war in Ukraine.
Driving the news: The speech on Tuesday in Warsaw came a day after his surprise visit to Kyiv — a major sign of U.S. support for Ukraine.
What he's saying: "I have just come from a visit to Kyiv, and I can report that Kyiv stands strong. Kyiv stands proud. It stands tall. And most importantly, it stands free," Biden said during the opening of his remarks.
Referring to Russian President Vladimir Putin, who hours earlier delivered his own address, Biden said: "A dictator bent on rebuilding an empire will never be able to ease the people's love of liberty. Brutality will never grind down the will of the free. And Ukraine — Ukraine will never be a victory for Russia. Never."
"One year after the bombs began to fall, Russian tanks rolled into Ukraine. Ukraine is still independent and free. From Kherson to Kyiv, Ukrainian fighter have reclaimed their land," Biden said.
"Stand with us, we will stand with you. Let us move forward with faith and conviction and with an abiding commitment to be allies, not of darkness but of light, not of oppression but of liberation, not of captivity but, yes, of freedom," Biden said.
Biden also discussed the security, humanitarian and economic assistance the U.S. and its allies have provided to Ukraine.
Earlier in the speech, Biden reflected on the values he has noted in previous addresses over the last year.
"One year later we know the answers. Yes, we would stand up for sovereignty, and we did. Yes, we would stand up for the right of people to live free from aggression, and we did. And we would stand up for democracy and we did."
"We continue to maintain the largest sanctions regime ever imposed in any country in history. And we're going to announce more sanctions this week together with our partners.
Of note: Biden announced the U.S. will host a NATO summit next year celebrating 75 years of the alliance. He affirmed that the U.S. commitment to NATO and its Article 5 was "rock solid."
State of play: Biden held a bilateral meeting with Polish President Andrzej Duda ahead of his remarks, discussing "their shared efforts to support Ukraine, impose consequences on Russia, and strengthen NATO," the White House said.
Biden had been expected to address the "larger contest" between aggressors seeking to "destroy fundamental principles" and the nations seeking to uphold them, national security adviser Jake Sullivan said earlier Tuesday.
"It's a big moment, coming off the trip to Kyiv, speaking to the people of Europe and speaking to the people of the world about America's commitments, about America's staying power, and about America's follow-through on the values and principles that we hold so dear," national security adviser Jake Sullivan said.
Sullivan also praised Poland's role in the West's approach to the war, noting the country had been "critical" in welcoming Ukrainian refugees and serving as a logistics hub for military assistance entering Ukraine.
"We are grateful that this visit takes place in our country," Duda told reporters Tuesday, adding that Biden's visit was an "important message to the world that Poland is secure."
The big picture: Biden's speech comes hours Putin in remarks raged against the West.
Editor's note: This story has been updated with additional reporting and background.
Go deeper