Updated Feb 20, 2023 -

World
Biden on surprise visit to Ukraine: "One year later, Kyiv stands"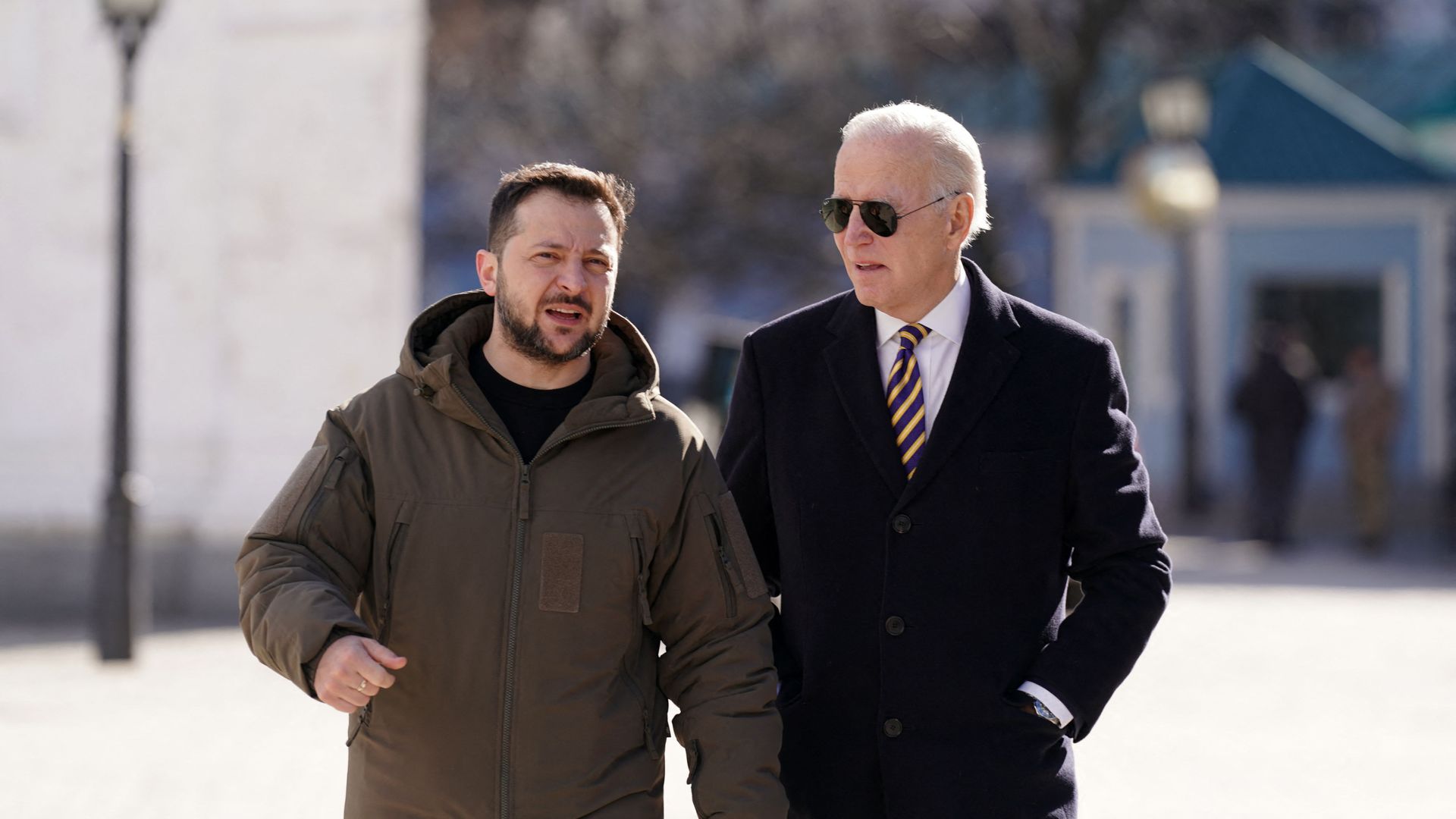 President Biden made a surprise visit to Kyiv on Monday — his first visit to Ukraine since Russia's invasion began nearly a year ago.
Driving the news: The visit just days ahead of the one-year anniversary of the war is a major sign of U.S. support for Ukraine. Biden said in a statement he traveled to Kyiv to meet with Ukrainian President Volodymyr Zelensky and "reaffirm our unwavering and unflagging commitment to Ukraine's democracy, sovereignty, and territorial integrity."
Speaking from Kyiv, the U.S. president said: "One year later, Kyiv stands. And Ukraine stands. Democracy stands."
Zelensky called Biden's visit "a huge moment for Ukraine."
The big picture: During the visit, Biden announced an additional half-billion dollars in U.S. assistance for Ukraine.
Zelensky said he spoke with Biden about "long-range weapons and the weapons that may still be supplied to Ukraine even though it wasn't supplied before."
Biden was already scheduled to arrive in Poland on Tuesday morning for a trip dedicated to marking the one-year anniversary of the war, which began on Feb. 24, 2022. But his trip details regarding the Kyiv visit were kept secret due to security concerns.
White House national security adviser Jake Sullivan told reporters the administration did notify Russia about Biden's visit to Kyiv "some hours before his departure for deconfliction purposes." Sullivan would not go into details about how Russian officials responded.
The White House called the trip to Kyiv a "historic and unprecedented" visit by a U.S. president to an active war zone where the U.S. does not have a military presence.
What they're saying: Delivering joint remarks with Zelensky from Kyiv, Biden said he would never forget what the Ukrainian president told him as the invasion began.
"You told me that you could hear explosions in the background," Biden said.
"You said that you didn't know when we'd be able to speak again. That dark night one year ago, the world was literally at the time bracing for the fall of Kyiv," Biden said. "Perhaps even the end of Ukraine."
"Russia's aim was to wipe Ukraine off the map," Biden said. "Putin's war of conquest is failing."
"He's just been plain wrong," Biden said of Putin. "One year later, the evidence is right here in this room. We stand here together."
Speaking before Biden, Zelensky said that "this conversation brings us closer to victory."
It's a "clear signal that Russia's attempts of relaunch will have no chance," Zelensky added.
Behind the scenes: The Kyiv visit, White House officials said, was many months in the making. It "required a security, operational and logistical effort from professionals across the U.S. government to take what was an inherently risky undertaking and make it a manageable level of risk," Sullivan told reporters after the visit.
Despite the risks, "Biden felt that it was important to make this trip because of the critical juncture that we find ourselves at as we approach the one-year anniversary of Russia's full-scale invasion of Ukraine," Sullivan said.
Biden wanted to be able to stand "next to President Zelensky in a free Kyiv to not just tell but to show the world through a powerful demonstration that Ukraine is successfully resisting Russian aggression and Russia is suffering strategic failure in Ukraine," Sullivan added.
A Ukrainian government official told Axios that Ukraine had asked for the visit for a long time.
The official said it was planned in a very short time, with the highest level of confidentiality.
"The U.S. President's historic visit to Kyiv is a clear signal that the U.S. will continue standing by Ukraine until its victory over Russia's war of aggression," the Ukrainian official added.
What to watch: Biden, who is set to give an address in Poland to mark the one-year anniversary of the war, said on Monday that later this week the U.S. will announce additional sanctions "against elites and companies that are trying to evade or backfill Russia's war machine."
Go deeper: Biden's secret visit to Kyiv — in photos
Editor's note: This story has been updated with additional details throughout.
Go deeper