The right's anti-ESG crusader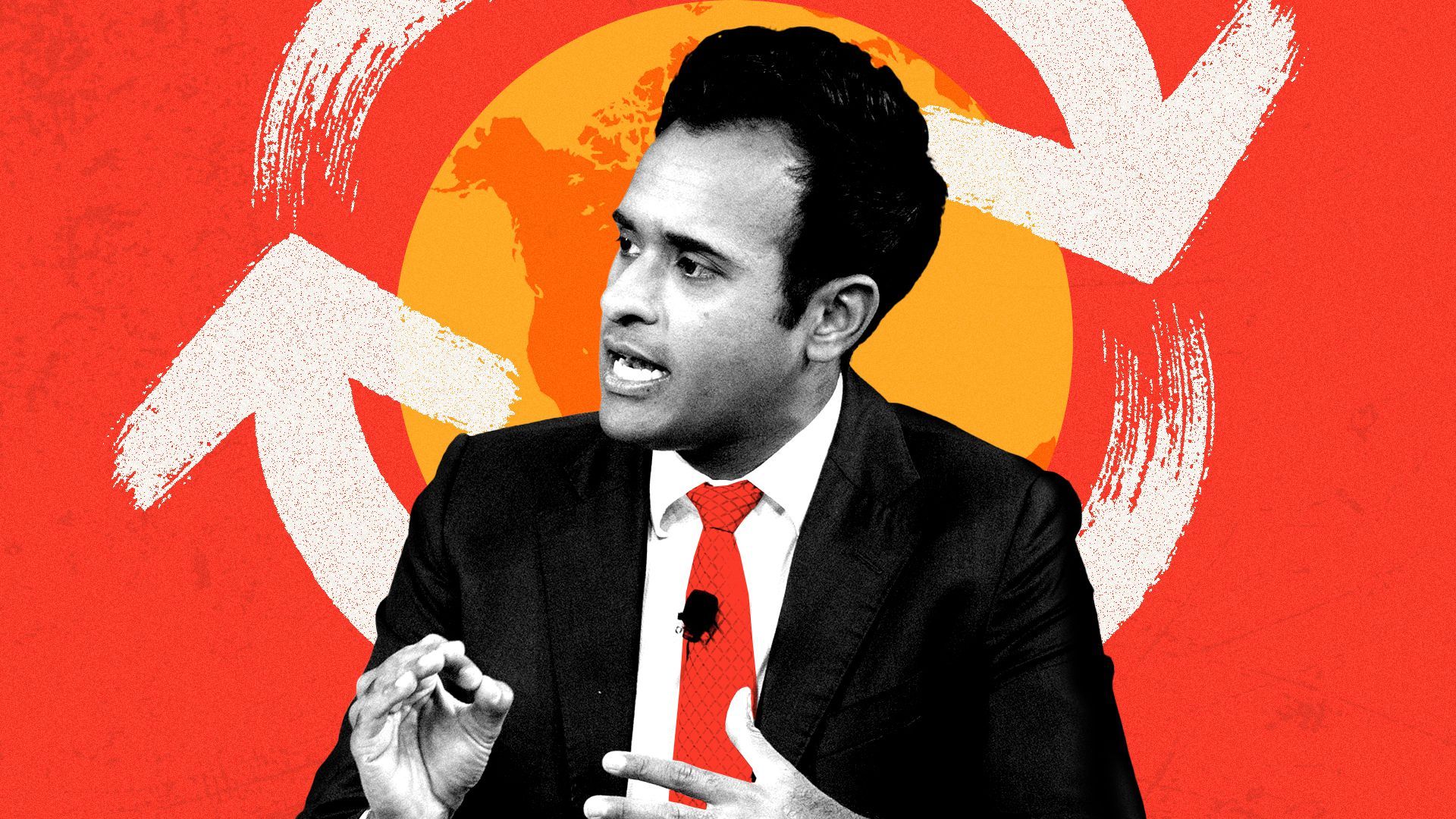 The right's most prominent crusader against climate-conscious investing is vying for states to spurn Big Finance — and deal with his own business instead.
Driving the news: Entrepreneur Vivek Ramaswamy says he hopes his firm, Strive Asset Management, becomes the go-to alternative for GOP states seeking to ditch the BlackRocks of the world.
How it works: ESG describes investors paying attention to financial risks related to "environmental, social and governance" issues.
It covers investor responses to climate change, social movements and public campaigns for more diverse executive teams.
Companies like BlackRock have paid more attention to ESG factors, amplifying pressure on large corporations to take steps like slashing carbon emissions.
Why it matters: Critics like Ramaswamy argue that focusing on such things goes against companies' "fiduciary duty" and unduly allows the biggest firms — without input from investors — to bring about economy-wide cultural changes.
"The fundamental critique of ESG, both on the right and the left, is that there's this historic concentration of capital in the hands of a small group of investors," he told Axios. "Bernie Sanders has said as much, and I've said as much."
"States, pension funds, treasurers, private institutions, large private corporate financial institutions … the system is so, I would say, captured by this one-sided dogma," he said.
"We will see whether it's somewhere between difficult and impossible for us to be able to break into this line of business."
Between the lines: Conservatives are embracing Ramaswamy.
Zoom in: As Ramaswamy's megaphone grows louder, his firm is approaching state officials to discuss its funds and proxy advisory consulting services.
Emails obtained by watchdog group Documented and reviewed by Axios show Strive approached at least six states in the last year — Alaska, Missouri, North Dakota, South Carolina, Utah and West Virginia.
In October, Strive told North Dakota officials it expected to soon have its first proxy voting consulting deal with one state pension system.
In January, the firm disclosed its first proxy consulting deal with an "institutional client" worth more than $40 billion.
The firm declined to identify the client, citing confidentiality. Ramaswamy also said his business hasn't gotten any pension fund investment yet.
"The endgame is for [Ramaswamy] to profit, not to change corporate behavior," said Jesse Coleman, a journalist and former Greenpeace researcher who now works for Documented.
The big picture: The ESG debate has a profit motive — no matter what side you're on.
BlackRock CEO Larry Fink explains that his firm's ESG views are part of creating sustained value for its customers, meaning it seeks better returns for investors over the long run.
The other side: Former Democratic Rep. John Delaney, who runs a low-carbon bank and asset manager, told Axios that advocates like Ramaswamy are taking "the intense rhetoric we have in the political world" to "effectively raise money by appealing [to] people's tribalism."
What he's saying: Ramaswamy called these claims "comical" because he's transparent about his business and worldview — that some of the world's richest leverage capital to enact and profit from social change.
"It's funny how ticked everyone gets that somebody offers a slightly different perspective [of] trying to do the exact same thing," he said. "Every asset manager has a profit motive."
The bottom line: If you love Ramaswamy's work, you probably think this is exactly what the GOP needs.
Go deeper