DeSantis' 2024 pitch: Make America Florida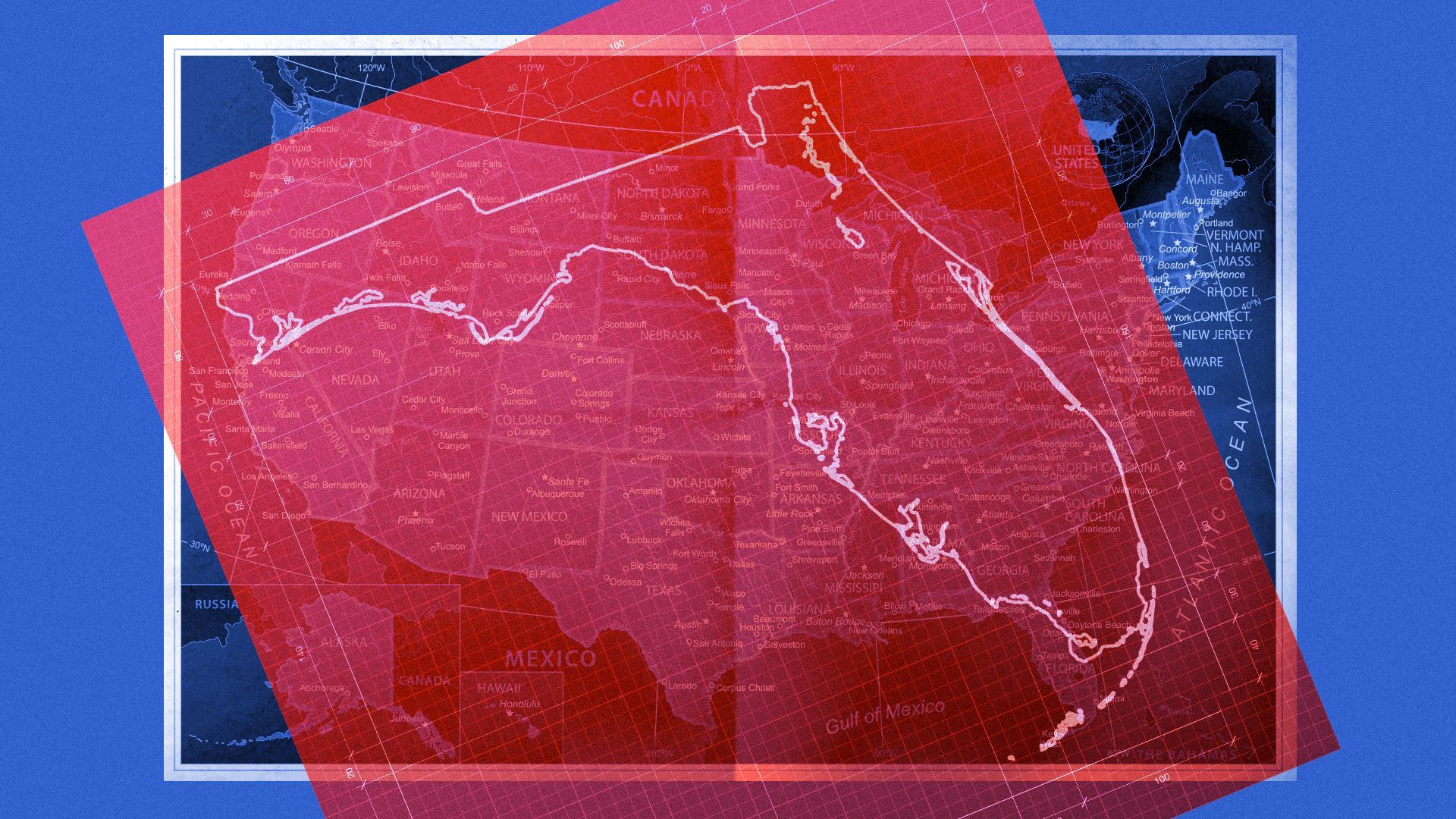 Florida Gov. Ron DeSantis is about to launch a run for president by touting a far-right cultural agenda that casts restrictions on abortion rights, LGBTQ people — and Disney, one of his state's biggest employers — as a "blueprint" for the nation.
Why it matters: DeSantis' long-expected dive into the Republican race has been tailored to try to scrape enough support from former President Trump's MAGA base to win the GOP nomination.
But Trump, with a six-month head start, has built a huge lead in GOP polls.
If DeSantis can rally and manage to take out Trump in the 2024 primaries, then the really hard part will begin: selling his "Make America Florida" platform to more moderate voters in a national election.
State of play: On Thursday, DeSantis was reminded of the perils of what he calls his "anti-woke" agenda when Disney canceled plans for a $1 billion development that would have created 2,000 jobs in the Orlando area.
Disney has been feuding with DeSantis, a spat that began when the company objected to the Florida law critics dubbed "Don't Say Gay," which limits schools' teachings about gender identity and sexual orientation.
DeSantis is hinting he'll likely enter the race next week, before a big meeting with donors in Miami on Thursday, the New York Times reported.
But he's been campaigning for months, visiting foreign leaders, appearing in Iowa and New Hampshire — and touting new Florida laws that reflect the GOP backlash to the wave of diversity and equity initiatives that began during Trump's presidency.
"We have battled the woke elites in Florida, and we have won, time and time again," DeSantis wrote in his new book, "The Courage to Be Free," a familiar refrain he's used in portraying himself as someone who —unlike Trump, he'll say — consistently delivers on conservative priorities.
Zoom in: DeSantis signed over 80 new laws in Florida this spring, several of which have gotten nationwide attention.
What they're saying: "The depth and breadth of Ron DeSantis' legislative achievements since he became governor is unprecedented. He's the led the charge of turning Florida red and designed a blueprint for America's revival," Dave Abrams, spokesperson for DeSantis' political team, told Axios.
DeSantis is telling donors that his legislative record — and Trump's legal troubles — make the Florida governor the only Republican who can beat President Biden.
Yes, but: That far-right record in Florida is likely to be a drag on DeSantis if he wins the Republican nomination next year, some analysts say.
"He is preaching to the choir, which is the Republican primary vote," Mac Stipanovich, a Tallahassee consultant and former Republican operative, told Axios.
But "recent history would indicate that it is not, however, a winning general election strategy nationally."
Flashback: During his run for governor in 2018, DeSantis — then a congressman who was relatively unknown beyond his district just south of Jacksonville — campaigned on issues such as the environment, education, and the economy.
An endorsement by Trump helped DeSantis win the election — and set him on a different course.
"His anti-vax, anti-lockdown rhetoric and initiatives began to gain approval from the more extreme right wing," Stipanovich said.
"And so like Pavlov's dog being rewarded, he continued in that direction."
Go deeper