"The shows must go on": Florida drag artists protest in Tallahassee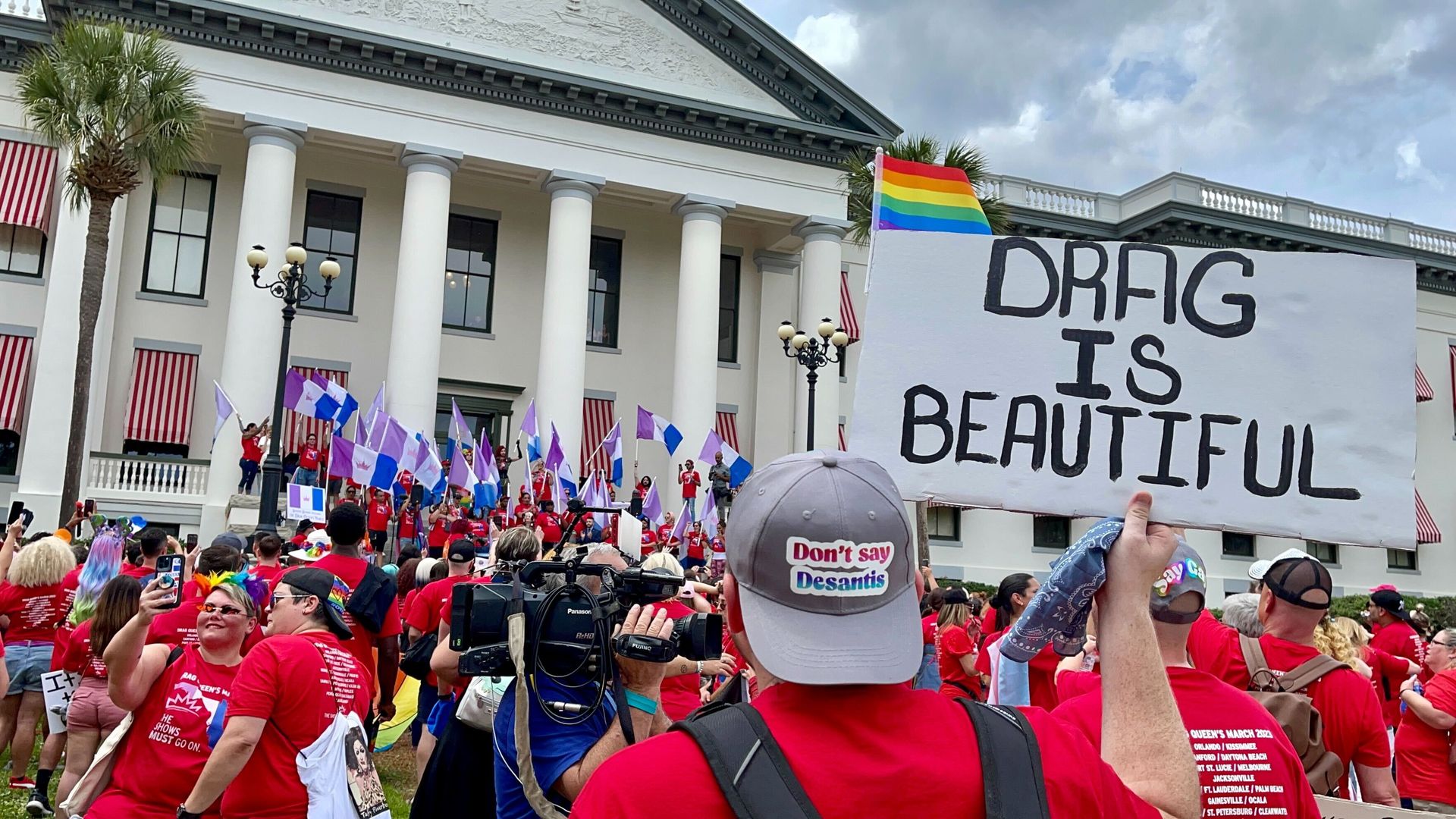 As Tampa drag queen Jelitza Fierce boarded a bus to Tallahassee to protest Florida's restriction of drag and LGBTQ rights, she wondered if the eight hours of travel and potential risk to her safety were worth it.
But once she got there, things changed.
Driving the news: Hundreds of drag artists and advocates from around Florida converged on the State Capitol Tuesday, nearly a week after the House sent a bill to Gov. Ron DeSantis' desk that LGBTQ activists say would allow the policing of drag performances and Pride celebrations.
"I thought, 'What's the point if the bill already passed?'" Fierce told Axios. "But then seeing everyone together definitely changed my mind . ... Seeing everybody chanting in one voice was an emotional feeling I did not think I had in me."
Context: If the bill is signed into law, business owners could be punished with up to a year in prison for allowing children to attend "adult live performances," which includes a show that "depicts or simulates nudity and sexual conduct."
The DeSantis administration has already sent state regulators after several businesses that hosted drag shows where children were in attendance.
The big picture: Florida's LGBTQ advocates have been bracing for this since Republicans started targeting drag with proposed laws in other states. Tennessee was the first to restrict drag this year.
The Pride Alliance of the Treasure Coast canceled its Pride parade last week in Port St. Lucie and restricted other Pride events to people aged 21 years and older in anticipation of DeSantis signing the bill.
Tampa Pride leadership told Axios its March parade could be the city's last for a while.
Meanwhile: A slew of other anti-LGBTQ bills are moving through the state Legislature, including bans on preferred pronouns in schools and gender-affirming care.
Plus, DeSantis' administration just expanded the Parental Rights in Education Act, dubbed "Don't Say Gay" by critics.
And a House panel this week authorized subpoenas seeking records from two medical organizations that support gender-affirming treatment for minors.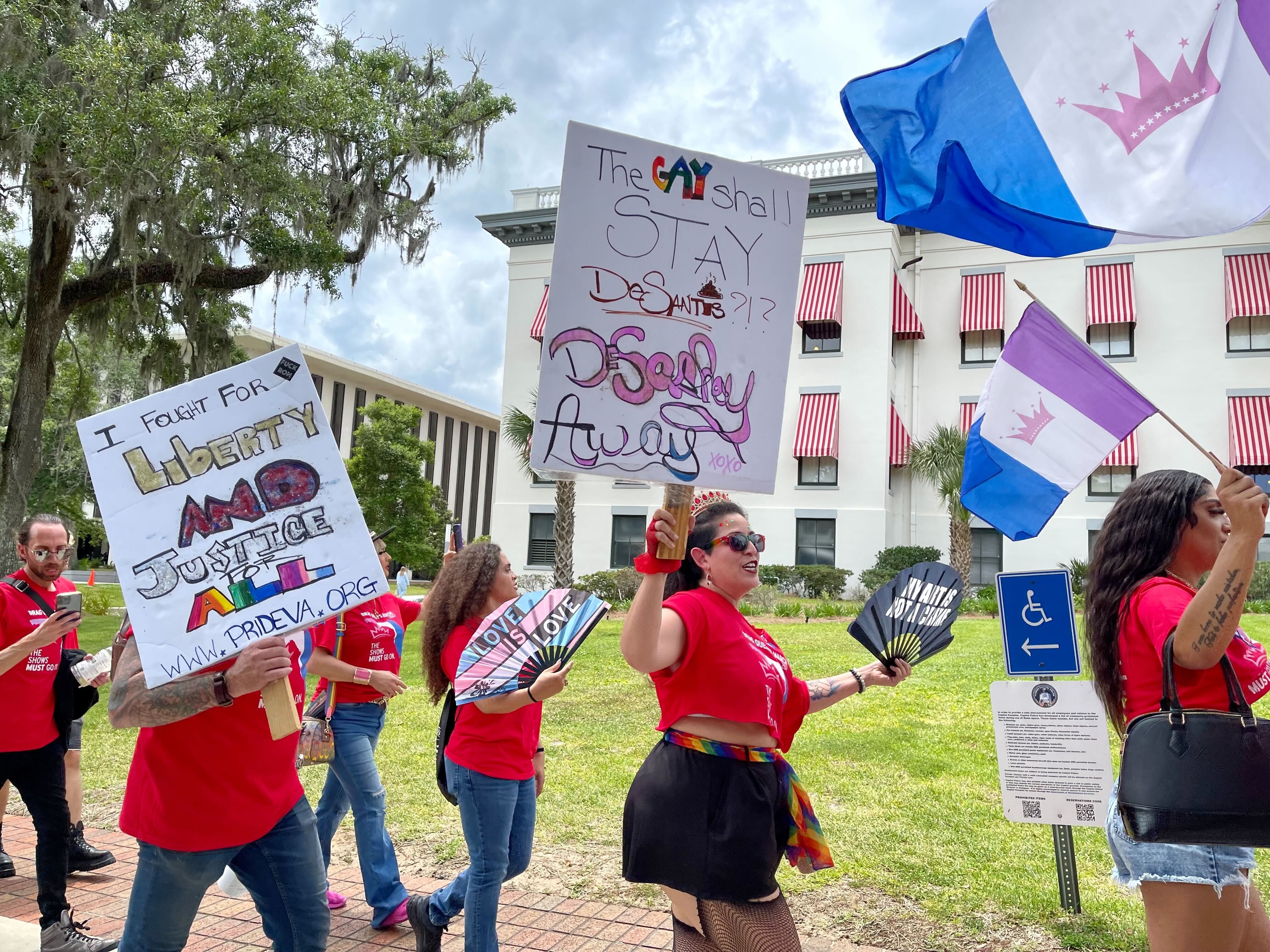 Between the lines: While it's likely DeSantis will sign the bill targeting drag, the tone of Tuesday's protest was hopeful. Activists, performers and lawmakers asserted their fight is far from over.
Several stars of the "RuPaul's Drag Race" franchise marched as well, including Orlando natives Detox and Roxxxy Andrews.
What they're saying: "We're going to come out of this winners, because love always wins and what we do is spread joy and love," Latrice Royale, a Fort Lauderdale resident, told Axios.
Silky Nutmeg Ganache, a Mississippi resident, came to represent other Southern states.
"If it happens in Florida it could happen in Mississippi any day now, like it did in Tennessee," she told Axios.
Former state Rep. Carlos Guillermo Smith, a Democrat, told the crowd from the statehouse steps that lawmakers "have used vague and subjective language to try and scare our allies into closing their doors to drag queens."
"We will not let them," Smith said. "The shows must go on."
Go deeper